La Lonja de la Seda de Valencia
By Kemkem Casinelli
What is La Lonja de la Seda de Valencia?
The La Lonja de la Seda or Llotja de la Seda in Valenciano is a group of historic buildings located in the old center of Valencia. It was the financial epicenter of the city in the old days, with agricultural oils and percale among the products traded. Silk was the most popular product, hence the name the Silk Exchange in English. The Valencian-Gothic architectural style building was built between 1482 and 1533 and was the seat of the Tribunal del Mar, the first merchant marine tribunal in Spain.
Disclosure: This article contains affiliate links. Making a purchase through an affiliate link will mean a small commission for this website. This will not affect your price.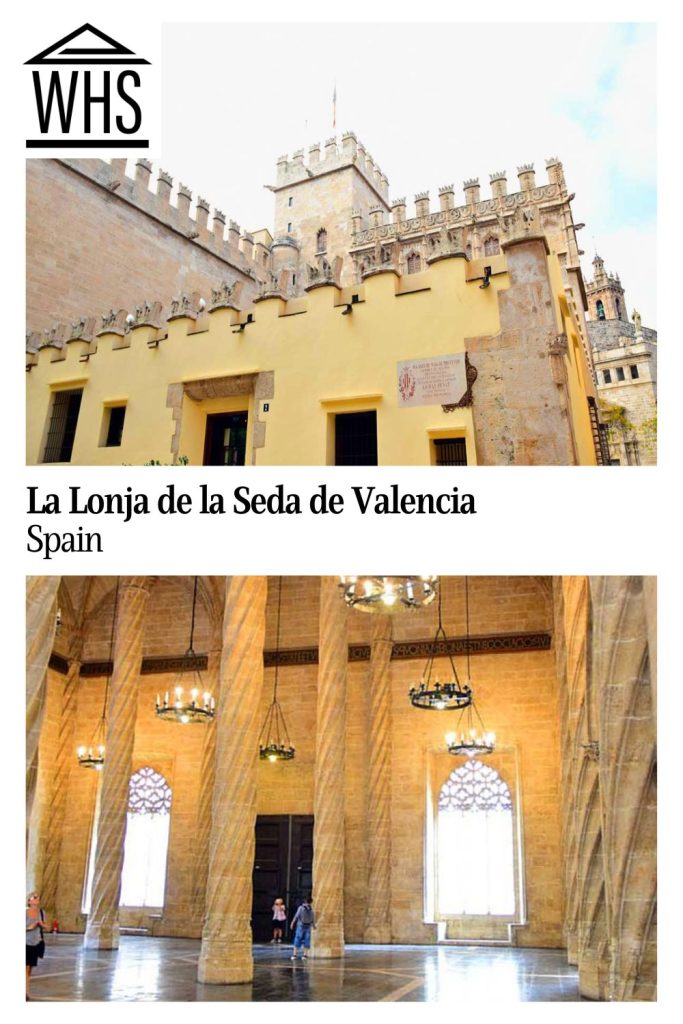 Why is La Lonja de la Seda a UNESCO World Heritage Site?
This Spanish property of cultural interest was declared a UNESCO site in 1996. According to the UNESCO list, "the site is of outstanding universal value as it is a wholly exceptional example of a secular building in late Gothic style, which dramatically illustrates the power and wealth of one of the great Mediterranean mercantile cities."

What can you expect in a visit to La Lonja?
The La Lonja is a fascinating place to learn about the prosperity of Valencia, especially in the 15th and 16th centuries when it was one of the most influential cities in the Mediterranean.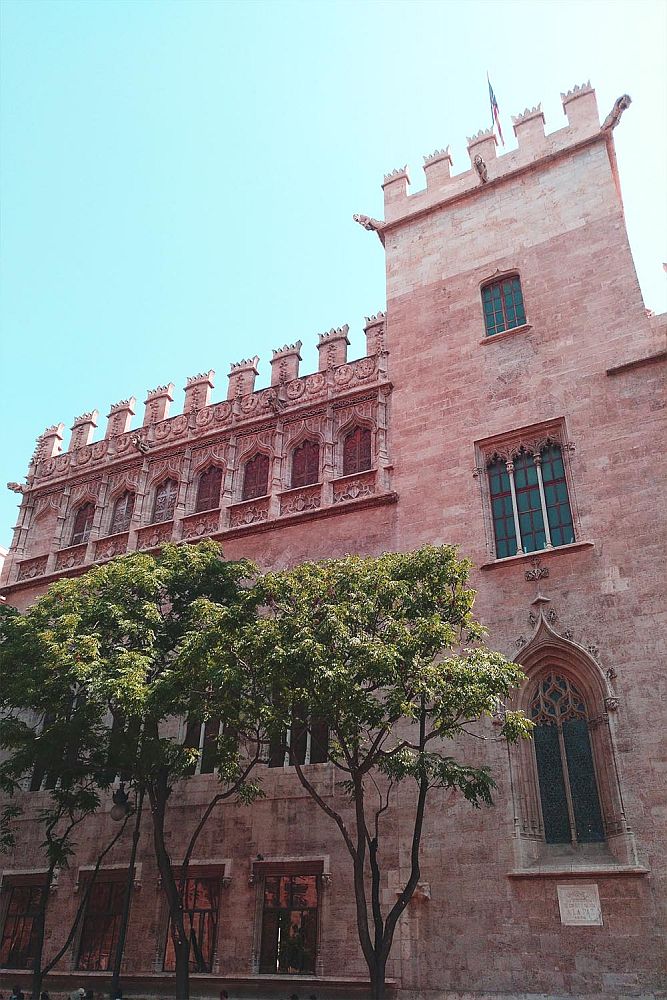 Apart from the stunning architecture of the site itself, with gargoyles keeping an eye on things, one can wander through the Hall of Columns (the trading hall), see where the merchants in debt were imprisoned, admire the beautiful, intricate art on the walls and ceilings, not to mention the stained glass windows, all with their original, undisturbed furnishings.
An enclosed courtyard is perfect for relaxing and people-watching. Filled with mature orange trees, there is a sweet smell that is intoxicating. Make sure to watch the video which tells you more about the golden age of Valencia.
Book your accommodations in Valencia.
Is La Lonja worth visiting?
Yes, the La Lonja is definitely worthy of a visit. This is a perfect stop for people who enjoy both art and history.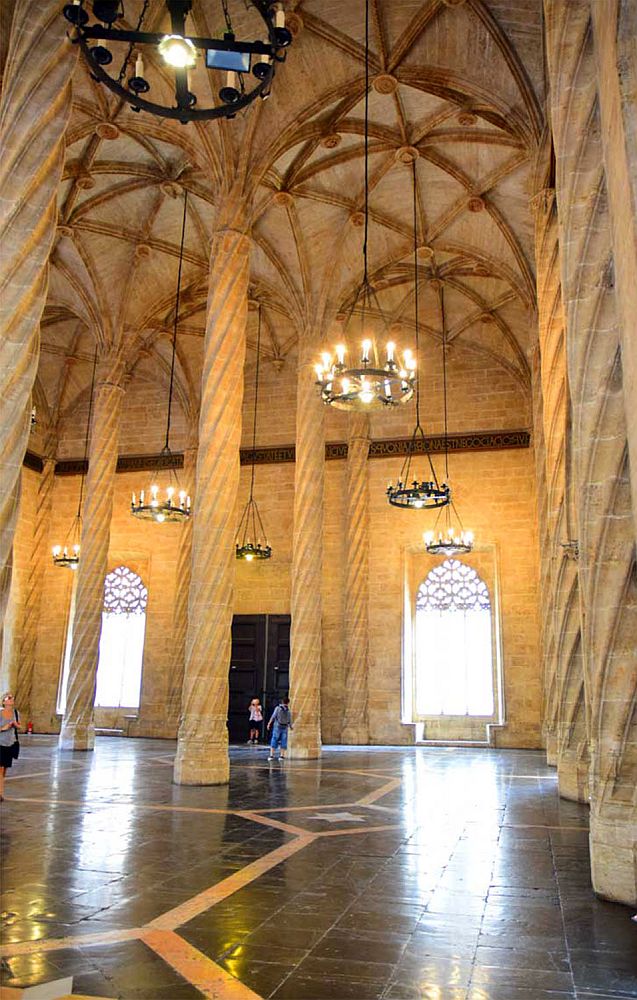 Tips for visiting La Lonja de la Seda
Allow about two hours for a visit.
Try and go early to avoid the crowds as it is a popular tourist attraction.
Located just a minute's walk from the popular Mercado Central, it is wise to combine your visit.
Go on a Sunday if you can, as it is free entry.
It is not advisable to drive as parking in the old center is almost impossible.
Take a Valencia Silk Trade Tour!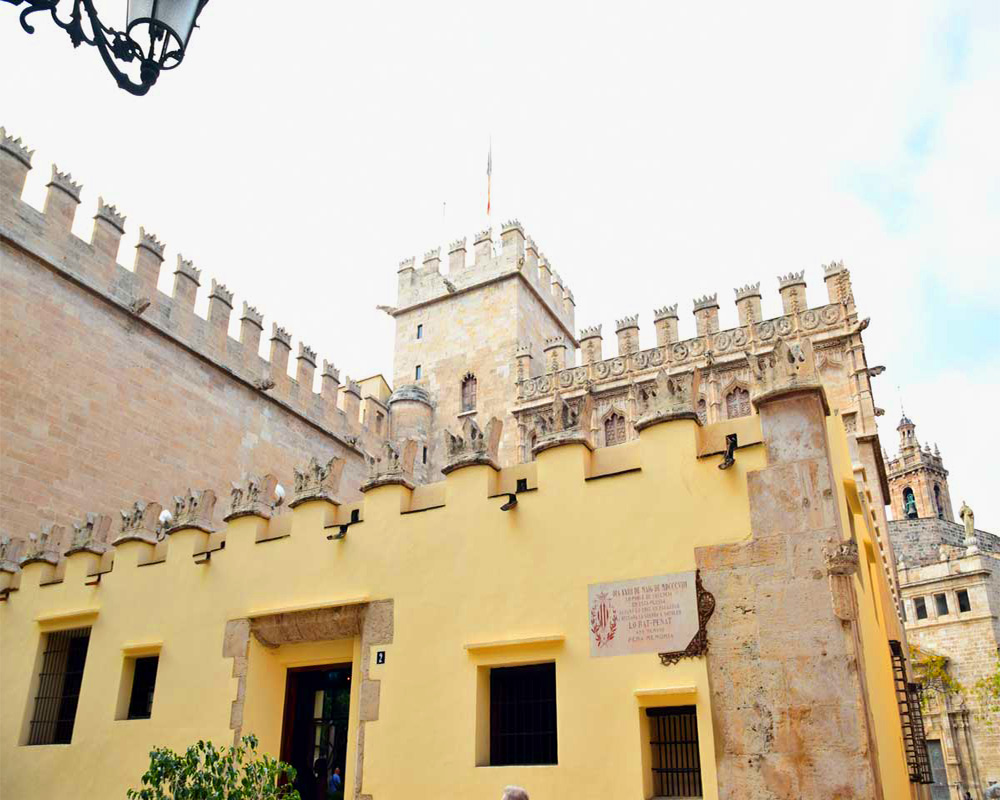 Where is La Lonja?
The La Lonja Silk Exchange is located at Carrer de la Llotja, 2, 46001 València, Valencia.
You can reach La Lonja via these bus numbers: 4, 7, 27, 73, 81, C1.
The site is about an 8-minute walk from the Plaza Ayutamiento. You can arrive here via metro, or drive and park in the area.
For more information about the La Lonja de la Seda, its opening hours and admission fees, see this website.
Text and photos provided by Kemkem Casinelli of Expat in Valencia. Kemkem Casinelli is an early retiree pharmacist and blogger who loves traveling and is currently living in Valencia with her husband and two rescue dogs.
Have you been to La Lonja de la Seda? If so, do you have any additional information or advice about this UNESCO World Heritage site? Please add your comments below!