By Kemkem Casinelli
What is Osun-Osogbo Sacred Grove?
Osun-Osogbo is a historic cultural landmark located in Osun state, in the southwest of Nigeria, and is one of the last remaining groves as the population has increased and encroached on the lands. The deity (or Orisa, as she is known) of fertility is worshipped on its sacred grounds.
Disclosure: This article contains affiliate links. Making a purchase through an affiliate link will mean a small commission for this website. This will not affect your price.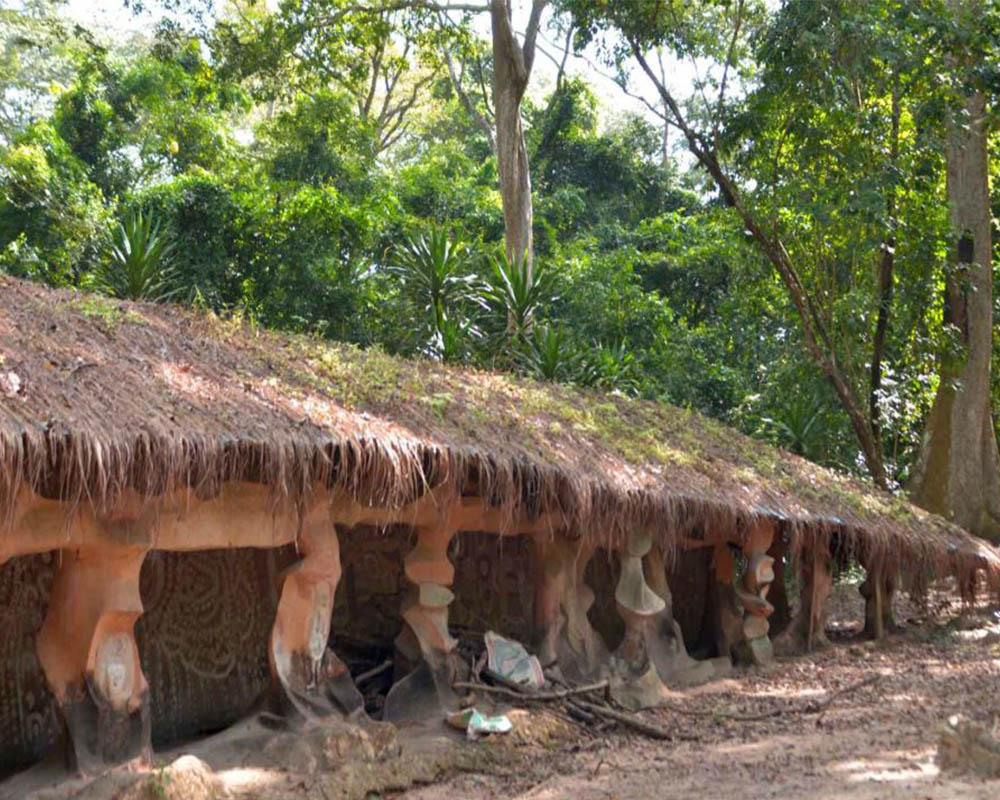 Why is Osun-Osogbo a UNESCO World Heritage Site?
The Osun-Oshogbo was designated as a World Heritage site in 2005. It is a place dedicated to honoring Osun and all the other deities that reside in the sanctuaries and shrines in the 75 hectares of land. It is seen as a "symbol of identity for all Yoruba people" according to the list. It may be the only remaining sacred grove, something that every Yoruba village used to have.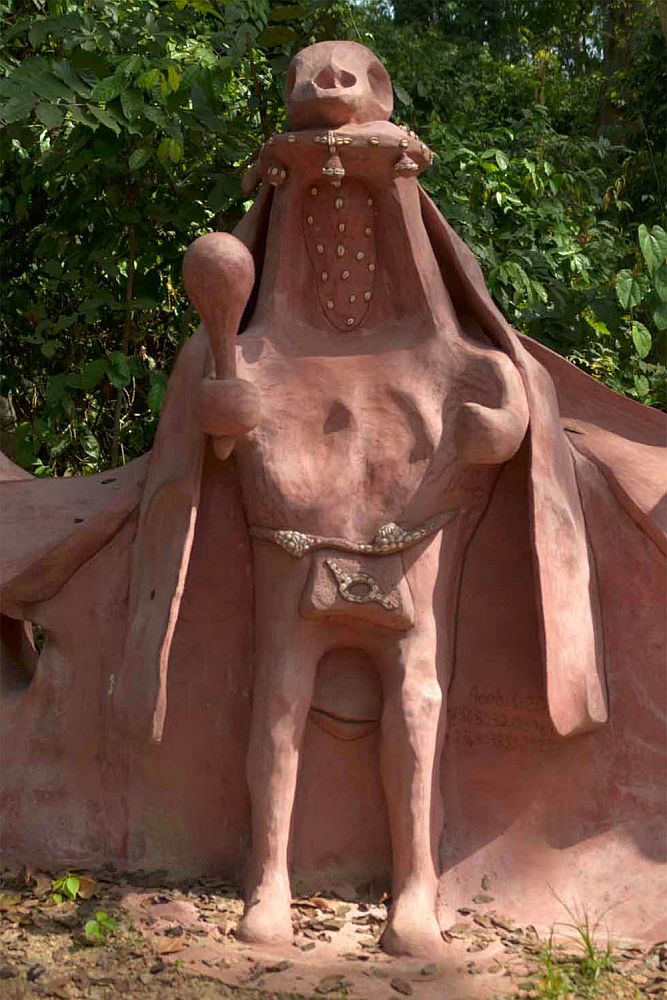 What can you expect on a visit Osun-Osogbo?
A visit to the grove is a discovery into the ancient practices of the Yoruba people (over 50 million currently). You will hear about just some of the more than 200 deities and see offerings and rituals that occur on a daily basis. You get to see the parallels between the Yoruba and Greek mythologies such as the fact that the Yoruba people's Sango is the Greek god of thunder, Zeus.
You will see the actual river, Osun, which is said to be the goddess herself who turned into the river after a fight and now protects the people who come to cleanse themselves in the sacred waters.
You will also see one of the oldest suspension bridges in Nigeria and so many more fascinating sculptures representing different gods, and how people pay tribute to them.
Is Osun-Osogbo worth visiting?
For any history or religion buff, this is a must-see if you are visiting Nigeria. It is literally a journey through ancient civilization. If you're lucky enough to visit at the end of July into August, you can see the almost two-week-long festival that is extremely popular. It attracts worshippers from all over the world, including descendants of slaves taken to faraway countries but who still practice the ways of the past, and who make the pilgrimage back.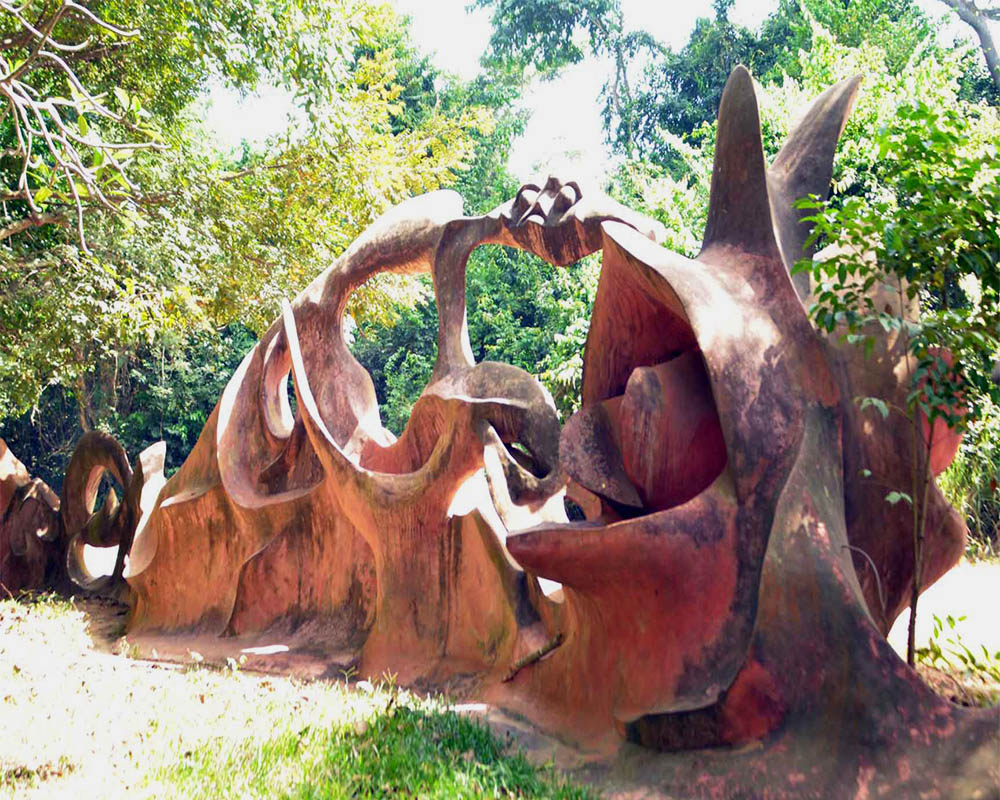 Tips for visiting Osun-Osogbo
Prepare to pay extra if you have a camera.
Wear comfortable shoes as the land is dense and muddy at times, plus there is a lot of walking.
Hire a guide. The guides speak English so that you can really learn about the gods. Otherwise, you're just looking at sculptures. It really enriches the tour, plus they will show you the best trails. Don't forget to tip them.
Do not take pictures of people without asking. Many still believe that pictures can steal your soul and will get hostile.
Wear long pants.
Look for accommodations in Osogbo.
Where is Osun-Osogbo?
The best way to get there is by car. Osun-Osogbo is located in Osogbo, about 88 kilometers (55 miles) from Ibadan. Parking is off-street and free. Coordinates: 7°45′20″N 4°33′08″E
There is no public transportation in the area, but Uber is readily available in most parts of Nigeria and can be hired for the day.
Text and photos provided by Kemkem Casinelli of Next Bite of Life. Kemkem is an early retiree pharmacist and blogger who loves traveling and is currently living in Valencia with her husband and two rescue dogs.
Have you been to Osun-Osogbo Sacred Grove? If so, do you have any additional information or advice about this UNESCO World Heritage site? Please add your comments below!