By Ashley Groves
What is Jongmyo Shrine?
Jongmyo Shrine is a Confucian shrine where the spirit tablets of the kings and queens of the Joseon Dynasty are enshrined. Ancestral memorial rituals have been performed here by descendants of the royal family since the shrine was completed in the late 14th century.
Disclosure: This article contains affiliate links. Making a purchase through an affiliate link will mean a small commission for this website. This will not affect your price.
The tablets are kept in two shrines, Jeongjeon Hall (the main shrine) and Yeongnyeongjeon Hall (the Hall of Eternal Peace). Currently, Jeongjeon Hall holds 49 tablets and Yeongnyeongjeon Hall holds 34 tablets.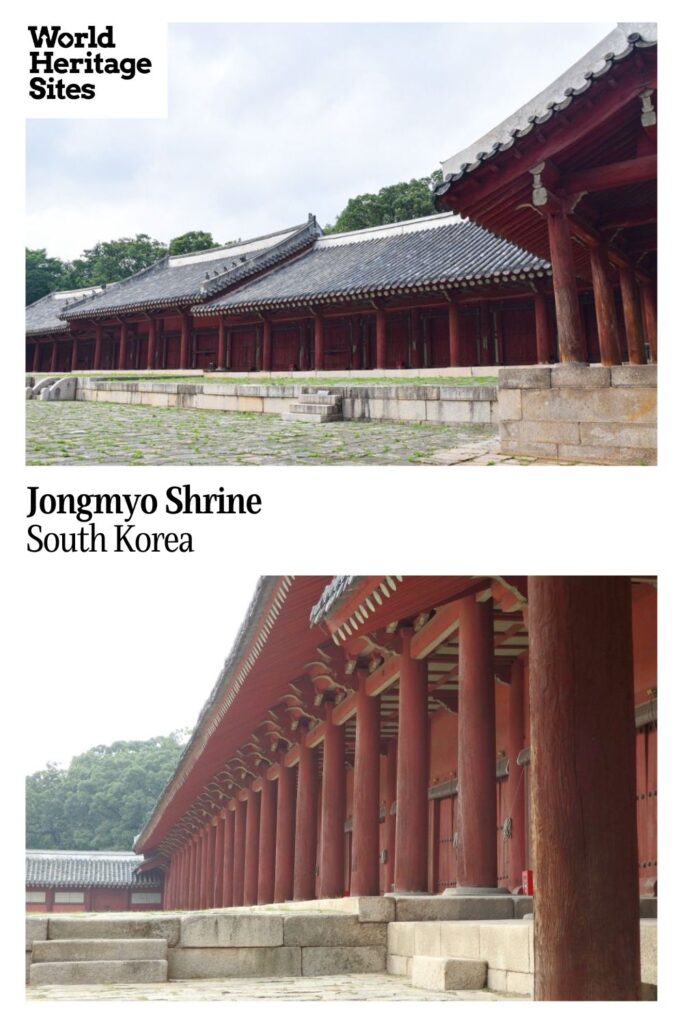 Why is Jongmyo Shrine a UNESCO World Heritage site?
According to UNESCO, this shrine is the oldest Confucian royal shrine that has been preserved: "an outstanding example of the Confucian royal ancestral shrine." It's also the most authentic of these shrines, as it has totally preserved its unique layout and traditional rites are still practiced there to this day.
In addition, the Jongmyo Jerye, the ancestral rite performed the first Sunday of each May, is itself one of Masterpieces of the Oral and Intangible Heritage of Humanity. During the ceremonies, descendants of the Korean royal family perform the rite to honor their ancestors, accompanied by court music and dance.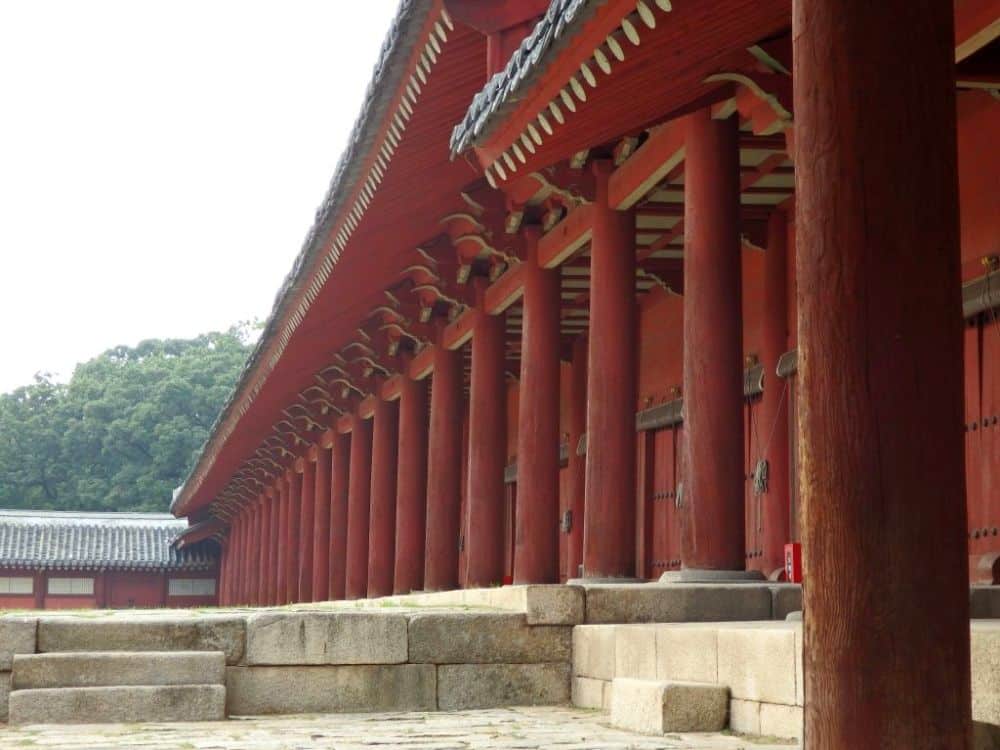 What can you expect on a visit to the shrine?
Jongmyo Shrine is a very quiet and peaceful place. The two shrine halls and other buildings are all surrounded by a multitude of trees.
Jeongjeon Hall and Yeongnyeongjeon Hall are both large and impressive. While you generally can't see into the two halls, you can see what a setup for memorial rites looks like in another building.
If you visit on a guided tour, the tour guide will talk in-depth about Jongmyo Shrine's history, the rites performed there, and the Joseon royal family. If you visit during general admission, there are signs outside each major building giving some details on the building, its history, and its purpose.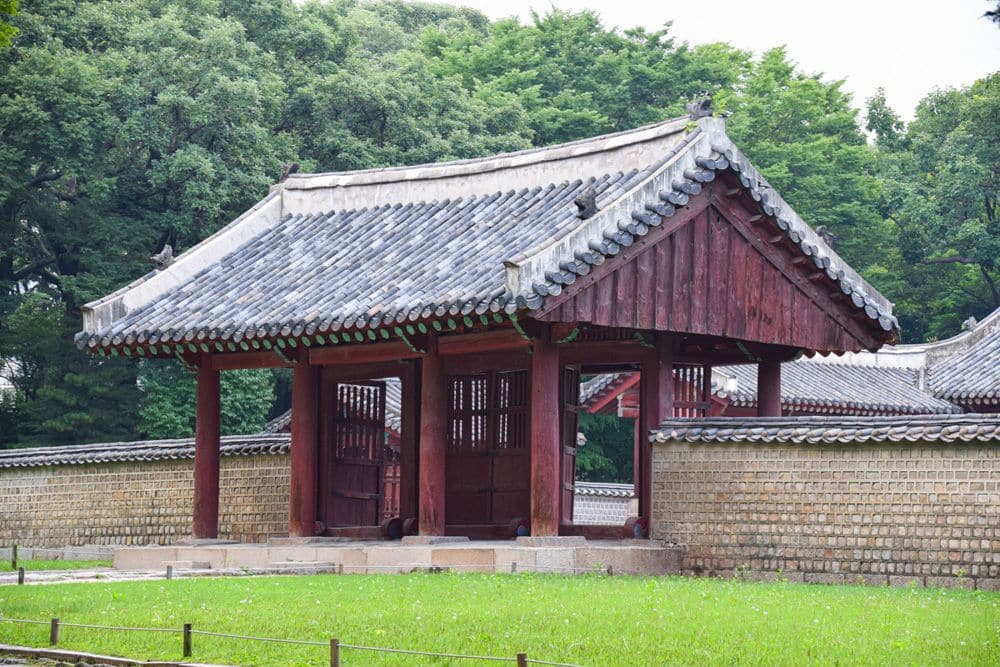 Is Jongmyo Shrine worth visiting?
Jongmyo Shrine is definitely worth visiting, especially if history or Korean culture interests you. It's a unique part of Korean culture, so it's worth a special trip to Jongno-gu for it. But even if you aren't a history buff, you can still enjoy learning about it if you take a guided tour.
Since you can only visit Jongmyo Shrine on a guided tour except on Saturdays and some holidays, you will have to coordinate visiting it with your other activities. If you have an abbreviated itinerary in Seoul, you might find it easier to learn more about Korean culture and history by visiting other historical sites or museums.
Find accommodations in Seoul here.
You should put aside about an hour and a half to visit the shrine. A guided tour lasts about an hour, and you will need to arrive a bit earlier than your tour starts.
Try this tour that includes a stop at Jongmyo Shrine.
Tips for visiting the shrine
Jongmyo Shrine can only be visited via guided tour, except on Saturdays, national holidays, and Culture Days (the last Wednesday of every month). Guided tours last about an hour, and show you the major sights of the shrine.
Guided tours are available in Korean, English, Japanese, and Chinese. They're also included for free with your ticket, so you don't have to pay extra for them. I recommend visiting Jongmyo Shrine on a guided tour, as you can learn a lot about the history and role of Jongmyo Shrine, as well as the ancestral rites that are performed there.
Find accommodations in Seoul here.
A visit to Jongmyo Shrine is easy to combine with other historical attractions around Jongno-gu in Seoul, including Changdeokgung Palace and its Secret Garden (also a UNESCO site) and Changgyeonggung Palace. Both of these palaces are about a 20-30-minute walk away.
Also close by are Gyeongbokgung Palace and Bukchon Hanok Village, which is one of the best free things to do in Seoul.
Just remember that Jongmyo Shrine remains an important and sacred place. Please be sure to behave respectfully, like not stepping on the center of the three-part stone path (see photo below). That section of the path is reserved for the spirits.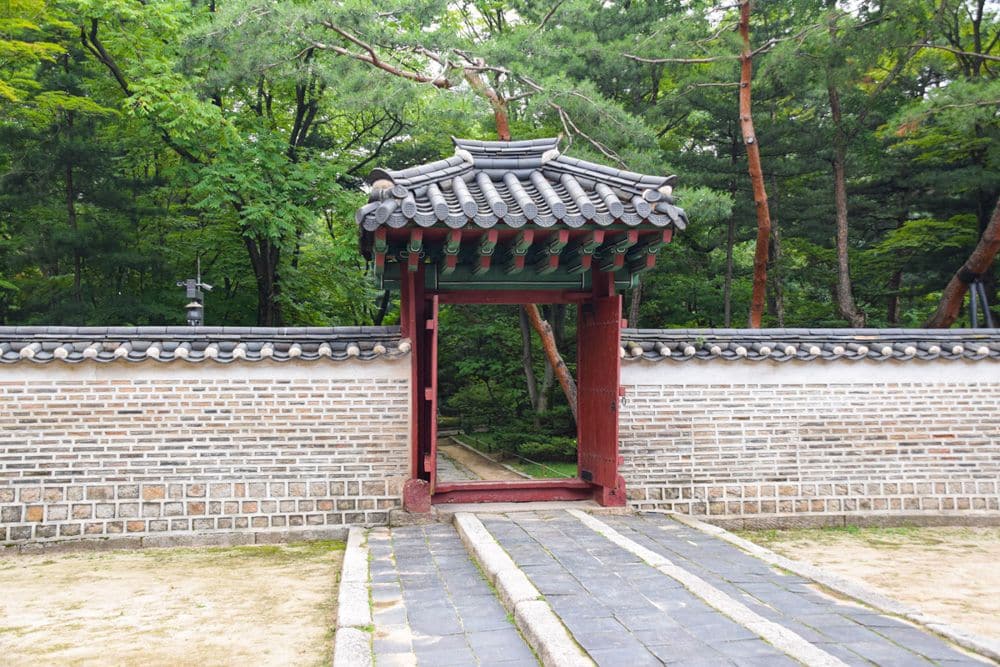 Where is Jongmyo Shrine?
Jongmyo Shrine is located in north central Seoul in Jongno-gu, just south of Changdeokgung Palace and Changgyeonggung Palace. Its address is 157, Jong-ro, Jongno-gu, Seoul.
If you're renting a car, it takes around an hour to drive from Incheon to Jongmyo Shrine, and about five and a half hours to drive from Busan. However, the shrine does not have a parking lot, so you will have to find public parking.
You can also get to Seoul via train and bus from other cities. For instance, you can reach Seoul via the KTX bullet train from Busan in less than 3 hours, from Jeonju in about 1 hour 45 minutes, and from Gangneung in 2 hours.
Jongmyo Shrine is easy to reach by public transportation though. The closest subway station to the shrine is Jongno 3(sam)-ga Station, which is on subway lines 1, 3, and 5. The closest exit is Exit 11. One of the closest bus stops is Jongno 4(sa)-ga/Jongmyo Shrine bus stop.
For more information about Jongmyo Shrine, its opening hours, and admission fees, see its official website.
Text and photos, except where noted, provided by Ashley Groves, the writer and photographer behind Culture Snapshots. When she travels, she likes to explore the culture of each destination, including history, architecture, arts, and food. You can follow her on Instagram and Facebook.
Have you been to Jongmyo Shrine? If so, do you have any additional information or advice about this UNESCO World Heritage site? Please add your comments below!