Archaeological Site of Delphi
By Maggie McKneely
What is the Archeological Site of Delphi?
The sanctuary of Delphi was once the home of the oracle of Apollo, a revered prophet sought out by kings and commoners alike, making it the religious center of the ancient Greek world. At its height in the 6th century BC, it was considered to be the center of the world, and pilgrims came from far and wide to consult the oracle.
Disclosure: This article contains affiliate links. Making a purchase through an affiliate link will mean a small commission for this website. This will not affect your price.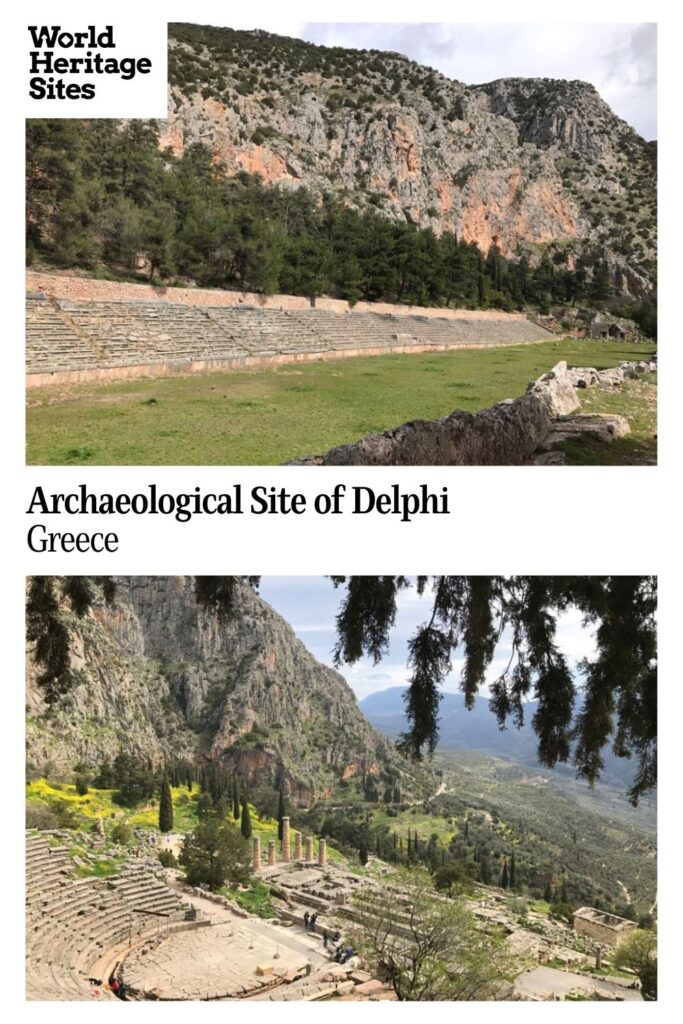 Why is Delphi a UNESCO World Heritage site?
Built on the slopes of Mt. Parnassus, Delphi is an architectural and artistic masterpiece. Its collection of monuments "combine to form a strong expression of the physical and moral values of a site which may be described as magical," according to UNESCO.
Delphi also had a significant impact on the ancient world. The site is mentioned in many famous Greek stories and myths and the greatest kings, statesmen, and historical figures sought out the oracle there for advice. Some sent valuable gifts to Delphi to stay in Apollo's good graces. Because of its importance in Greek religion and culture, Delphi was a crossroads of civilization and commerce unmatched in the ancient world.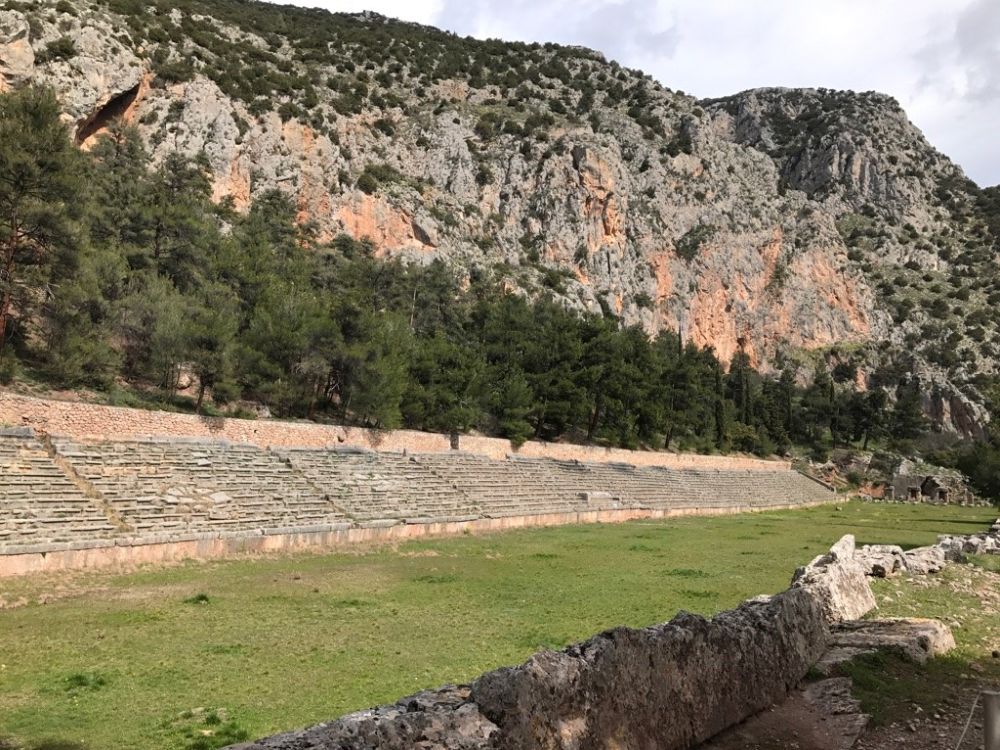 What can you expect on a visit to the Archeological Site of Delphi?
Delphi is visually stunning, with its position on the side of Mt. Parnassus overlooking the valley below. Many of its temples and structures are still intact, transporting visitors to the time when the Greek myths were first being told.
Remnants of many structures remain, the most important of which are:
The Stadium: The oldest part of this large stadium dates to the 4th century BC. Races and performances took place here.
The Athenian Treasury: This is the best-preserved of the structures at Delphi. It is constructed of marble with Doric columns and was used to hold ritual objects when they weren't in use.
The Tholos: This is what remains of a circular building dating to 380-370 BC. that once had a full ring of 20 Doric columns.
The theater of Delphi: This outdoor amphitheater could hold about 4500 spectators. It dates to the second century BC.
The Temple of Apollo: The original temple on this spot, built in 510 BC, collapsed in an earthquake, so the remains you see today date to its 330 BC replacement.
These and the many other temples, treasuries and other buildings across the site were originally decorated with friezes, sculptures and inscriptions. You can see many of these elements in the Archaeological Museum of Delphi, where they are helpfully grouped together by building. Many objects left at Delphi as offerings are also on view in the museum.
Find a short tour of Delphi here.
Compare multi-day tours that include a stop at Delphi by clicking on the image below:
Is the Archaeological Site of Delphi worth visiting?
Delphi is one of the most beautiful and culturally important sites in Greece and is absolutely worth visiting during your week in Greece.
What sorts of travelers would like Delphi?
Delphi offers something for a wide range of travelers. History lovers and those into Greek mythology will be most interested. Kids will enjoy seeing such a large collection of temples in still relatively good condition, including the racetrack and amphitheater. And even for those not particularly interested in history, the location in the mountains is stunning.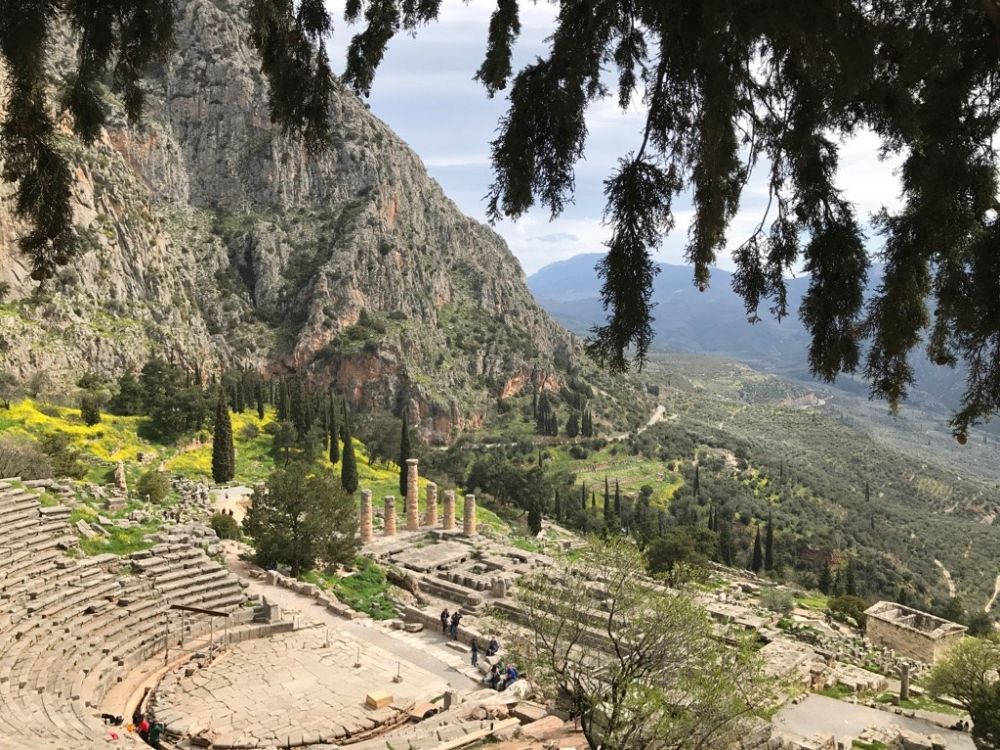 Tips for visiting the Sanctuary of Delphi
The site at Delphi covers a large area and, since it's on the side of a mountain, it's very hilly – be prepared to do a lot of walking and in good, sturdy shoes. It's several hours from Athens and not particularly close to anything else, so it does require a full day to visit. However, the modern-day town has several hotels and restaurants.
Don't miss the museum. It'll help make clear what the site was like in its heyday, particularly how highly decorated the temples and other buildings were.
Where is Delphi?
Delphi is about 2-3 hours northwest of Athens via car. There is free parking and it is usually easy to find a spot.
Compare rental car prices here.
Greece's main bus company, KTEL, sends buses from Athens to Delphi several times a day. The trip takes around 3 hours.
For more information about Delphi, its opening hours and admission fees, see its official website.
Text and photos provided by Maggie McKneely of Pink Caddy Travelogue. Maggie is a 20-something politico from Washington, DC, who always has one foot off the ground, looking for adventure. She works full-time in the Swamp but uses travel as a way to stay sane.
Have you been to the Archeological Site of Delphi? If so, do you have any additional information or advice about this UNESCO World Heritage site? Please add your comments below!