Fujisan, sacred place and source of artistic inspiration
By Alyse
What is Fujisan, Sacred Place and Source of Artistic Inspiration?
Mount Fuji, affectionally named Fujisan by locals, is the most sacred peak in Japan. As a volcano, she is famed for her perfect conical shape, evasiveness behind clouds, snow-capped peak and significant role for pilgrims who worship in the Buddhist and Shinto religions.
Disclosure: This article contains affiliate links. Making a purchase through an affiliate link will mean a small commission for this website. This will not affect your price.
On a clear day, Fujisan can be seen from over 100 kilometres away in major cities such as Tokyo and Yokohama. Due to this, she has been the inspiration behind thousands of depictions in Japanese art since the 11th century.
25 sites are included in the UNESCO listing for Fujisan, which is 3,776m (12,400ft) high. They are:
Shrines:
Kawaguchi Asama-jinja Shrine
Fuji Omuro Sengen-jinja Shrine
Yamamiya Sengen-jinja Shrine
Fujisan Hongu Sengen Taisha Shrine
Fuji Sengen-jinja Shrine (Subashiri Sengen-jinja Shrine)
Suyama Sengen-jinja Shrine
Murayama Sengen-jinja Shrine
Lodging houses originally for worshippers:
"Oshi" Lodging House (Former House of the Togawa Family)
"Oshi" Lodging House (House of the Osano Family)
Natural features:
Fujisan Mountain Area
Funatsu lava tree molds
Yoshida lava tree molds
8 Sacred Ponds of Oshino Hakkai (Deguchiike, Shobuike, Kagamikke, Wakuike, Nigoriike, Choshiike, Sokonashiike and Okamaike Ponds)
Lake Yamanakako
Lake Kawaguchiko
Shiraito no Taki Waterfalls
Hitoana Fuji-ko Iseki (lava tunnel)
Mihonomatsubara Pine Tree Grove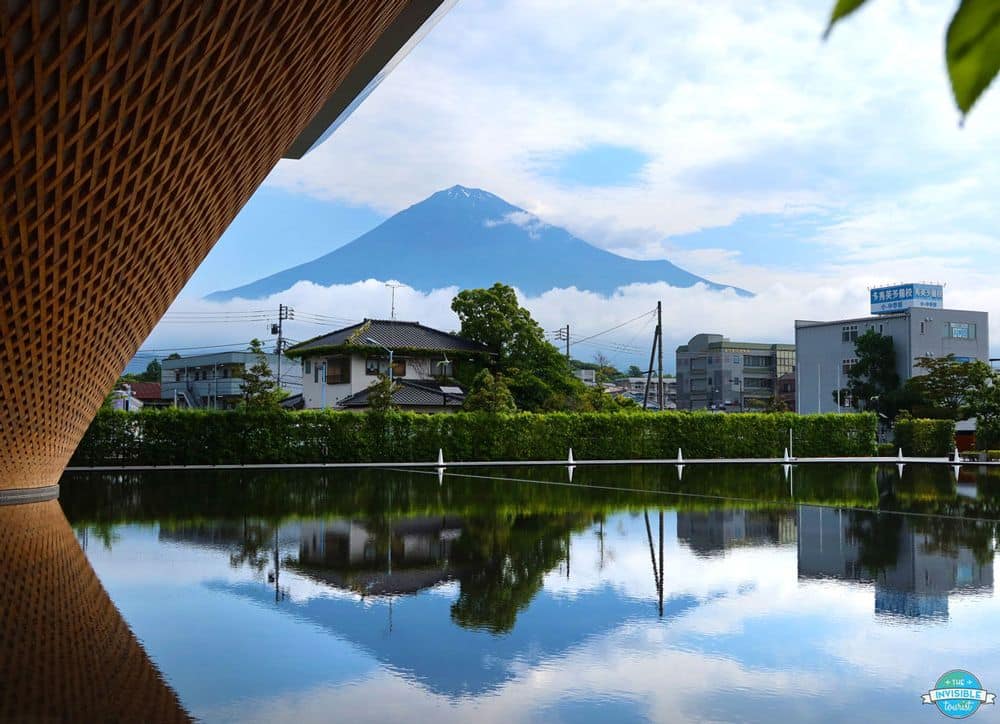 Why is Fujisan a UNESCO World Heritage site?
According to the UNESCO website, in the 12th century, Fujisan became a centre of training for ascetic Buddhism, which included Shinto elements. The upper 1,500-metre tier of the mountain is dotted with pilgrim routes. Crater shrines have been inscribed alongside sites around the base of the mountain including Sengen-jinja shrines and Oshi lodging houses. This area also features natural volcanic elements such as lava tree moulds, lakes, springs and waterfalls, which are revered as sacred.
Japanese artists and writers have been inspired by Mount Fuji for centuries, but woodblock prints from the 19th century have influenced the development of Western art as well.
What can you expect on a visit to Mount Fuji?
Unfortunately, seeing Fujisan during your Japan trip is not guaranteed. Personally, it took me five attempts to see her over the years. But finally taking in that amazing sight on a clear day made up for all the times I didn't!
My best views have been from Lake Kawaguchiko in early spring and Fujinomiya during summer. You can expect popular spots such as the banks of Lake Kawaguchiko to be crowded with both foreign and local visitors trying to take postcard-worthy shots. But locals are patient and kind.
The city of Fujinomiya is wonderful for visitors interested in the sacred elements of the mountain. As the ancient starting point for pilgrims to climb when Kyoto was Japan's capital, there are numerous religious sites in the city centre.
Hitoana Fuji-ko Iseki, one of the site elements, features a lava cave believed to be the residence of Fujisan's goddess, as well as stone pagodas and a shrine dedicated to worshippers of the old Fuji-ko religion. Visiting this site is one of the top things to do in Fujinomiya.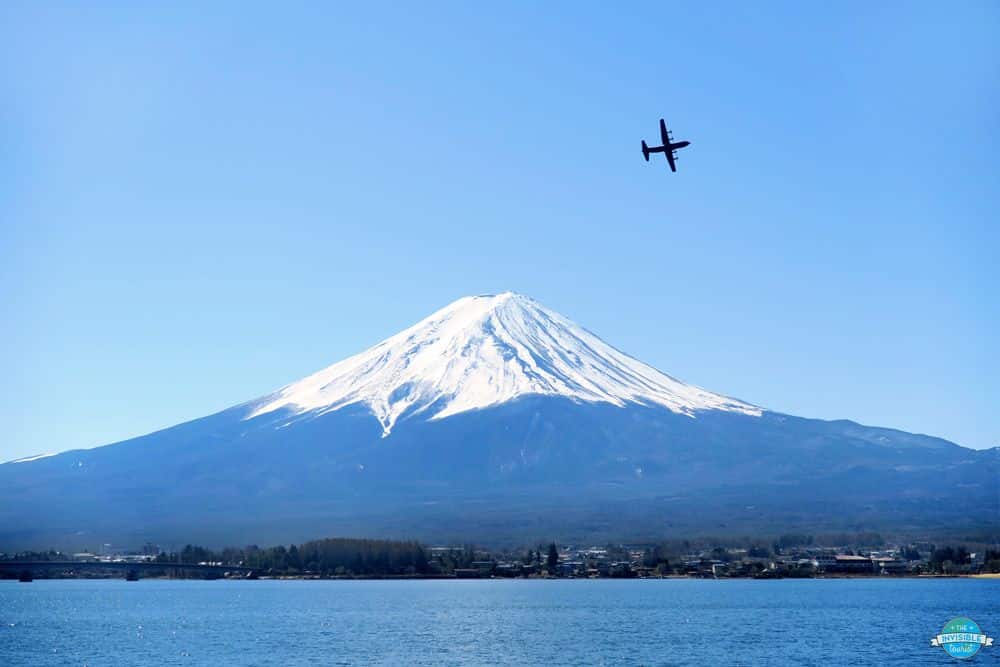 Is Fujisan worth visiting?
As an internationally recognised icon of Japan and due to her cultural significance to the nation, Fujisan is absolutely worth visiting as a day trip from Tokyo, or as an overnight trip to Fujinomiya or Kawaguchiko.
Book your accommodations in Fujinomiya or Kawaguchiko.
Although she is hiding behind a cloudy blanket much of the time, planning ahead and having a flexible itinerary can increase the chances of seeing her.
It's the evasiveness that makes clear sightings all the more special and meaningful, too. If the clouds aren't in your favour, visiting Fujisan's World Heritage Centre is a fantastic way to learn more about her.
What sort of travellers would like Fujisan?
Fujisan is perfect for all kinds of travellers. Those who prefer getting out in nature will enjoy the gorgeous scenery such as lakes, spring blossoms or colourful foliage that frames the mountain during autumn.
Couples will see the romantic side when visiting, whereas spiritual travellers will enjoy learning more about the sacred sites.
During the summer months, hikers would even enjoy the lengthy trail to the shrines on Fujisan's peak to pay respects as pilgrims did centuries ago.
Tips for visiting Fujisan
If you're hoping to see Fujisan, it should be noted that she is covered in cloud much of the year. The best times to see her are when the air is cold and crisp, such as late autumn, winter and early spring.
Summer is one of the worst times for sightings, as humidity creates an abundance of cloud cover.
In saying that, it is still possible to see Fujisan during summer in the early mornings, and as the air cools during the evenings.
It may be a good idea to stay overnight in an area surrounding Mt Fuji to capture her early morning beauty, rather than taking a day trip from Tokyo.
Most of the locations are marked on the map below:
Where is Fujisan?
Fujisan is centred on the borders of Yamanashi and Shizuoka Prefectures in eastern Japan. There are numerous locations to see her, the most popular being Lake Kawaguchiko and lesser-known Fujinomiya.
Lake Kawaguchiko can be reached in 1.5 hours by highway bus or a little over 2 hours by train from Shinjuku in Tokyo.
Fujinomiya can be reached in 2 hours by car, and 2.5 hours by train from Shinjuku in Tokyo.
For more information about Fujisan, Sacred Place and Source of Artistic Inspiration, see its official website.
Text and photos provided by Alyse from The Invisible Tourist, a Japan-loving travel blogger and author who has embraced "invisible" tourism for over a decade across five continents. Her blog explores the benefits of "blending in" to enrich travel experiences and create meaningful connections with locals.
Have you been to Fujisan? If so, do you have any additional information or advice about this UNESCO World Heritage site? Please add your comments below!