Itsukushima Shinto Shrine
By Alyse
What is Itsukushima Shinto Shrine?
Itsukushima Shinto Shrine or Itsukushima-jinja is a place of worship for followers of Japan's native religion, Shintoism. The complex consists of 17 wooden structures made completely from wood without metal nails, and its elevated boardwalks over the water make the shrine appear to float at high tide.
Having stood on a small island near Hiroshima and the Seto Inland Sea since the 12th century, the popularity of Itsukushima Shrine led to the island being nicknamed "Miyajima" (shrine island).
Disclosure: This article contains affiliate links. Making a purchase through an affiliate link will mean a small commission for this website. This will not affect your price.
Why is Itsukushima a UNESCO World Heritage site?
Due to the incredible preservation of the shrine and its buildings since the 12th century, they remain outstanding examples of ancient architectural styles that incorporate the surrounding landscape.
It's believed that the earliest shrine buildings date back to the 6th century, according to the UNESCO website.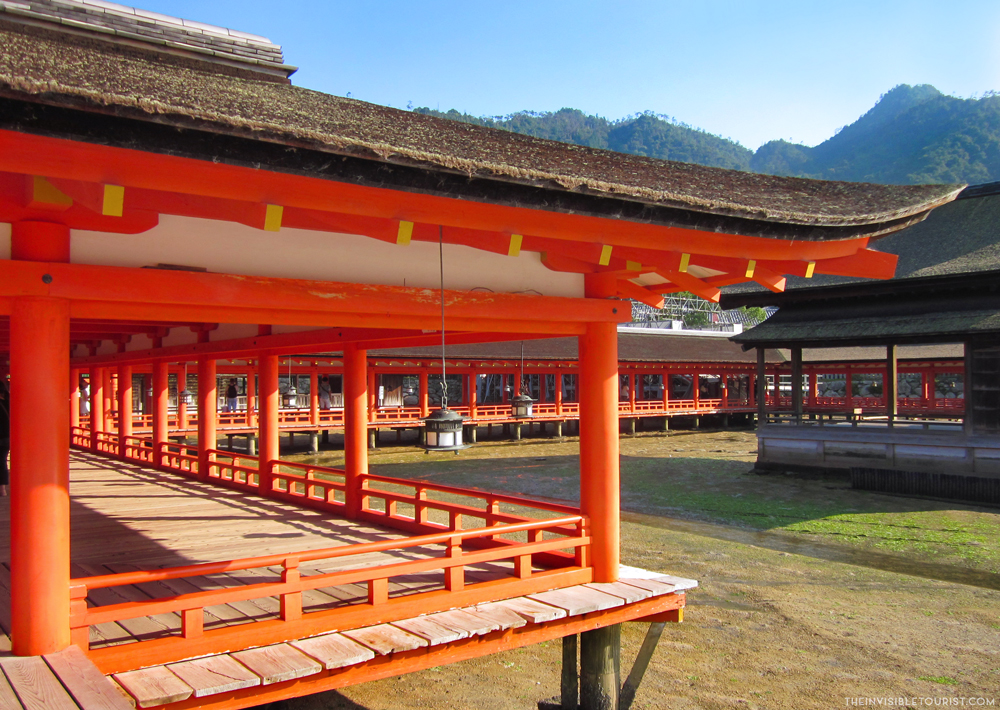 What can you expect on a visit?
While most tourists visit Itsukushima Shrine to witness the vermilion torii gate floating on the water's surface, the reality is that high tide may not coincide with their trip. I was first disappointed to learn the tide would be low during my time on Miyajima. However, I quickly realised that there was a little-known benefit.
The low tide makes it possible to walk right beneath the torii and admire its beauty up close. It's difficult to grasp the sheer scale of the 16-metre-high torii from the shore, so I was thrilled to experience this unexpected perspective!
Is Itsukushima Shinto Shrine worth visiting?
As its grand torii gate is one of the most photographed landmarks of Japan, Itsukushima Shrine is absolutely worth visiting. The shrine complex itself is very impressive, having been preserved so beautifully since the 12th century. And the views over Hiroshima Bay with a mountainous backdrop are simply breathtaking.
Visitors should allow around 1-2 hours at the shrine itself, and the remainder of a day to explore the island.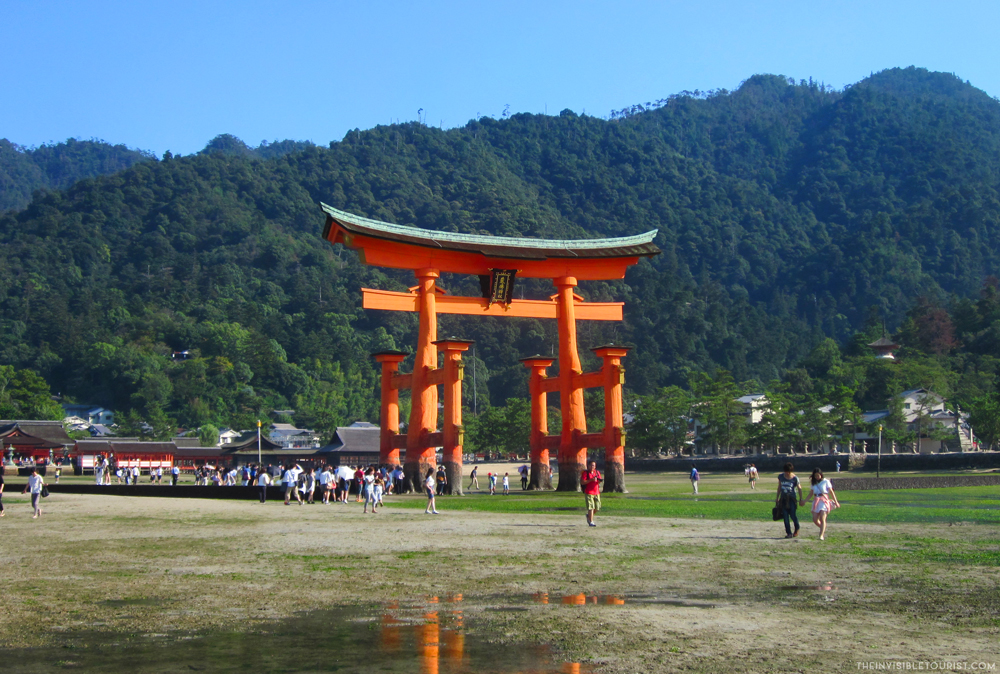 What sort of travellers would like Itsukushima Shinto Shrine?
Travellers who love seeking out centuries-old preserved structures, or have an interest in the history of religion and spiritual places will appreciate Itsukushima Shrine. It's also great for travellers who enjoy visiting naturally scenic places, or outdoor lovers who adore hiking.
Take a private tour to Itsukushima Shinto Shrine.
Tips for visiting Itsukushima Shinto Shrine
As mentioned earlier, the tide can impact the type of experience you have at Itsukushima Shrine. Be sure to check the local tidal information for Miyajima before your visit so you know what to expect in advance and avoid disappointment.
The island of Miyajima itself is so lovely to explore. Other places worth experiencing during your visit are Daisho-in Temple, or seeing the views from atop Mount Misen, which is accessible by cable car or one of the hiking trails.
Be on the lookout for free-roaming deer around the island as they're considered sacred. They may try to bother you if they smell food. However, it's possible to purchase special senbei (crackers) for them from small street vendors. Regular "human" foods can make deer sick.
Click to find accommodations right on Miyajima Island or stay in the city of Hiroshima.
Where is Itsukushima Shinto Shrine?
Itsukushima Shinto Shrine is located on the island of Miyajima. It's a perfect day trip from nearby Hiroshima, with an express ferry taking around 45 minutes to reach the island from the Peace Memorial Park. From the ferry terminal, Itsukushima Shrine is a short 10-minute walk.
If travelling with the Japan Rail Pass, the journey from Hiroshima is quite a bit longer, involving a tram, train and ferry trip and taking over 1.5 hours one way.
For more information about Itsukushima Shrine, its opening hours and admission fees, see its official website.
Text and photos provided by Alyse of The Invisible Tourist, a Japan-loving travel blogger and author who has embraced "invisible" tourism for over a decade across five continents. Her blog explores the benefits of "blending in" to enrich travel experiences and create meaningful connections with locals. Follow her on Facebook, Pinterest, or Instagram.
Have you been to Itsukushima Shinto Shrine? If so, do you have any additional information or advice about this UNESCO World Heritage site? Please add your comments below!