By Kerry Hanson
What is Cologne Cathedral?
Cologne Cathedral (Kolner Dom) is a medieval Gothic cathedral located at the centre of Cologne's old town in Germany. This masterpiece took several centuries to complete, spanning from the 13th century to its completion in the 19th century. The tall architectural monument has a five-aisled basilica, two towers, and is home to many works of art devoted to Christianity.
Disclosure: This article contains affiliate links. Making a purchase through an affiliate link will mean a small commission for this website. This will not affect your price.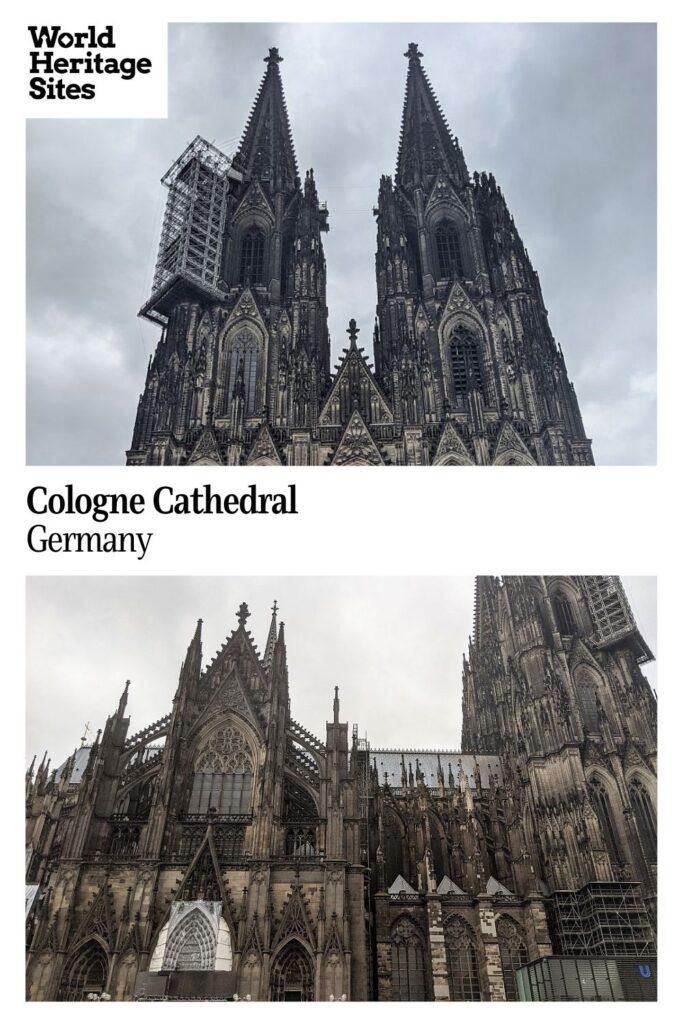 Why is Cologne Cathedral a UNESCO World Heritage Site?
The Cologne Cathedral was listed as a UNESCO World Heritage site because of its sheer size, intricacy and the significance of this Gothic masterpiece. Not only is it a creative work of genius but it also "marks the zenith of cathedral architecture." It is a powerful testament to the Christian belief that existed in both medieval and modern-day Europe, according to its UNESCO listing.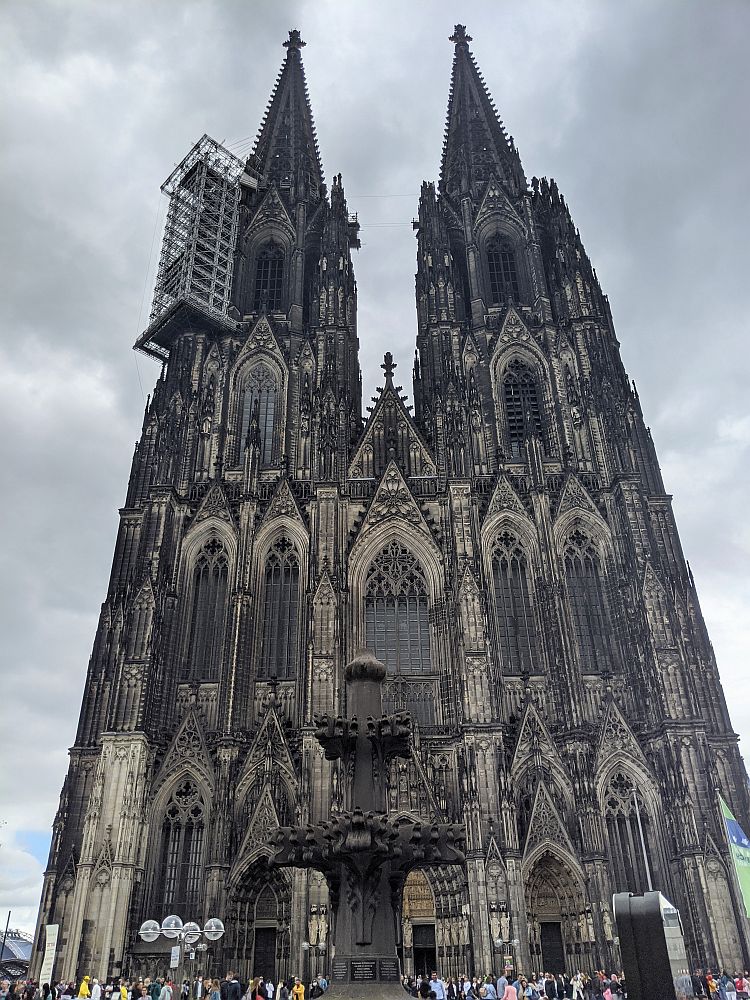 What can you expect on a visit to Cologne Cathedral?
The first thing that will strike you is the sheer size of this beautiful monument. Depending on whether you catch it on a bright or a dark day, you will find different dimensions to its magnificent features.
Inside you'll find a huge high altar of limestone, 14th-century choir stalls and painted choir screens and the largest cycle of 14th-century stained-glass windows still in existence. You'll also find a variety of religious artworks ranging from the 10th to the 16th century.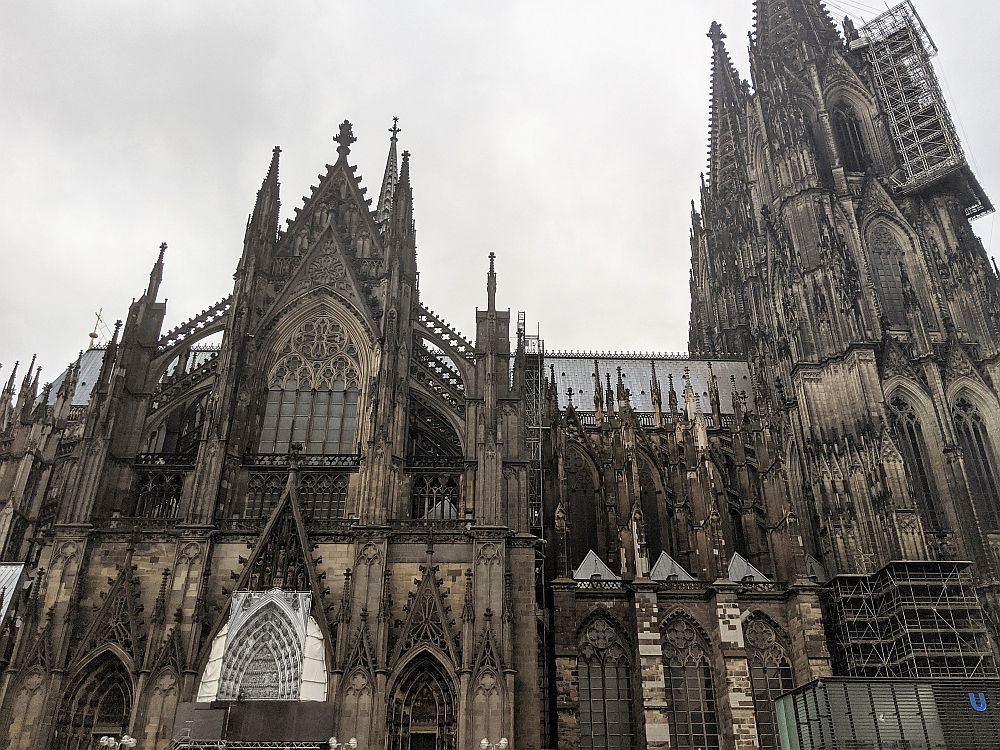 Is Cologne Cathedral worth visiting?
The prime location of the Cologne Cathedral means that you cannot possibly visit the centre of Cologne without visiting it. In fact, this is one of the best things to do in Cologne Old Town. You don't need to tour the inside to appreciate the splendour of the construction, but should do this if you're at all interested in Christian artwork. Tickets to tour the inside are limited and people who are more intrigued by its structure than its religious links will often just admire it from the outside.
Use the map below to help you find accommodations near Cologne Cathedral:
Tips for visiting Cologne
If you visit in the run-up to Christmas, the courtyard of the cathedral comes alive with festive markets. The festivities create a magical backdrop to an already impressive feature. Walk across the bridge to take brilliant photos of the cathedral from afar. This is a particularly pretty scene when done at night.
If you would like a tour of the inside in English, then you are only able to book this on a weekend.
Where is Cologne Cathedral?
The cathedral is the first thing you will see as you exit Cologne Central Train Station. As it is in the centre, it is not advisable to drive. However, buses, taxis and even the mini train will all be able to take you to the Cathedral easily. You literally cannot miss it!
Cologne is less than an hour from Dusseldorf by train and a half-hour from Bonn. It is well-connected by train or plane to pretty much anywhere in Europe. Note: Cologne is called Köln in German.
For more information about the Cologne Cathedral, its opening hours and admission fees, see its official website.
Text and photos provided by Kerry Hanson of VeggTravel, a travel site that provides ideas and inspiration for unique and beautiful destinations and Adrenaline Junkiez, a site that provides exhilarating ideas to fuel the ultimate thrill seekers bucket list. Follow Kerry on social Media: @adrenalinejunkiez_ and @veggtravel on Instagram, or @veggtravel on Facebook.
Have you been to Cologne Cathedral? If so, do you have any additional information or advice about this UNESCO World Heritage site? Please add your comments below!