Vatnajökull National Park – Dynamic Nature of Fire and Ice
By Stephanie Rytting
What is Vatnajökull National Park?
Vatnajökull National Park is located in the center of the island country of Iceland. It is 8100 sq km in area (3,127 sq mi), and covers a shocking 14% of Iceland's surface. This national park encompasses the very large Vatnajokull glacier, as well as a large area of land surrounding the glacier.
Disclosure: This article contains affiliate links. Making a purchase through an affiliate link will mean a small commission for this website. This will not affect your price.
Besides being home to the largest glacier in Europe, Vatnajökull National Park is notable for also being home to ten volcanoes. Eight of these are actually located underneath the ice cap, and two are among the most active volcanoes in Iceland.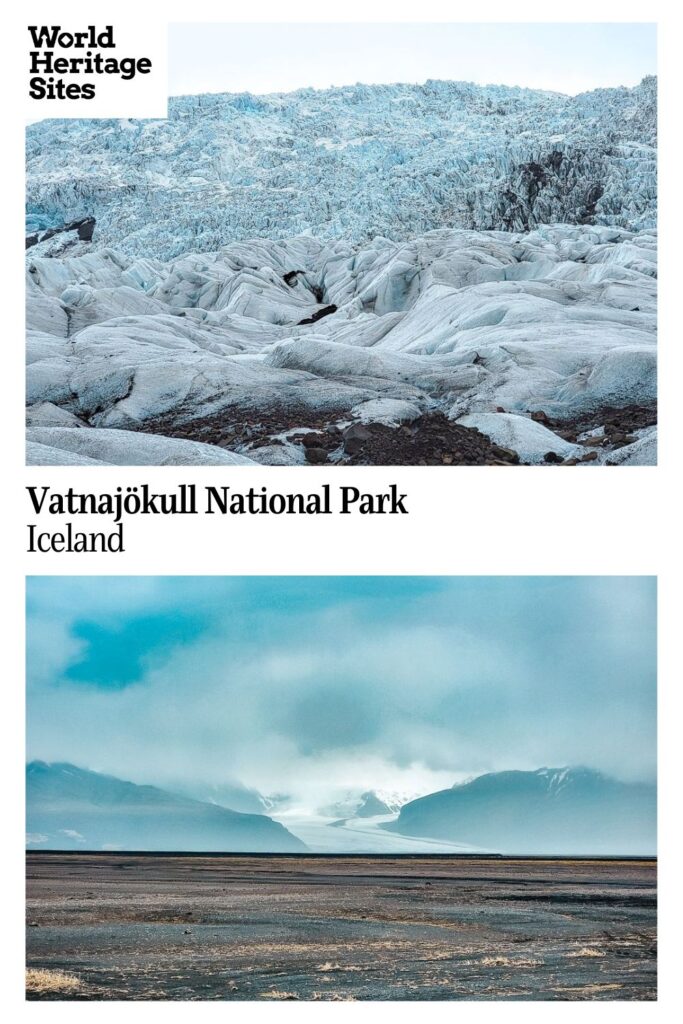 Why is Vatnajökull a UNESCO World Heritage site?
The volcanoes under the Vatnajökull glacier are created from the Mid-Atlantic Ridge, where the Eurasian and the North American tectonic plates are moving apart from each other, creating a rift where magma can surface. The combination of literally fire and ice in the same location creates some interesting phenomena in southern Iceland.
The UNESCO World Heritage site describes it as: "The coexistence and ongoing interaction of an active oceanic rift on land, a mantle plume, the atmosphere, and an ice cap…make the property unique in a global context."
Sometimes, the magma gathering beneath the ice cap will cause meltage of the ice. This meltwater can sometimes break through the top layers of the glacier and practically erupt onto the plains nearby.
These floods have dramatically impacted the landscape around the glacier – creating an incredibly flat surface between the mountains and the ocean. Historically, many people lived on the foothills of the mountain glacier to prevent their homes from being washed away when these rare, but devastating, floods would occur.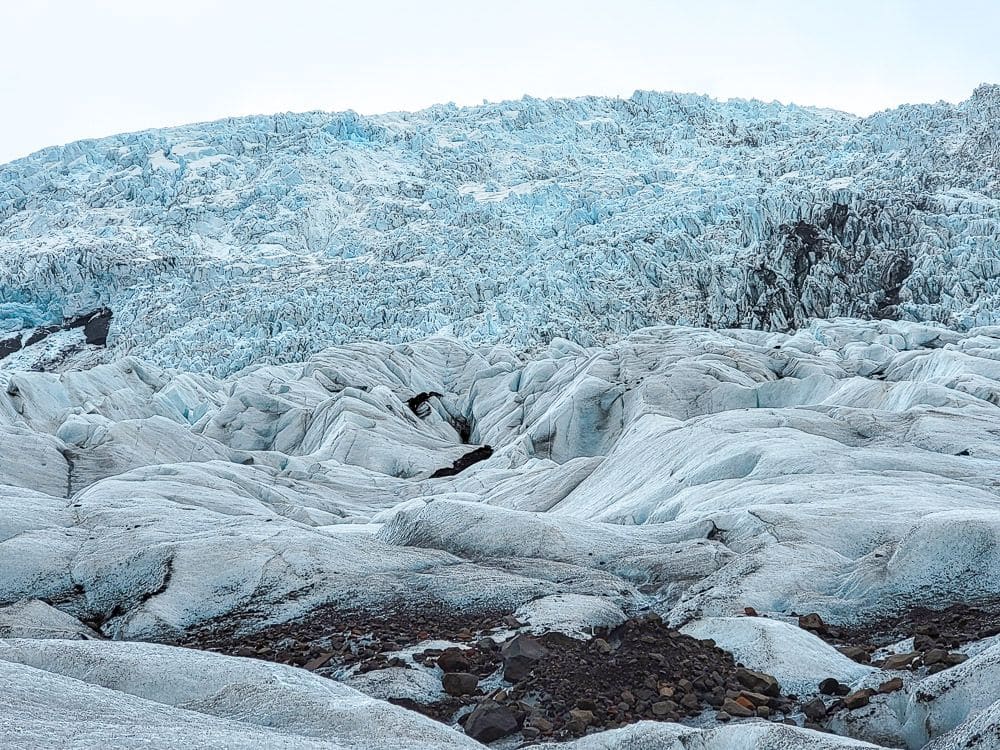 What can you expect on a visit to Vatnajökull National Park?
Vatnajökull National Park is a magical destination in Iceland, with several extremely cool things to see and do.
Many people who visit the national park go hiking on Vatnajökull Glacier. While you technically can go hiking by yourself, it is highly recommended to go hiking with a guide who knows the glacier, knows how to navigate, can avoid any dangerous holes or crevices in the ice, and can take you to the coolest parts of the glacier.
If you visit in winter, many visitors choose to go on a hike through a glacial cave, which takes you inside the glacier itself through tunnels and caves carved by water during the summer.
Hiking the Vatnajokull glacier in Iceland is an unbelievably fun experience. You'll spend 3-5 hours climbing up on the ice, which is full of cracks and crags, alien formations, and little caves. The ice on the glacier often takes on a noticeably blue hue, which is very pretty.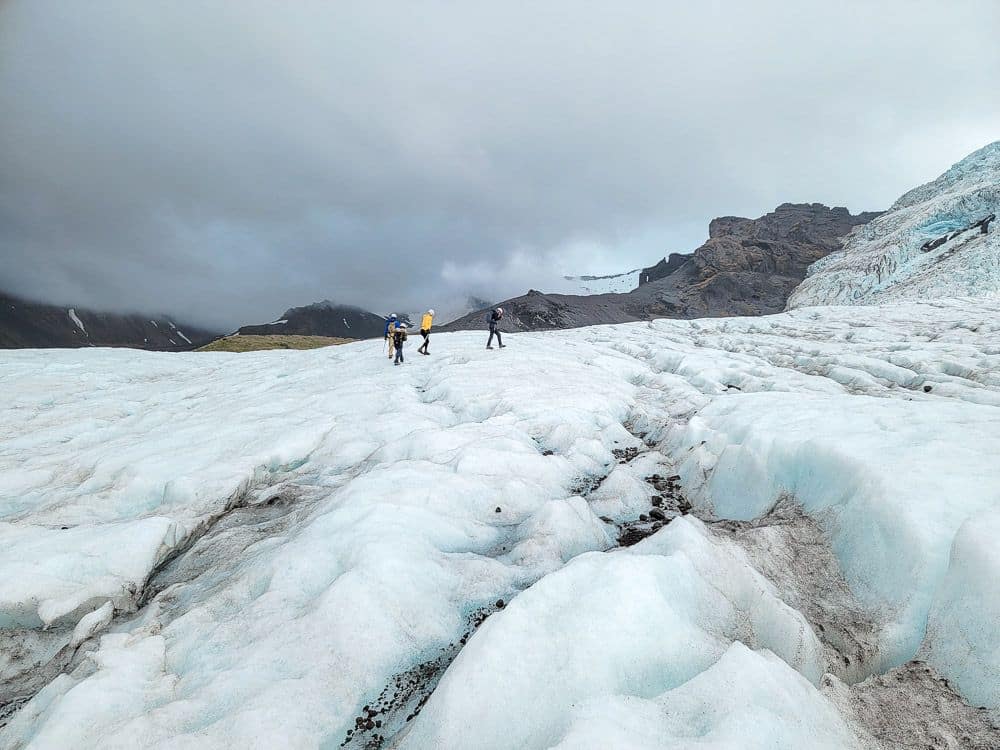 You may hike by a glacial spring on the ice, which you can actually get down and drink from, or hike through little ice canyons. If you do a longer hike, you may reach the ice fall, a tall cliff of ice that looms up over you and is full of ice crags and texture.
Other exciting parts of Vatnajökull National Park include waterfalls, such as Svartifoss, which plummets over a cliff lined with basaltic columns.
Jokulsarlon is another popular destination in Vatnajökull. Also known as "Glacier Lagoon," this lagoon is directly adjacent to an arm of the Vatnajökull glacier. Icebergs that have broken off from the glacier float in the waters of the lagoon before making their way through a short channel out to sea, getting tossed in the waves, and then washing up on the black sand beach nearby.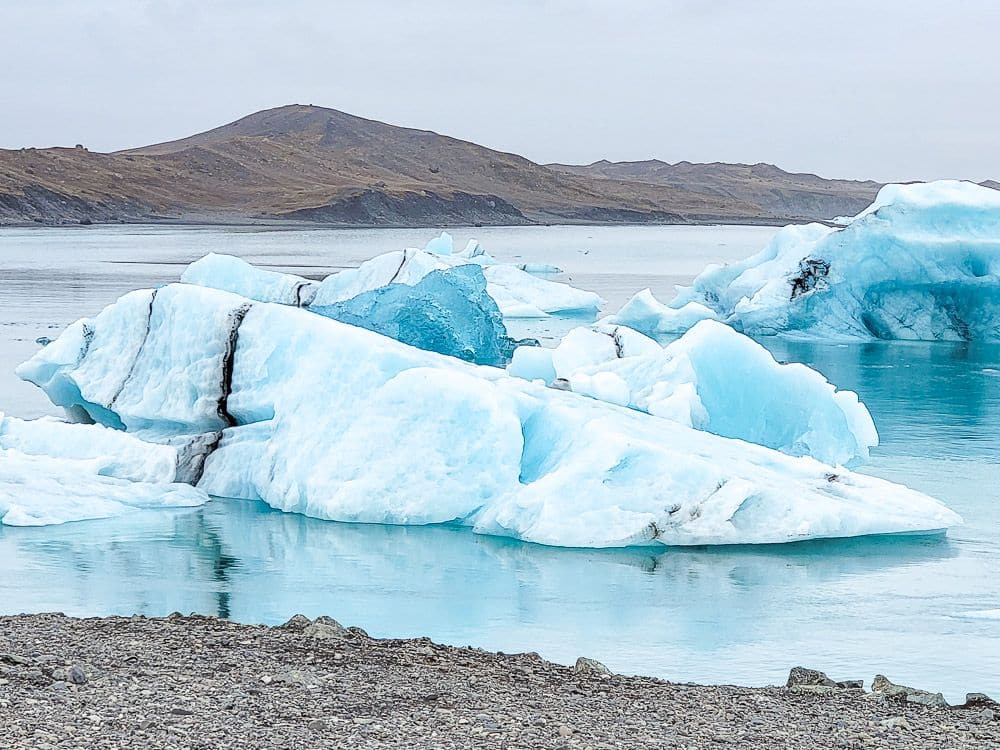 Is Vatnajokull worth visiting?
Vatnajokull National Park is definitely worth visiting, and for many people, is a top highlight of their trip to Iceland. It's also only 4.5 hours from Reykjavik, making it easy to visit for most visitors to Iceland. This is for sure worth planning your trip to Iceland around.
If you're just visiting the southern edge of Vatnajökull, around the Skaftafell area, 1-1.5 days should be enough to adequately see and experience the sights.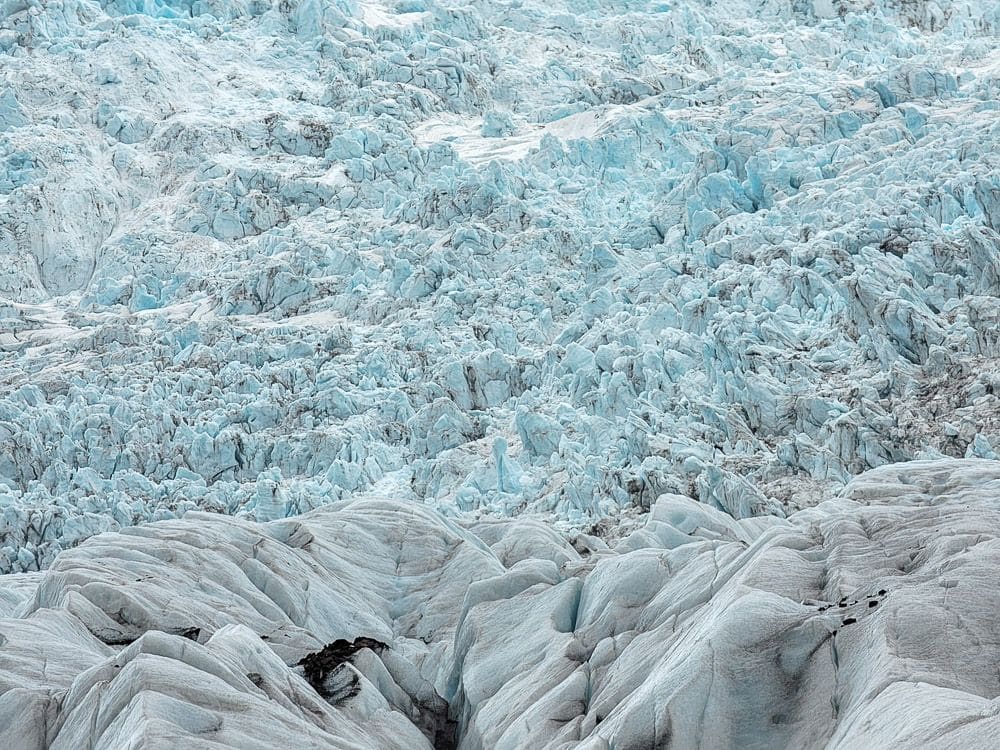 What sorts of travelers would like Vatnajokull National Park?
This destination is definitely best for anyone who likes nature and hiking. If you prefer cities and don't like being in the outdoors, then visiting Vatnajokull probably isn't for you. (But if you're planning a trip to Iceland, you are almost certainly at least somewhat of an outdoorsy person!)
If you like hiking, you can visit Svartifoss waterfall (which requires a medium hike to it) or go hiking on the glacier. If you don't like hiking, you can just visit Jokulsarlon Glacier Lagoon, and the similar, yet smaller, Fjallsarlon Lagoon.
Check here for lots of options for hikes and climbs in Vatnajokull.
Tips for visiting Vatnajökull
If you're visiting Vatnajökull to go hiking on the glacier, definitely book your glacier tour early, as they can sell out. Make sure to bring good hiking boots (or at least good tennis shoes for hiking). You'll be wearing crampons over your shoes for extra traction on the ice.
Jokulsarlon can get pretty busy during the middle of the day, so I'd plan to visit outside of peak daytime hours.
Use the map below to find accommodations in the area. Zoom out for more options.
On your way to or from Vatnajokull from Reykjavik, make sure to visit Þingvellir National Park, another UNESCO site. There, you can very clearly see the rift where two continental shelves meet.
Where is Vatnajökull?
Vatnajökull National Park is located in the southern half of central Iceland. Skaftafell is the gateway to many of the main sites in the park (Svartifoss, glacier hiking). It is located on the southwestern side of the park.
The easiest way to get to Vatnajökull is by car. Most people visiting Iceland rent a car and drive around the country – it's extremely easy to drive in Iceland. The closest city to the Skaftafell entrance is Vik, which is 1.5 hours southwest by car. Hofn is also quite close, and is 1 hour 45 minutes southeast. Parking is readily available and free.
You can take the bus between locations around Iceland, though you'll want to book these tickets in advance, and they're a bit of money. It takes about 2 hours to get from Vik to the Skaftafell entrance by bus (and costs between $20-30).
For more information about Vatnajökull National Park, its opening hours and admission fees, see its official website.
Text and photos provided by Stephanie of The Unknown Enthusiast. Stephanie blogs about exciting and affordable travel destinations all around the world.
Have you been to Vatnajökull? If so, do you have any additional information or advice about this UNESCO World Heritage site? Please add your comments below!