Historic Centre of Oaxaca and Archaeological Site of Monte Albán
By Julien Casanova
What are the Historic Centre of Oaxaca and Archaeological Site of Monte Albán?
The Historic Centre of Oaxaca and Archaeological Site of Monte Albán are a single UNESCO World Heritage site located in Southern Mexico.
Disclosure: This article contains affiliate links. Making a purchase through an affiliate link will mean a small commission for this website. This will not affect your price.
Historic Centre of Oaxaca de Juarez
The historic centre of Oaxaca de Juarez, also called Oaxaca City, is a vibrant capital city that blends its colonial foundation with its rich Mesoamerican culture. The centre of Oaxaca City, which was planned in a grid pattern, is known for its grand churches and colorful buildings.
Archaeological Site of Monte Albán
The Archaeological Site of Monte Albán is an ancient city that was inhabited by various groups – Olmecs, Zapotecs, and Mixtecs – over a period of 1500 years. It is considered the most significant archaeological site in Oaxaca, Mexico.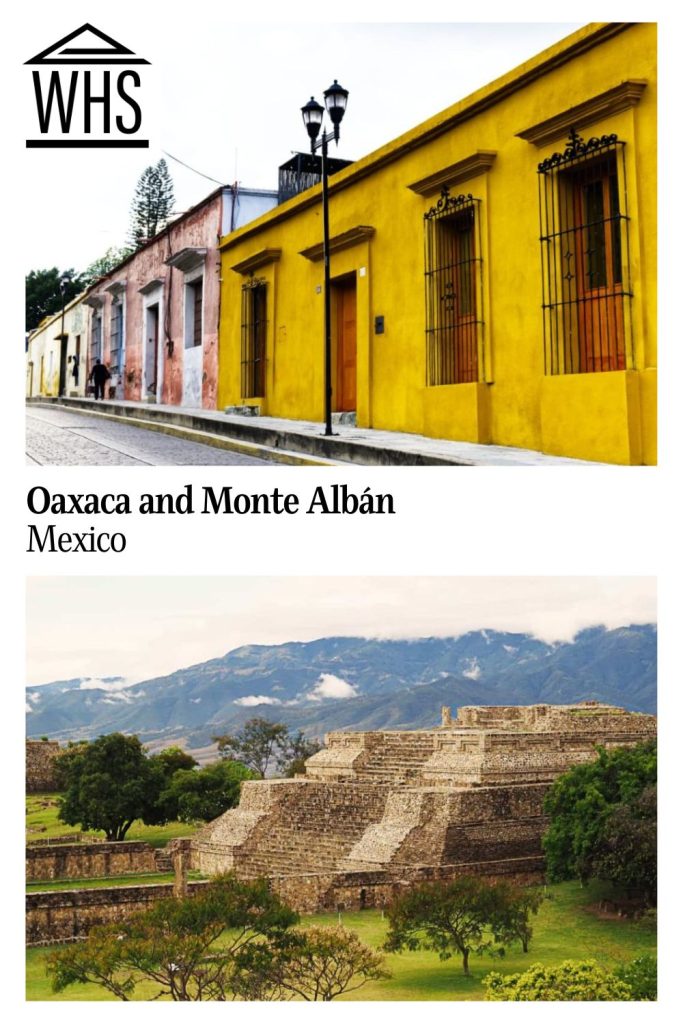 Why are Oaxaca and Monte Albán a UNESCO World Heritage site?
Both the Historic Centre of Oaxaca and Monte Albán have played an important role in this area of Oaxaca at various times throughout history.
Oaxaca City "remains the centre of economic, political, social, religious and cultural activities that give dynamism to the city," according to UNESCO. At nearly 500 years old, its stories are told through incredible art, architecture, and the traditions of the people that inhabit the area. It was the first Spanish colonial city laid out in square blocks, making it a landmark of urban planning.
Perched on a mountain just outside of Oaxaca City, Monte Albán was a flourishing Zapotec capital from 500 B.C. to 850 A.D. Its location was considered sacred, with its topography of terraces, dams, canals, and pyramids carved from the mountain. According to UNESCO, "Monte Albán bears unique testimony to the successive civilizations occupying the region during the pre-Classic and Classic periods."
Take a look at the other UNESCO sites in Mexico.
What can you expect on a visit to Oaxaca City and Monte Albán?
Oaxaca City is a vibrant historic city. It is uniquely influenced by the art and culture of various indigenous groups that live in the many pueblos in the surrounding mountains and valleys.
During my first visit to Oaxaca, I was enamored with the delicious food, beautiful architecture, and incredible cultural traditions. It was Dia de Muertos and I spent 10 days soaking it all up while also making time for all the incredible things to do in Oaxaca and the surrounding villages.
And then I stumbled upon a wedding parade celebrating through the streets of Oaxaca. From that moment, I was hooked. Oaxaca City is truly a special place that radiates from both its past and present.
The mountaintop location of Monte Albán gives the impression that it presides over the surrounding Central Valleys of Oaxaca. And actually, in the time of Zapotec rule, that's exactly what it did. Beyond the valley and city views from the archaeological site, Monte Albán is a notable site in Mexico.
One of the most interesting buildings is the pentagonal-shaped observatory that sits at a slight skew to the rest of the buildings. There are also several pyramids you can climb and a restored ball court.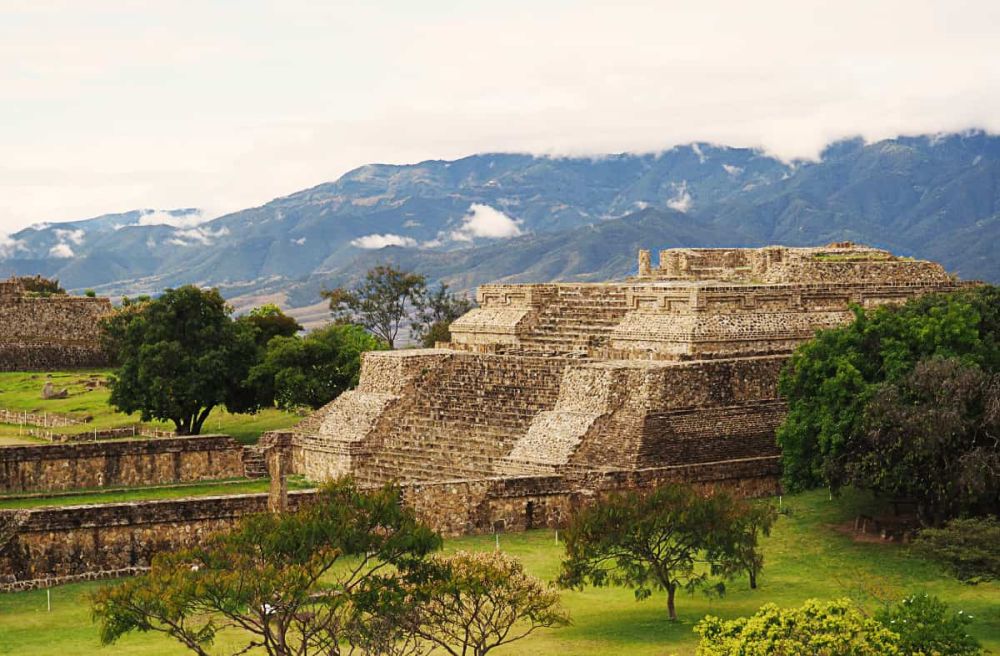 Are Oaxaca City and Monte Albán worth visiting?
Oaxaca City is absolutely worth visiting! You could easily spend a week or more exploring Oaxaca City and the surrounding area while taking day trips to different pueblos known for various artisan crafts.
Book your accommodations in Oaxaca.
And, well, a trip to Oaxaca wouldn't be complete without visiting the archaeological site of Monte Albán. Most travelers consider Monte Albán to be a half-day trip from Oaxaca City. That gives you time to visit other interesting sites during the rest of the day.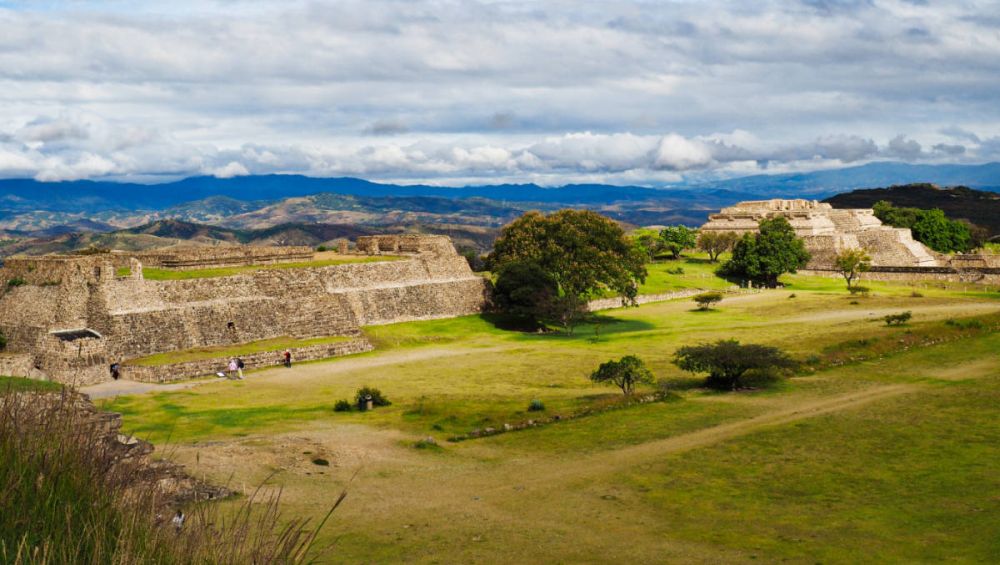 What sorts of travelers would like Oaxaca City and Monte Albán?
As a cultural and foodie capital of Mexico, Oaxaca City appeals to quite a few types of travelers. Anyone that is into food, culture, or unique artisan products will want to visit Oaxaca and the surrounding area.
And whether or not you are fascinated by Mesoamerican history, just about everyone will enjoy visiting the archaeological site of Monte Alban for its incredible history and 360-degree panoramic views.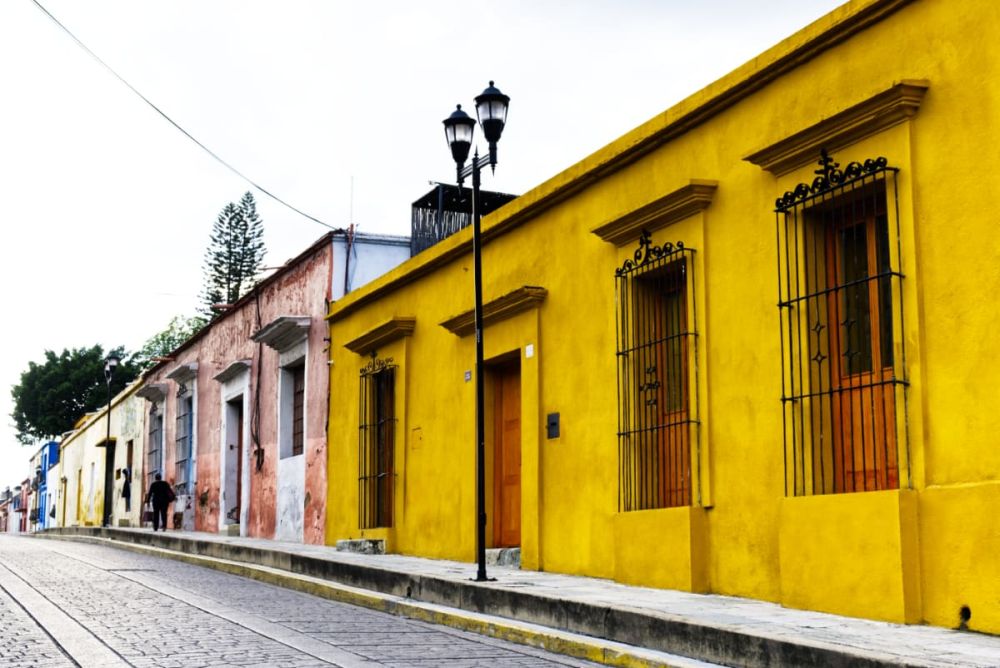 Tips for visiting Oaxaca City and Monte Albán
Oaxaca
Oaxaca is a walking city, so it's best to pack your walking shoes. You may want to bring layers for the evenings since temperatures often dip at night.
You'll want to take precautions as you would in any medium-sized city. With Oaxaca safety in mind, my best advice is to mind your alcohol intake and take a taxi at night.
There are many options for tours in Oaxaca: guided walking or bus tours, food tours, Mezcal tasting, tours to sites outside the city, bike tours, cooking classes and more.
Monte Albán
It's best to arrive at Monte Albán when the archaeological site opens to avoid crowds and the midday sun. I prefer to take a taxi there and take the bus back to the city. You can hire an English-speaking guide at the entrance, which I would recommend if you want to learn more about the history of the site. There are few informational signs.
Alternatively, take a half-day guided tour that includes transportation to the site from Oaxaca.
You can combine a day trip to Monte Albán with the less visited archaeological site of Atzompa. It's about 15 minutes away by car.
Where are Monte Albán and Oaxaca City Located?
Oaxaca is located in southern Mexico. The northern border of Oaxaca state borders Puebla state and its southern edge is located along the Pacific Ocean. The capital, Oaxaca de Juarez (aka Oaxaca City), is located close to the middle of the state in a region called the Central Valleys. Oaxaca's international airport is a 15-20-minute drive to the center of the city.
Pick up a rental car at Oaxaca Airport.
The archaeological site of Monte Albán is located about 20 minutes' drive SW of the center of Oaxaca City. Free parking at the archaeological site is available if you decide to drive. Taxis are available from the city center or you can take a bus from this location.
For more information about Monte Albán, its opening hours and admission fees, see its official website.
Text and photos provided by Julien Casanova of Oaxaca Travel Tips, a website dedicated to helping travelers discover the incredible history, vibrant culture, and authentic flavors of Oaxaca.
Have you been to Oaxaca and/or Monte Albán? If so, do you have any additional information or advice about this UNESCO World Heritage site? Please add your comments below!