By Martha Knight
What is Ilulissat Icefjord?
Ilulissat Icefjord is a fjord in Greenland where you'll find the largest source of icebergs in the Northern Hemisphere – second in the world only to Antarctica.
The glacier that produces the icebergs is called Sermeq Kujalleq, but the fjord takes the name of the nearest town, Ilulissat, which itself means 'icebergs' in Greenlandic.
Disclosure: This article contains affiliate links. Making a purchase through an affiliate link will mean a small commission for this website. This will not affect your price.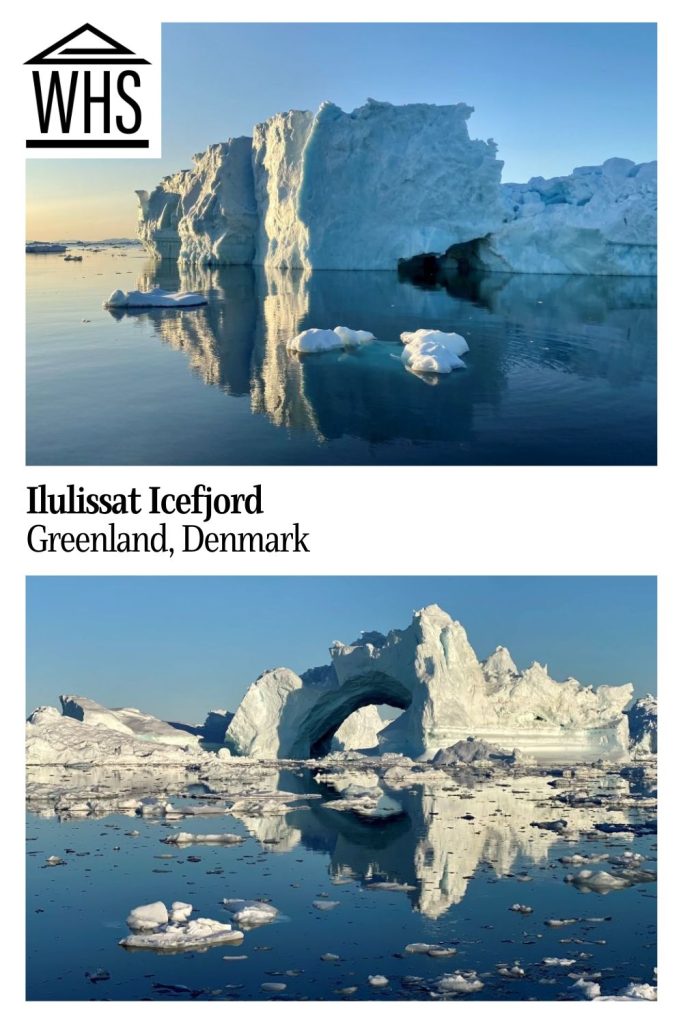 Why is Ilulissat Icefjord a UNESCO World Heritage site?
The Ilulissat Icefjord became a UNESCO World Heritage site in 2004 and it fulfills two of UNESCO's criteria.
The first is that it contains superlative natural phenomena or it's an area of exceptional natural beauty and aesthetic importance. This relates to the unique spectacle of the Icefjord: a hugely productive glacier producing ginormous icebergs that float down the fjord and out to sea. It's a draw for scientists and visitors alike.
The second criterion is that it represents a major stage in the earth's history, geological processes and development of landforms. Ilulissat Icefjord has been studied for 250 years and is an example of the last ice age of the Quaternary Period. You can find more on UNESCO's listing for Ilulissat Icefjord.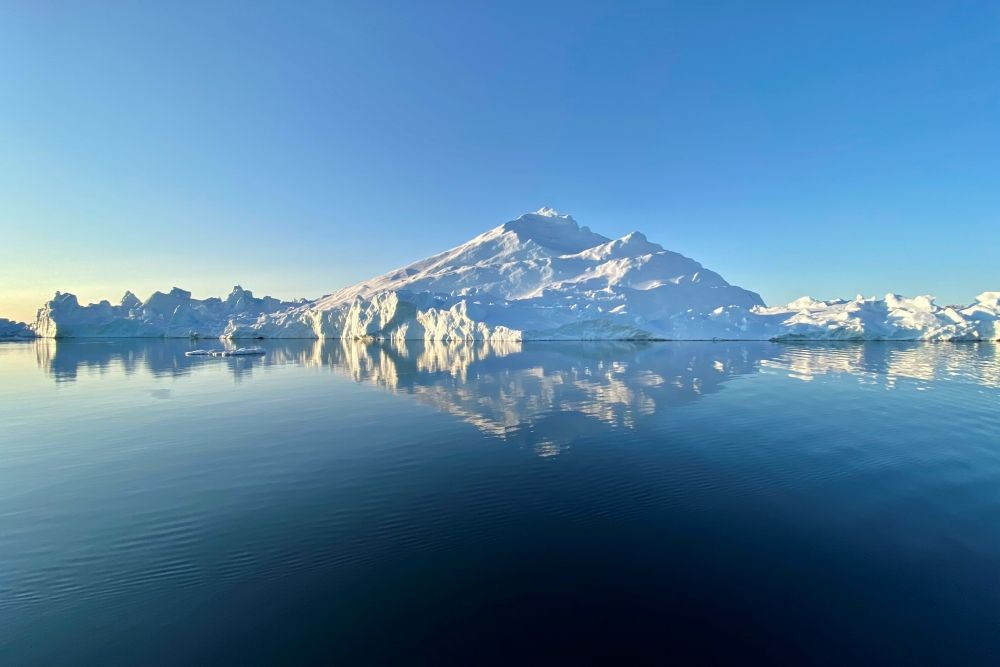 What can you expect on a visit to Ilulissat Icefjord?
The main thing you can expect on a visit to the Ilulissat Icefjord is to be dazzled by the magnitude and magnificence of the icebergs. They are huge! And they are genuinely breathtaking to behold. There are lots of things to do in Ilulissat, and top of the list is taking a boat tour out to the icebergs. It's quite an awe-inspiring thing to glide around these towering 'bergs, seeing their reflection in the still water.
However, you shouldn't expect to be able to go into the Icefjord itself. Boat tours don't go into the fjord because there's a risk of getting blocked in by the massive icebergs. Instead, they only go to the mouth of the Icefjord, where the sea is shallow, grounding the biggest bergs and holding them steady.
It's also difficult to go to the calving front of the Sermeq Kujalleq glacier – there are no roads nor hiking trails there. The only way to see it is to fly over it.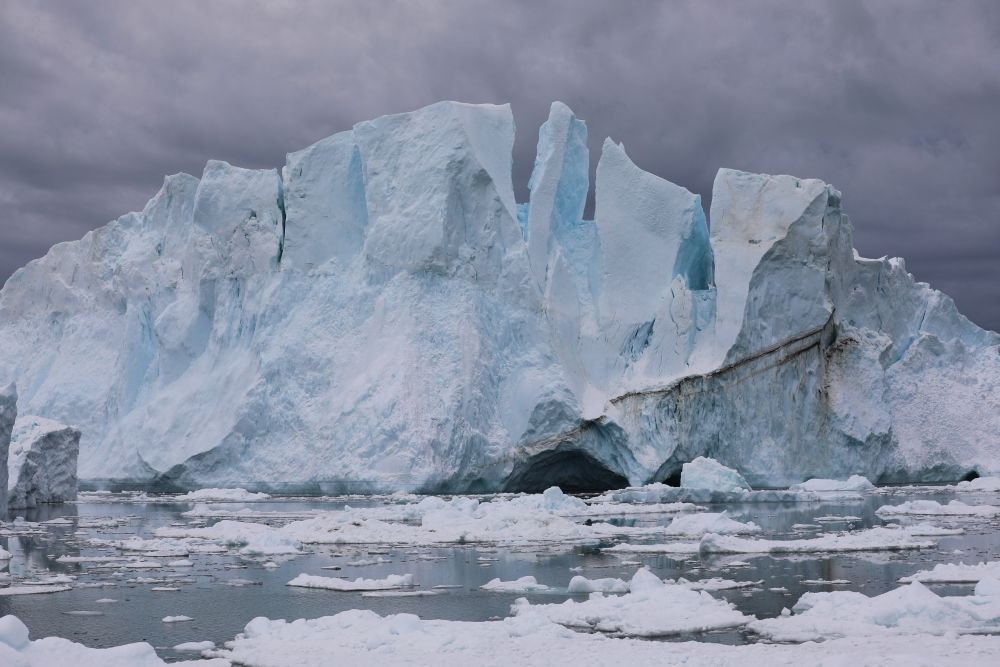 Is Ilulissat Icefjord worth visiting?
If you're someone who enjoys natural beauty and/or wild, dramatic landscapes, it's definitely worth visiting the Ilulissat Icefjord! There's literally nowhere else on the planet like it.
In fact, I keep thinking about the graceful beauty of the icebergs I saw there. They really made a lasting impression on me.
Consider this 11-day tour to Greenland from Iceland, which includes Ilulissat.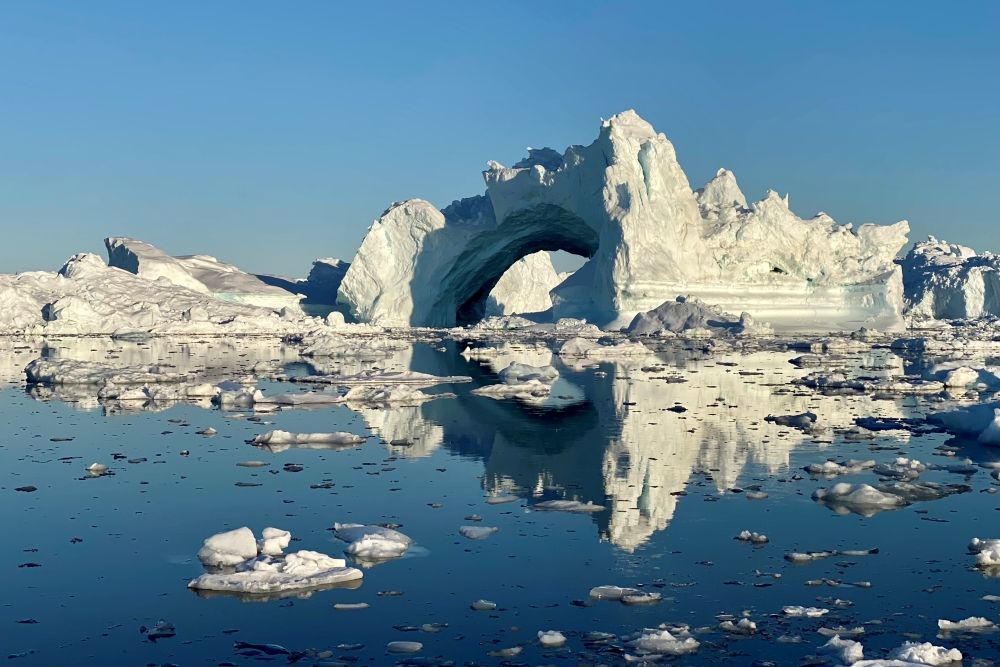 What sorts of travelers would like Ilulissat Icefjord?
You have to be willing to get a little cold to see Ilulissat Icefjord. It is in the Arctic Circle, and even in summer, when the temperatures go above zero, it can be very cold out on the water.
It will also be easier for you if you are comfortable on boats, which are the best way to see the icebergs.
Finally, it might be challenging for people whose physical ability is limited. Ilulissat is a very outdoorsy place. The small-to-medium tour boats typically require passengers to be able to step up quite high to get on board (although guides would be willing to assist, I'm sure).
The other way to see the Icefjord is to hike to the edge of it. Most hiking routes are very uneven and rocky (hiking poles are a good idea). There is one route to a viewpoint (Sermermiut) with a boardwalk all the way, which in theory is suitable for wheelchair users. However, if it snows, the boardwalk can be snowed over.
If you like dramatic scenery like the UNESCO-listed Geirangerfjord and Nærøyfjord in Norway or Vatnajökull National Park in Iceland, you'll love this as well.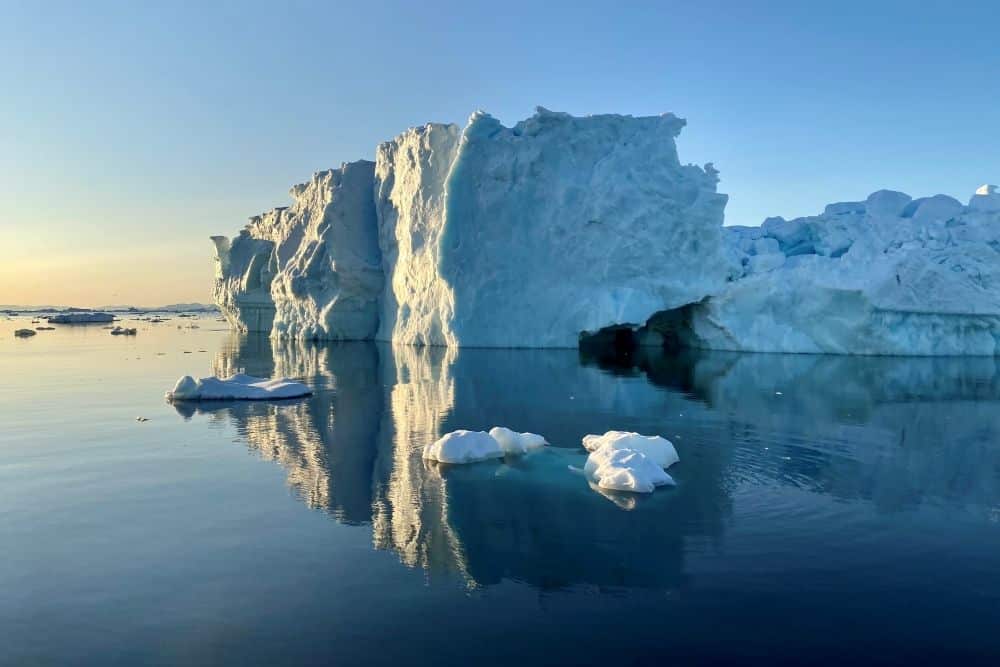 Tips for visiting Ilulissat Icefjord
My best tip is to visit the Ilulissat Icefjord in summer and to do an evening sailing tour. Greenland has midnight sun in June and most of July, meaning the sun doesn't set at all. However, the sun does get lower in the sky and the light warms up in the evening, which can create a gorgeous yellow glow on the icebergs.
Another tip is not to worry if the sky is cloudy – this can add even more drama to the spectacle of the ice!
Use the map below to choose accommodations in the town of Ilulissat:
Where is Ilulissat Icefjord?
Ilulissat is in West Greenland, near to the town of Ilulissat.
Ilulissat is not connected to any other settlement by road, so there are only two ways to get there: by boat (ferry or cruise boat) from elsewhere in Greenland, or by flying into Ilulissat Airport. International flights arrive there from Reykjavik in Iceland or Copenhagen in Denmark (via Kangerlussuaq).
For more information about Ilulissat Icefjord, see its page on the Visit Greenland website.
Text and photos provided by Martha Knight of May Cause Wanderlust. Martha has been travelling for 25+ years and seeks out beauty and experiences all around the world. She is based in London, UK, but loves to explore both wild, dramatic landscapes and vibrant cities. You can find her on her blog or on Instagram and Twitter.
Have you been to Ilulissat Icefjord? If so, do you have any additional information or advice about this UNESCO World Heritage site? Please add your comments below!