By Sarah Wilson
What is the Ħal Saflieni Hypogeum?
The Ħal Saflieni Hypogeum is an underground prehistoric burial site made up of rock-cut chambers from different periods. The oldest section is believed to date back to around 4000 BC and the more recent remains discovered date to the Early Bronze Age, about 1500 BC.
It is the only prehistoric burial site in the world that is open to the public.
Disclosure: This article contains affiliate links. Making a purchase through an affiliate link will mean a small commission for this website. This will not affect your price.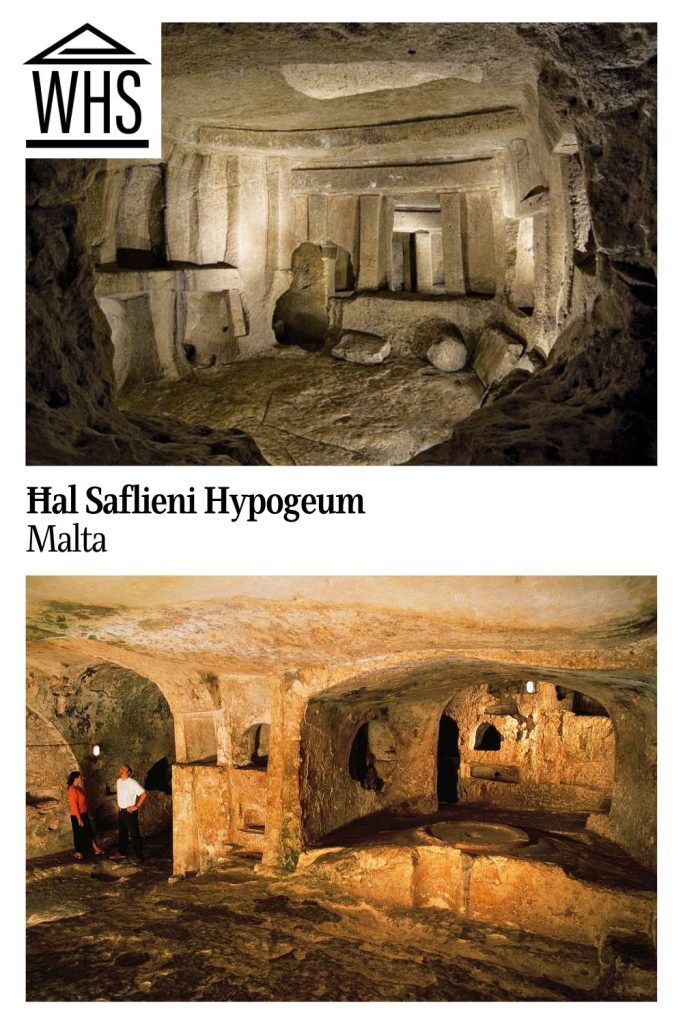 Why is the Ħal Saflieni Hypogeum a UNESCO World Heritage site?
The Hypogeum is listed as a UNESCO World Heritage Site because the site "bears a unique testimony to a civilization which has disappeared."
What can you expect on a visit to the Ħal Saflieni Hypogeum?
Only ten people are allowed on each tour, and each visit lasts 50 minutes.
All bags and cameras must be put in lockers before entering the hypogeum. Photography is not allowed inside the hypogeum.
Before entering the hypogeum, there is a short audiovisual display that explains the history and what you are about to see.
After the presentation, you are led down to the hypogeum.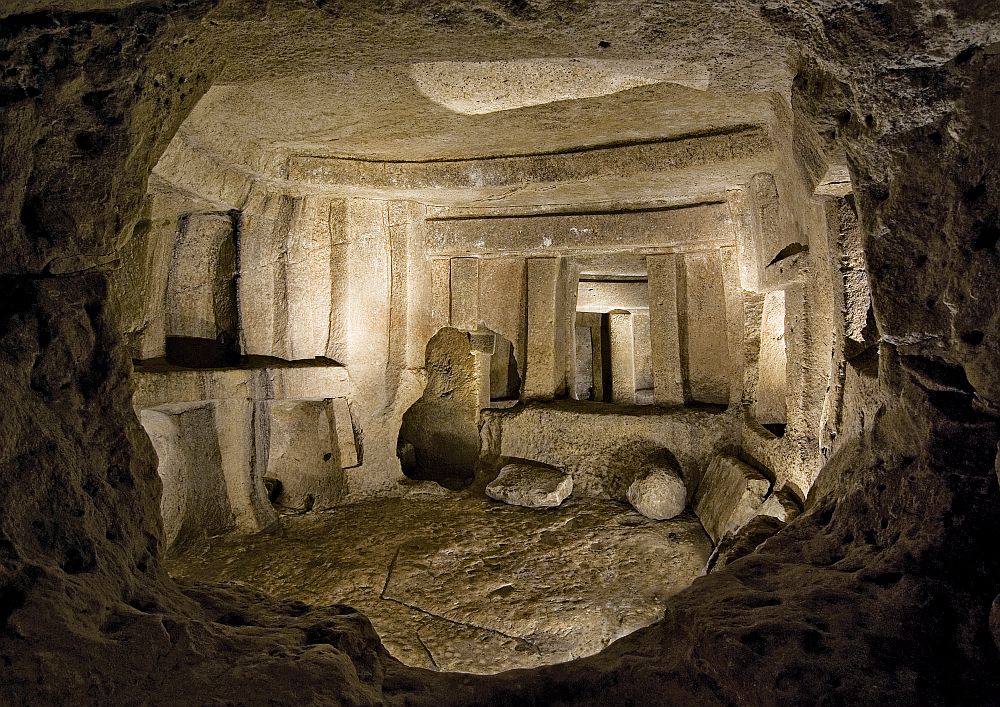 Even though there are just ten people in each group, some areas within the hypogeum are quite small and easily crowded. You will be given a handheld audio guide for the tour. The guide will lead you to the designated spots on your guided tour, and your audio guide will explain what you are seeing.
Is the Ħal Saflieni Hypogeum worth visiting?
Yes, it's fascinating, eerie, mysterious and unique. The 50-minute guided tour is very well-organized and gives you a great insight into this prehistoric burial chamber. You can read more details about the Hypogeum here.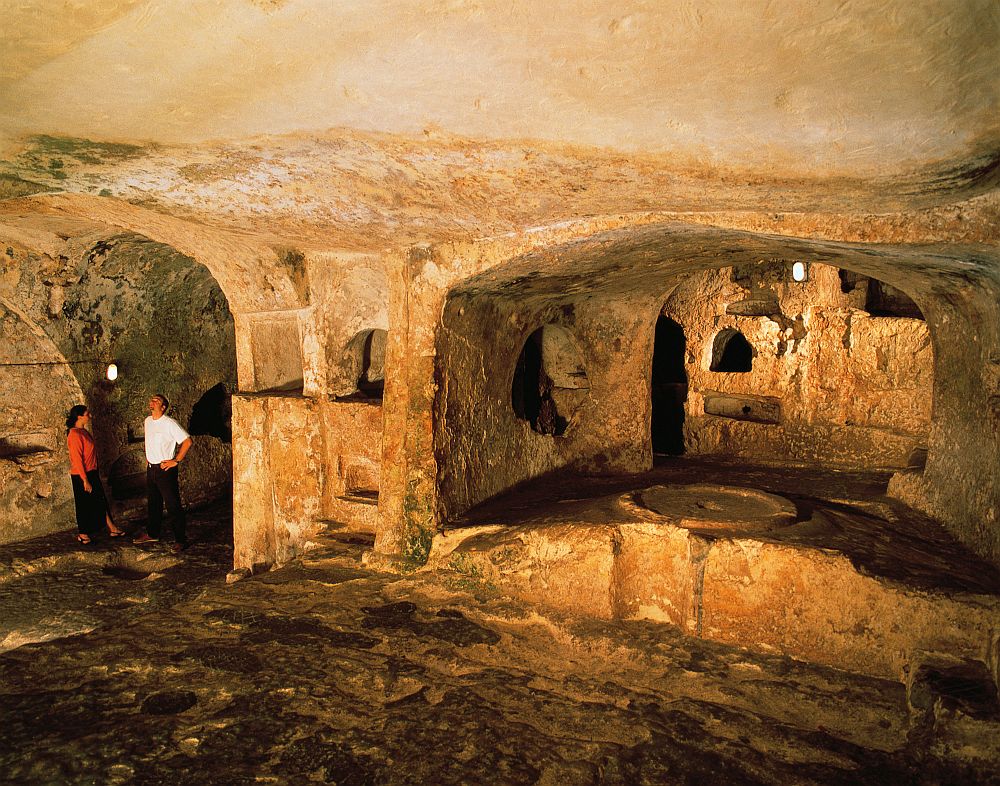 What sorts of travellers would like the Ħal Saflieni Hypogeum?
For all lovers of ancient history, it's definitely worth a visit.
It may be a little uncomfortable for those who suffer from claustrophobia.
Do note that children under the age of 5 are not permitted.
Click on the map below to find your accommodations in Malta. It's set to the area near the Hypogeum, but you can zoom out for other parts of the island.
Tips for visiting the Ħal Saflieni Hypogeum
If planning to visit the Hypogeum during the busy summer months, be sure to reserve your spot well in advance. Last-minute tickets are hard to find and more expensive.
Allow extra time to get there. Malta may be a small island, but you will be surprised by how long it can take to reach your destination. If you miss your allocated time to visit, you will not be allowed to enter.
The paths are a little slippery, so wear good shoes. At times, the ceiling is quite low, so watch your head. Do bear in mind; it is a little bit claustrophobic down there too.
Consider visiting the nearby Tarxien Temples, a complex of megalithic temples, as you're in the area. The temples are less than ten minutes away on foot.
Where is the Ħal Saflieni Hypogeum?
Address: Burial Street, Paola PLA 1116
By car: With no traffic, the Ħal Saflieni Hypogeum is just a twelve-minute drive from Valletta. Free street parking is available in Paola, but finding a spot right outside the hypogeum could be challenging.
By public transportation: Numerous buses pass through Paola from Valletta City Gate Bus Station. The main bus stop in central Paola is just a five-minute walk to the Ħal Saflieni Hypogeum.
For more information about the Ħal Saflieni Hypogeum, its opening hours and admission fees, see its official website.
Text provided by Sarah Wilson of Life Part2 and Beyond, a retirement travel adventure blog. Photos provided by Viewing Malta.
Have you been to the Ħal Saflieni Hypogeum? If so, do you have any additional information or advice about this UNESCO World Heritage site? Please add your comments below!