By Justine Ancheta
What are the works of Antoni Gaudí?
Seven different buildings in or near Barcelona, Spain, represent the Works of Antoni Gaudí. They include:
The Nativity Façade and Crypt of the Sagrada Familia. The Nativity Façade was the original design of architect Antoni Gaudí. It is the most ornate and detailed façade, decorated with flora, fauna, pelicans, and other natural elements while illustrating the life of Jesus Christ. The church possesses three other façades which were not designed by him because of his untimely death in 1926. The crypt is particularly interesting for its Roman-style mosaics on the floor.
Park Güell is a vibrant, colorful city park with gardens and was previously a private housing estate.
Casa Milà (also known as La Pedrera) is a modernist building of curves and swirls initially built for the affluent Milà family. Its roof is adorned with curvy chimneys, also having a beautiful view of Barcelona.
Casa Batlló is an emblematic building resembling the skin of a reptile. Decorated with turquoise and mauve tiles, part of the rooftop resembles the backbone of a dragon.
Casa Viçens was considered to be Gaudi's first architectural project and is unlike his more iconic works. Designed with Mudéjar-style brick, it was constructed as a private summer garden home.
Palau Güell is a former mansion built for tycoon Eusebi Güell and is an exemplary building of Art Nouveau.
The Crypt in the textile colony of Colonia Güell is a surprisingly unique church. Built with basal stones, it has four irregular pillars and is decorated with colorful stained glass windows.
Disclosure: This article contains affiliate links. Making a purchase through an affiliate link will mean a small commission for this website. This will not affect your price.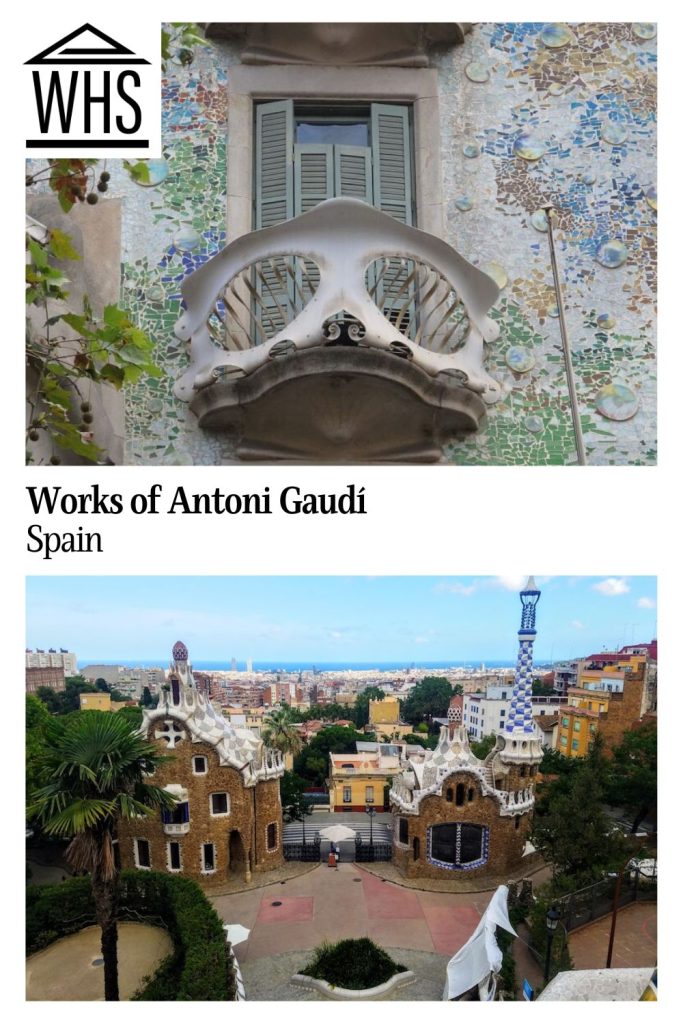 Why are the Works of Gaudí a UNESCO World Heritage site?
According to UNESCO, each architectural piece of Gaudí harmonizes various movements of the 19th and 20th century periods, such as Expressionism, Symbolism, and Rationalism. His outstanding achievements represent the artistic and cultural values of Modernisme, making a defined contribution through his unique forms and techniques.
Note: While there are many works of architecture on the UNESCO World Heritage site list, only three other architects have been honored for their individual oeuvre like Antoni Gaudí. They are Le Corbusier in seven different countries, Frank Lloyd Wright in the US, and Jože Plečnik in Slovenia.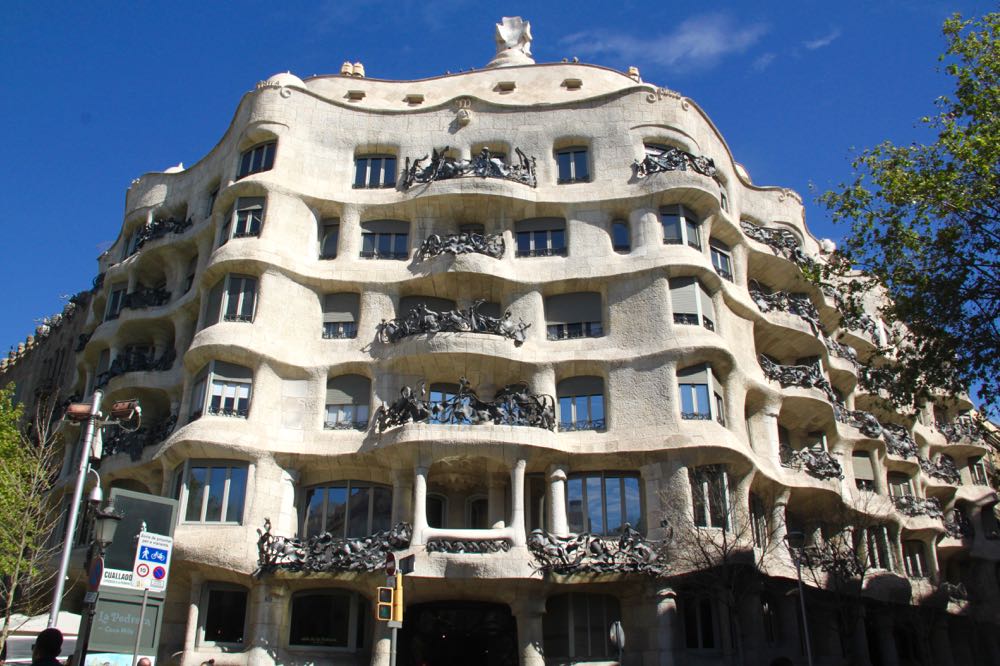 What can you expect on a visit to the Works of Antoni Gaudí?
Being that there are seven Gaudi works, it would be difficult to visit them all on one trip. To absorb each of the buildings' meaning, beauty, and expression would take at least four days. While there are seven works in total, perhaps the most noteworthy are the Sagrada Familia, the Casa Milà, Park Güell, and the Casa Batlló. Even then, not everyone fits them all into their schedule because of time constraints.
The Sagrada Familia is best seen with a tour because of the hidden and profound meaning in the architecture.
The Casa Batlló and the Casa Milà are both notable works of art within about 500 meters of each other. Each would take at least an hour to visit.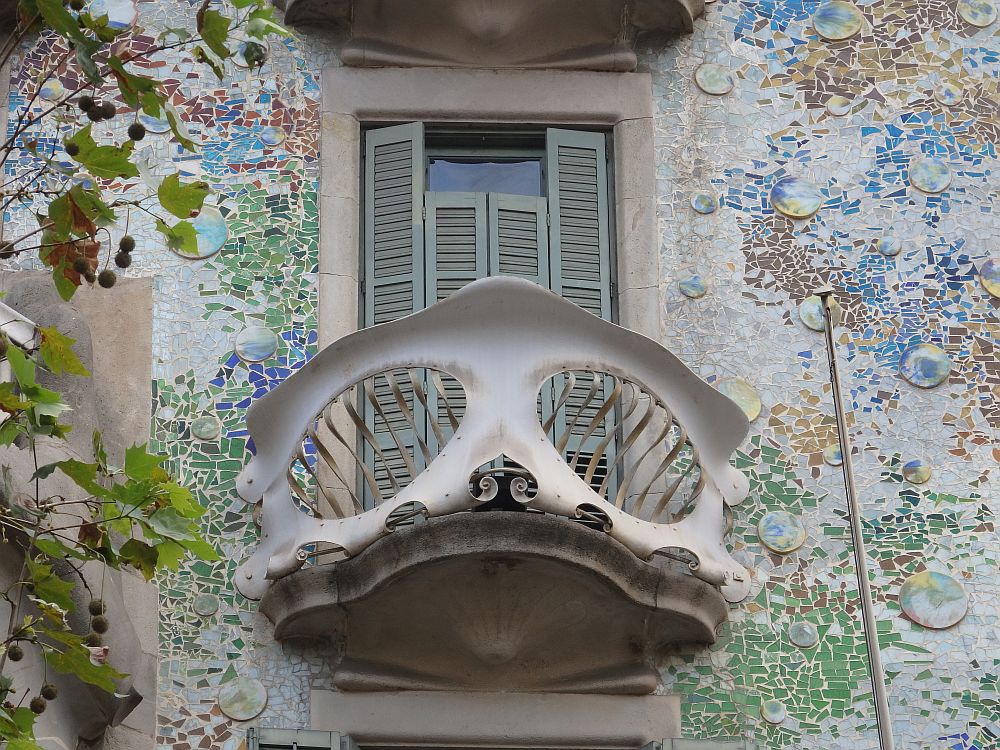 Are the Works of Antoni Gaudí worth visiting?
The Works of Gaudí are the cornerstone of tourism in Barcelona. The organic and colorful forms are particularly attractive for photographs. They are also the easiest to see because they are within Barcelona's city confines.
What sort of travelers would like the Works of Antoni Gaudí?
All travelers, especially those who love art and architecture, would appreciate the Works of Gaudí, as he was a pioneer in Catalan modernism. The brilliant colors, nature-inspired shapes, and forms are unique and interesting, even for children. Even if architecture is not your thing, at least visit the Sagrada Familia, which has an awe-inspiring interior, and climb one of the towers for the view.
Sagrada Familia guided tour with access to one of the towers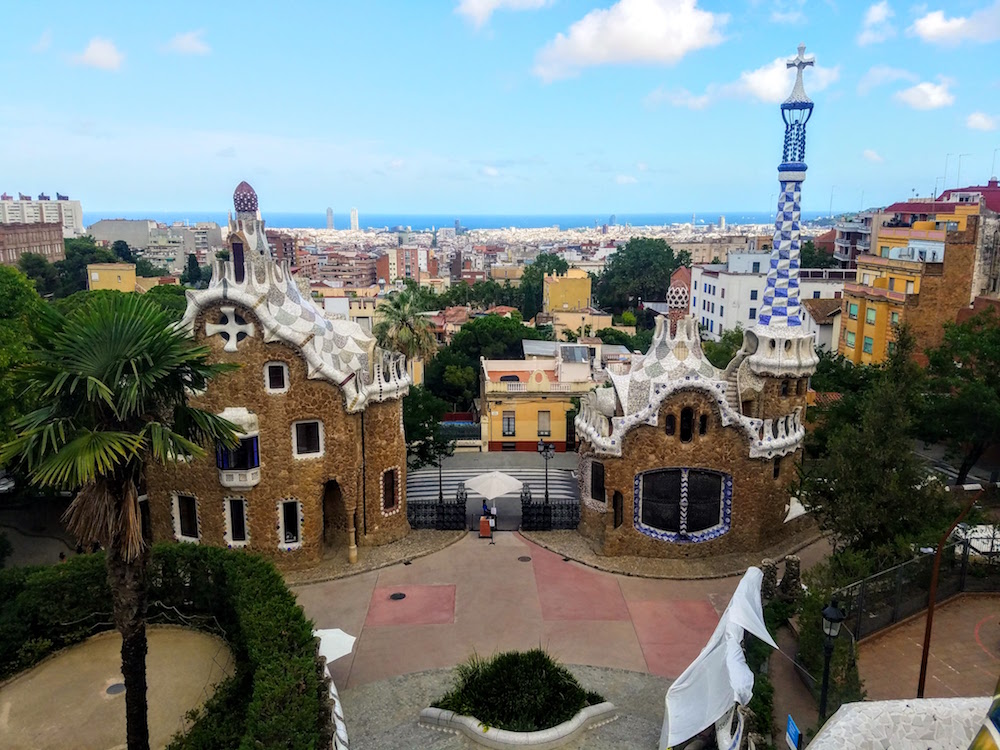 Tips for visiting Barcelona
Barcelona is a haven for pickpockets. While crime rates are relatively low compared to the rest of Europe, petty theft is rampant. Be sure to wear a crossbody purse and/or keep your wallet in your front pockets. Also, do not be overly trusting of strangers as many try to scam tourists.
Take note of business opening times. Spain, in general, adheres to Monday closures of museums. Also, most shops are closed on Sundays.
Buy any attraction tickets in advance. This will help you avoid any long queues and skip the line.
Where are the Works of Gaudí?
All of the works can easily be reached by metro or bus within the city except for Colonia Güell.
Sagrada Familia: Carrer de Mallorca, 401, 08013
Casa Batlló: Passeig de Gràcia, 43, 08007
Casa Milà (La Pedrera): Pg. de Gràcia, 92, 08008
Park Güell: Carrer d'Olot 08024
Palau Güell: Carrer Nou de la Rambla, 3-5, 08001
Casa Viçens: Carrer de les Carolines, 20-26, 08012
Colonia Güell: Colònia Güell 6, 08690. From Placa Espanya, take the Ferrocarriles de la Generalitat de Catalunya (FGC) train. Take the S3, S4, S8 or S9 train. The Station is called Colonia Güell. Cross the road and follow the blue steps, which will take you to the Visitor's Center.
For more information about the different works of Gaudí, their opening hours, and admission fees, see each one's official website:
Text and photos provided by Justine Ancheta of Latitude 41. Originally from southern California, Justine Ancheta has been living in Barcelona, Spain, since 2008. Justine considers herself a perpetual tourist in her own city – as she makes new discoveries in Barcelona with her husband and three kids.
Have you been to the works of Gaudí? If so, do you have any additional information or advice about this UNESCO World Heritage site? Please add your comments below!