Borobudur Temple Compounds
By Victoria
What is Borobudur?
Borobudur is a ninth-century Buddhist temple located in Magelang, Central Java, Indonesia. The temple is one of the world's most renowned Buddhist monuments and has been a UNESCO World Heritage site since 1991. It is a massive structure, built on a hill and consisting of nine stacked platforms, six square and three circular, topped by a central dome: the ten layers representing the ten steps to reach nirvana. The temple is decorated with over 2,500 intricately-carved panels and 504 Buddha statues.
Disclosure: This article contains affiliate links. Making a purchase through an affiliate link will mean a small commission for this website. This will not affect your price.
Borobudur was abandoned for centuries, and the temple was rediscovered in 1814 by Sir Thomas Stamford Raffles, the British governor of Java. The temple was in a state of disrepair and was restored in the early 20th century. Today, Borobudur is one of Indonesia's most popular tourist attractions and welcomes millions of visitors each year. Visitors can climb to the top of the temple and enjoy panoramic views of the surrounding countryside.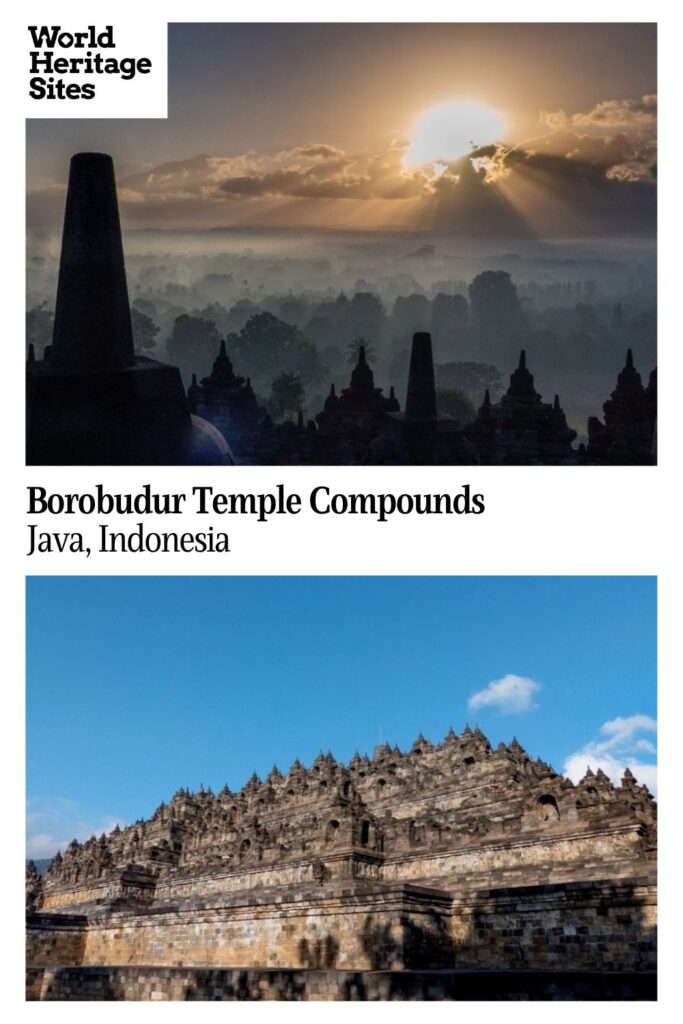 Why is Borobudur a UNESCO World Heritage site?
Borobudur is one of the most important Buddhist temples in the world and was recognised by UNESCO due to its unique architecture, intricate carvings and the use of original materials: "a harmonious marriage of stupas, temple and mountain that is a masterpiece of Buddhist architecture and monumental arts" according to the UNESCO website.
Its age is also recognised, as well as its cultural and religious significance, which still plays a role today. Its overall form is a lotus, sacred to Buddhists, and the temple compound is "an exceptional reflection of a blending of the very central idea of indigenous ancestor worship and the Buddhist concept of attaining Nirvana."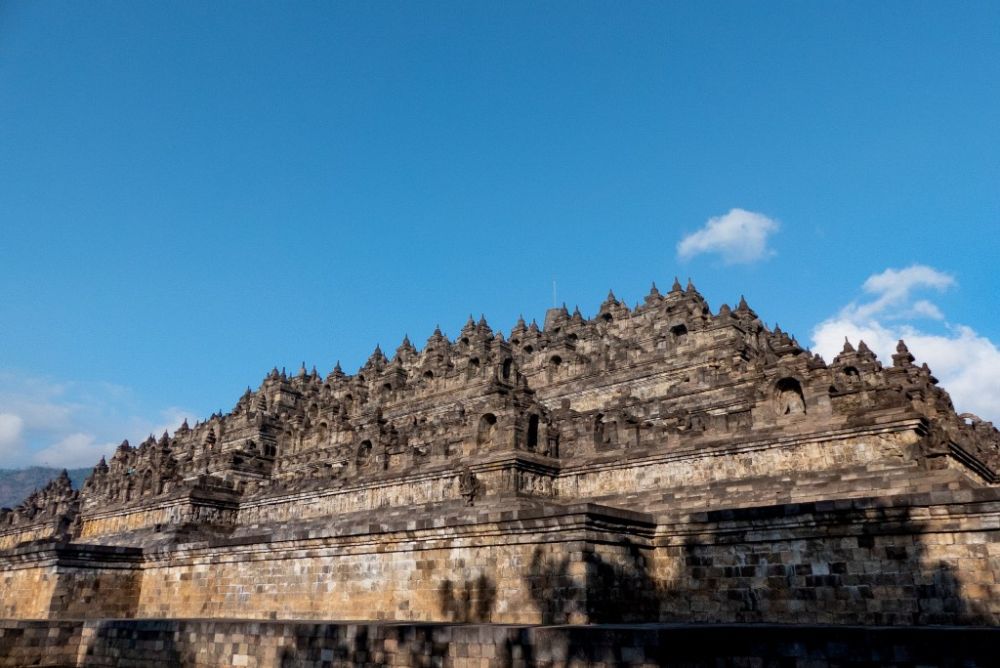 What can you expect on a visit to Borobudur Temple Compounds?
Borobudur is a truly magical place and a must-see for anyone visiting Indonesia. The temple is huge and an impressive sight when you first arrive. Seeing Borobudur at sunrise is a must-do and will elevate your experience even further. Watch the sunrise over the Javanese volcanoes as the surrounding mosques call to prayer early in the morning. It will still be dark, and you'll be waiting for the first light to appear while you sit between ancient statues of Buddha.
Once the sun is up, you can explore the temple grounds and its many hidden corners. Even on busy days, you'll get to enjoy some peace and quiet, although it does get quite busy around lunchtime.
Borobudur Temple Compounds includes two more temples nearby to the east: Mendut Temple and Pawon Temple. Both are smaller, and may have represented phases in reaching nirvana.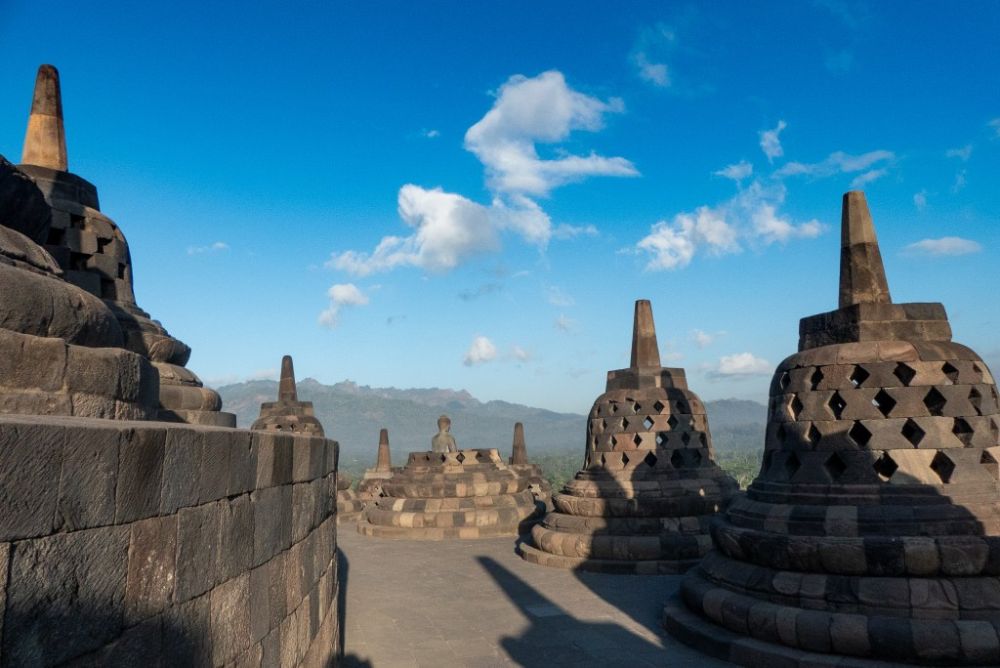 Is Borobudur worth visiting?
Borobudur is the main attraction in this part of Java and draws huge tourist crowds. A lot of people come to Yogyakarta, which is the closest city, just to visit Borobudur, so coming here for the temple alone is definitely recommended.
Explore other UNESCO sites in Indonesia.
You can also visit Prambanan, another temple compound that is also recognised by UNESCO, while you are there. The two are located close together, and many visitors watch the sunrise at one and the sunset at the other. Yogyakarta is also worth a few days if you have time. There are plenty of things to do and see, including delicious street food, colonial forts and the royal palace. Borobudur is the star of the show, though, and by far the main attraction in the area.
Find accommodations in Yogyakarta.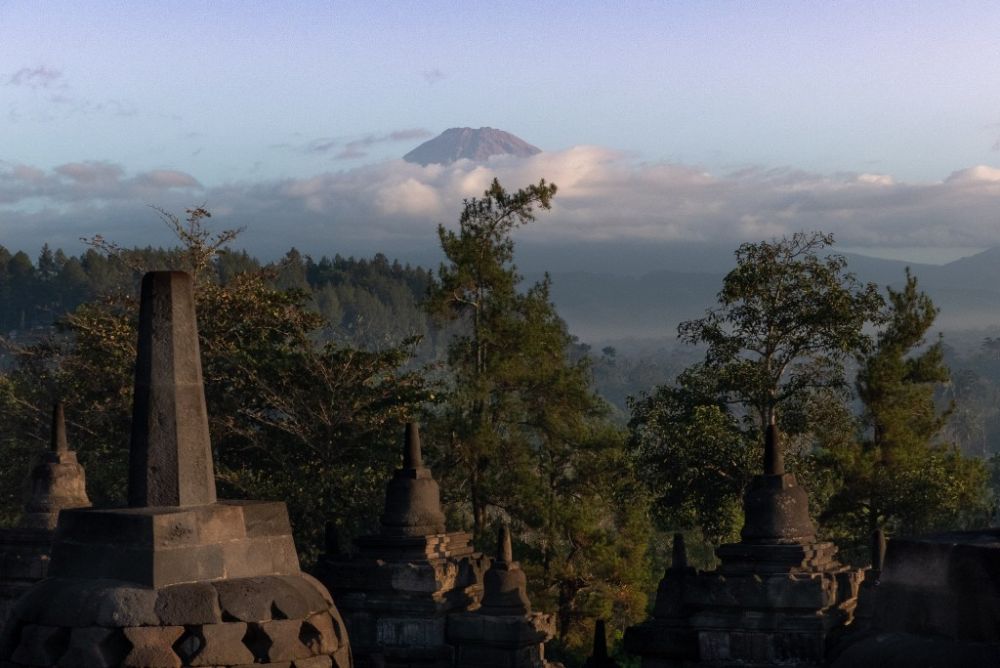 What sorts of travellers would like Borobudur?
Those interested in cultural attractions will most likely enjoy Borobudur. It's definitely an attraction where you have to appreciate the age and significance of the structure. If you're not interested in history and architecture, this might not be as impressive to you. However, the temple is strikingly beautiful and should be seen at least once in your life. Keep in mind that entry tickets are around $25 per person, so by Indonesian standards, this isn't necessarily a cheap place to visit. Budget travellers may have to consider if the price is worth it.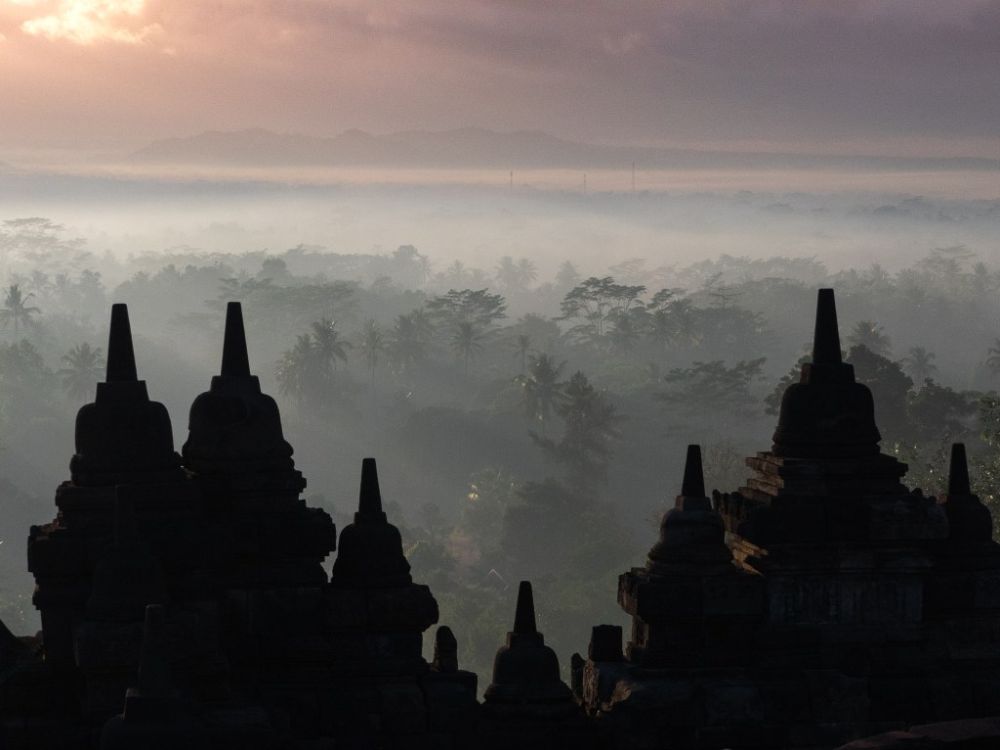 Tips for visiting Borobudur Temple Compounds
Plan ahead: Borobudur is one of Indonesia's most popular tourist attractions, and it can get crowded, especially during peak travel seasons. Adjust your expectations and make sure you're mentally prepared for crowds.
Dress appropriately: Borobudur is a sacred site, and visitors are expected to dress modestly. Avoid wearing revealing clothing, and cover your shoulders and legs. It is also recommended to wear comfortable shoes as the temple has quite a few stairs.
Take a guided tour: A guided tour is a great way to learn more about the history and significance of Borobudur. Guides are knowledgeable about the temple's architecture, art, and symbolism, and can provide insights that you might miss on your own. You can either book one online or in Yogyakarta the day before.
Get there early: The temple opens at 4:30 am, and if you want to avoid the crowds and the heat, it's best to get there as early as possible. Make sure to be there a bit early to allow time for purchasing tickets for sunrise. There are usually people already queuing to get in and you want to be among the first to secure a good spot. Some tours from Semarang or Yogyakarta include tickets, so in that case you won't have to queue up.
Respect the temple: Borobudur is a sacred site, and visitors should show respect for the temple and its history. Do not climb the statues or reliefs, and avoid loud shouting or running. The temple is facing deterioration due to mass tourism, so it needs to be treated with care.
Get a driver to take you to the temple: You can find one in Yogyakarta who will pick you up at around 3:30 am so you can arrive at Borobudur in time for sunrise. Don't try to drive there yourself that early in the morning, especially on a scooter. The roads are dangerous in the dark, and accidents are common.
Alternatively, stay the night near the temple to avoid that early-morning drive.
Where is Borobudur?
Borobudur is located around 40 kilometres (25 miles) northwest of Yogyakarta on the island of Java in Indonesia. It takes just over an hour to drive there from the city, depending on the traffic. Towards the north lies the city of Semarang, from where you can reach Borobudur in around 2.5 hours. This is a less common route, though, and Yogyakarta is by far the more popular choice.
There is a public bus that connects Borobudur and Yogyakarta. However, it takes a long time and can be unreliable. It's very affordable, though, and costs around $3 per ride. The bus is a great option for budget travellers, but it's not suitable for going to the temple at sunrise as it doesn't run at night.
For more information about Borobudur, its opening hours and admission fees, see its official website.
Text and photos provided by Victoria of My Australia Trip. Victoria is a travel blogger and writer from Germany who spends most of her time in South East Asia, especially Indonesia. You can find her Instagram here.
Have you been to Borobudur? If so, do you have any additional information or advice about this UNESCO World Heritage site? Please add your comments below!