Three Castles, Defensive Wall and Ramparts of the Market-Town of Bellinzona
By Cynthia Woodman
What is Bellinzona?
Bellinzona is the capital city of the southern canton of Ticino in Switzerland. Bellinzona is known for not just one, but three medieval castles dating to the 15th century. These three castles, located just south of the Alps, were joined by a wall which was a defensive stronghold for the Ticino Valley, as well as a passageway to both Italy to the south, and Switzerland to the north.
Disclosure: This article contains affiliate links. Making a purchase through an affiliate link will mean a small commission for this website. This will not affect your price.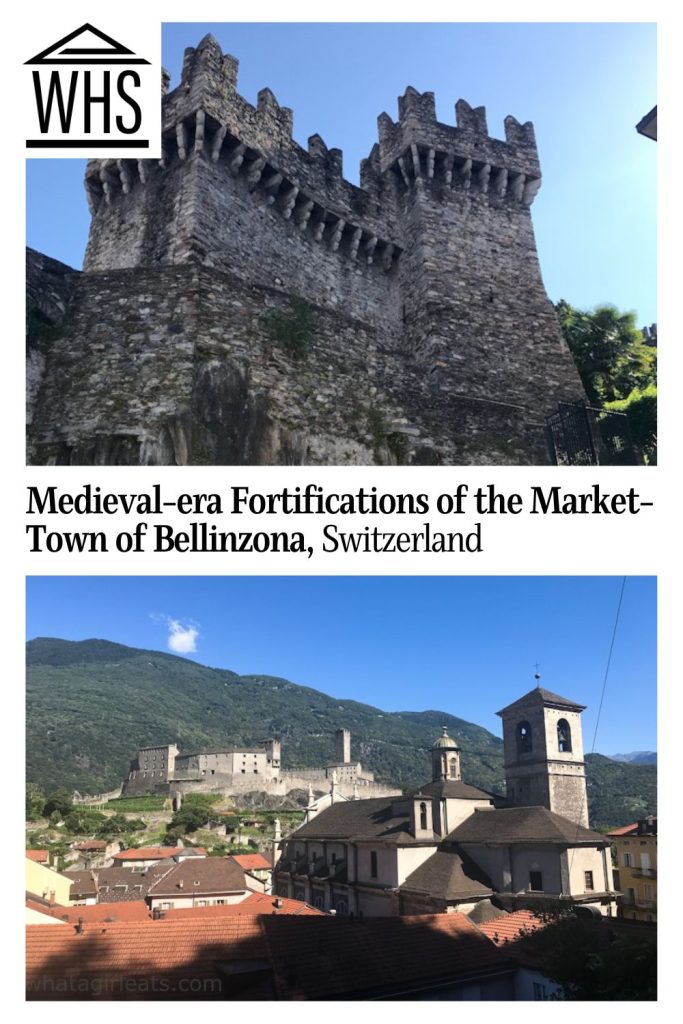 Why is Bellinzona a UNESCO World Heritage site?
Bellinzona is exceptional, according to UNESCO, because of its size and how it includes three castles and a wall that once closed off an entire valley: "The fortified ensemble of Bellinzona is an outstanding example of the late medieval defensive structure guarding a key strategic Alpine pass."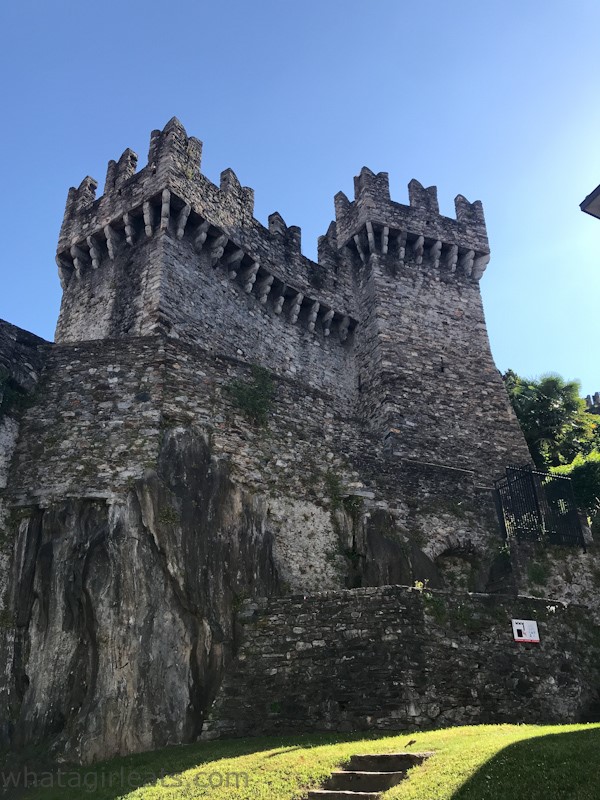 What can you expect on a visit to Bellinzona?
While the main draw of Bellinzona is the castles, wall and towers, you will also experience beautiful views of the Ticino Valley. In addition, this quaint and historical town has a vibrant farmer's market every Saturday in which you can sample local delicacies.
The largest castle, Castelgrande, is the oldest of the three and stands high on a hill overlooking the valley. There is a museum in which you will find a history of the castle and the surrounding area. The two other castles are Montebello, which is also part of the fortifications, and Sasso Corbara, which is away from the other two on a separate mountain. These smaller castles also have museums. Don't miss the breathtaking view of the valley and Old Town. There are also charming shops and cafés all within a few meters.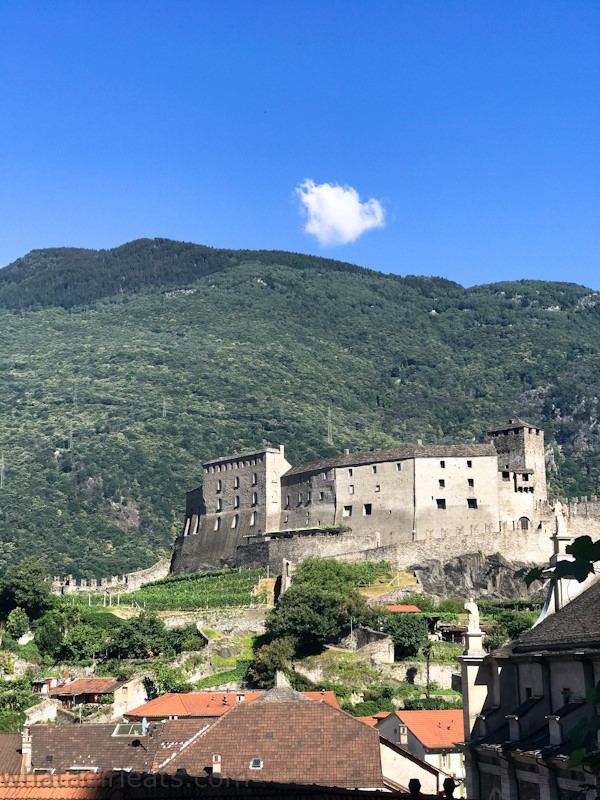 Who should visit Bellinzona?
A day trip to Bellinzona is ideal for all sorts of travelers, especially those interested in seeing medieval architecture. The castles are all located within easy walking distance from the Old Town, making it ideal for those who aren't able to take long walks or interested in them. The more ambitious can certainly hike in and around the surrounding valley.
Alternatively, stay in Bellinzona overnight to soak in the atmosphere. Use the map below to choose accommodations:
Tips for visiting Bellinzona
The temperature is similar to Lugano and Como, so there's no need to adjust your clothing. Walking in the town is easy and as with all travel, comfortable shoes and a sweater are recommended even during the summer.
Allow 3 to 4 hours to see the town. Or combine it with Lugano in a two-day trip.
Save time by buying your ticket to all three castles ahead of time.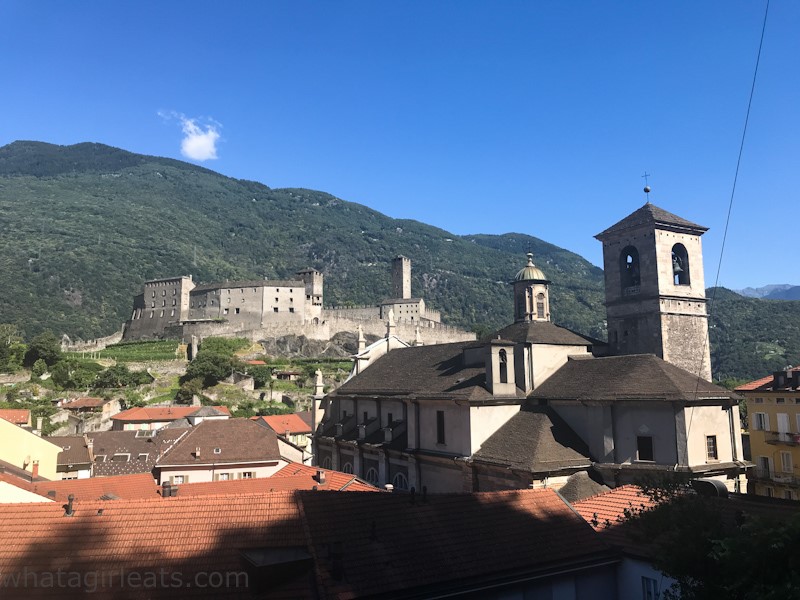 Where is Bellinzona?
Bellinzona is in the Italian-speaking part of Switzerland on the southern slopes of the Alps, located less than 20 minutes north of Lugano by train, 16 minutes northeast of Locarno, and 1 hour from Como, Italy, making it ideal for a half day excursion from any of these cities.
By car, it'll take about 40 minutes to get to Bellinzona from Lugano and half an hour from Locarno. From Como, assuming you don't get caught in traffic, it's an hour's drive.
Bellinzona is about 1 hour and 40 minutes north of Milan by car, but that is assuming no traffic, so expect it to take longer. By train it should take about an hour and a half, and might require you to change trains in Lugano. That still makes a day trip possible if you are staying in Milan.
For more information on visiting this unique UNESCO World Heritage site, please visit Bellinzona.
Text and photos provided by Cynthia Woodman: Cynthia is classically trained in French cuisine. In addition to living and cooking in London, she and her husband traveled around the world on their honeymoon and have visited many UNESCO World Heritage Sites. She is a food and travel writer for her website: What A Girl Eats.
Have you been to Bellinzona? If so, do you have any additional information or advice about this UNESCO World Heritage site? Please add your comments below!