Tsingy de Bemaraha Strict Nature Reserve
Name changed to Andrefana Dry Forests in 2023 and five additional locations added.
By Linn Haglund
What is Tsingy de Bemaraha Strict Nature Reserve?
The Tsingy de Bamaraha Strict Nature Reserve consists of an area of 152,000 ha (587 square miles) of razor-sharp limestone pinnacles, cave systems, mangrove swamps, lakes, and dense forest, making a home for uncommon species of birds and lemurs. It includes the valley where the Manambolo River flows through.
Disclosure: This article contains affiliate links. Making a purchase through an affiliate link will mean a small commission for this website. This will not affect your price.
The impressive landscape is divided into two different limestone forests, the Little Tsingy and the Great Tsingy. The Little Tsingy, also known as the Petit Tsingy, reaches a height of 20 meters (66 feet), while the Great Tsingy, also recognized as the Grand Tsingy, stretches as high as 100 meters (328 feet) above the ground.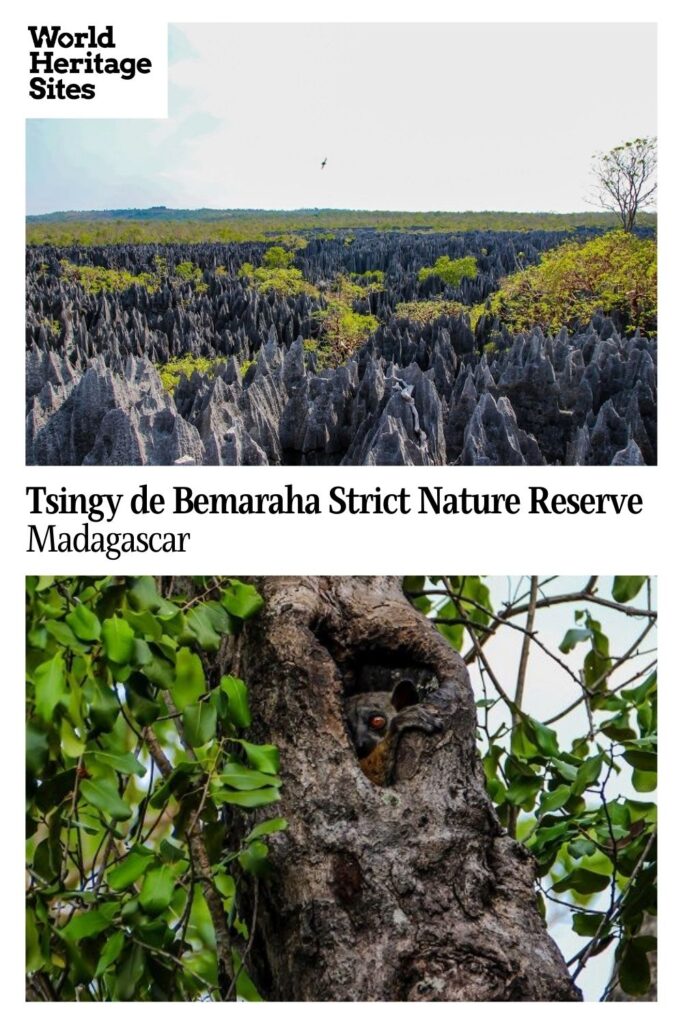 Note: Since this article was written, five more locations have been added to the UNESCO designation and the serial property has been renamed Andrefama Dry Forests. The five new locations are:
Analamerana Special Reserve
Ankarana Special Reserve
Ankarafantsika National Park
Mikea National Park
Tsimanampesotse National Park
Why is Tsingy de Bemaraha Strict Nature Reserve a UNESCO World Heritage site?
Due to its imposing limestone "forests" – called "eminently remarkable" by UNESCO – creating room for untouched nature to unfold, the Tsingy de Bemaraha Strict Nature Reserve is a unique place where both rare plants and animals have found a place to call home. It protects 11 species of lemur and a wide range of other endemic species.
This is truly a place that must be protected to let nature thrive without human disturbance, thus it is only natural that the Tsingy de Bemaraha Strict Nature Reserve finds its place on UNESCO's list of World Heritage sites.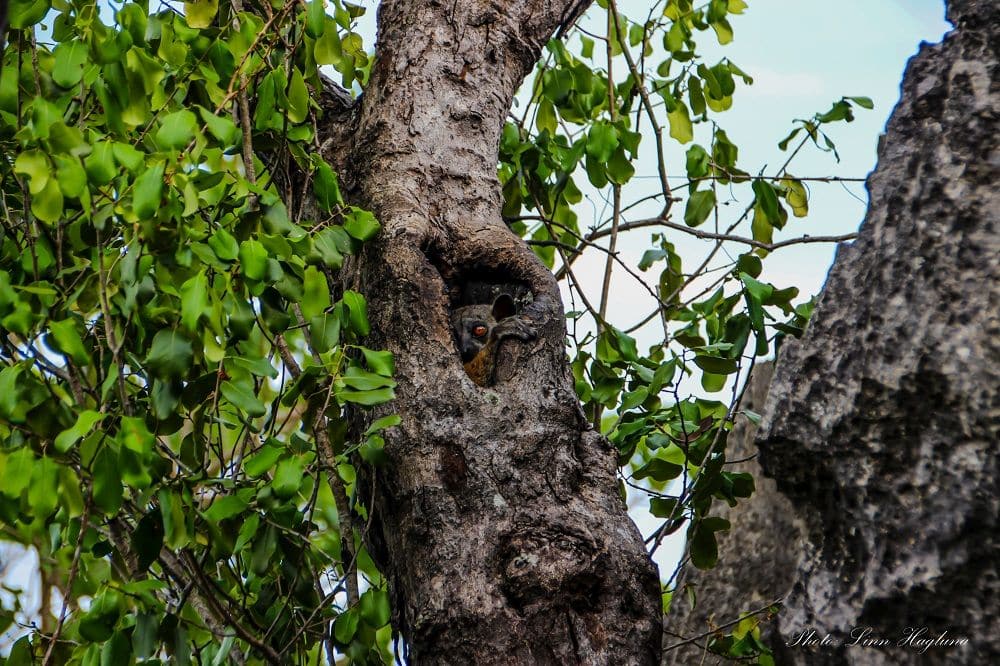 What can you expect on a visit to Tsingy de Bemaraha Strict Nature Reserve?
Tsingy, in the local language, means "Where one cannot walk barefoot," which is pretty accurate for this site.
When visiting, you are likely to hike the Tsingy de Bemaraha for one or two days. It is best to hike the Little Tsingy on the first day and the Great Tsingy on the second day. Otherwise, you might feel underwhelmed by the Little Tsingy after climbing the greatness of the Great Tsingy.
There are different routes, all of which must be done with a local guide. The Petit Tsingy will typically include a boat ride through the Manambolo River in a traditional Malagasy carved wood boat, with a man maneuvering it with a long stick he pushes into the bottom of the river. Visit a cave along the river before reaching the trailhead. The Petit Tsingy hike takes approximately 4 hours.
The Grand Tsingy takes 5 hours to complete, and you can choose between an easy route, best for those with back or knee problems, or a via ferrata route where you will be equipped with a harness. The latter takes you along the bottom of the limestone forest, through narrow tunnels, up vertical ladders, across dodgy-looking hanging bridges, and balancing on top of razor-sharp pinnacles.
During the two days, a knowledgeable guide will give interesting information about the history of the Tsingy and its fauna and flora. If you are lucky, you might see different species of lemurs, birds, and other wildlife endemic to the park.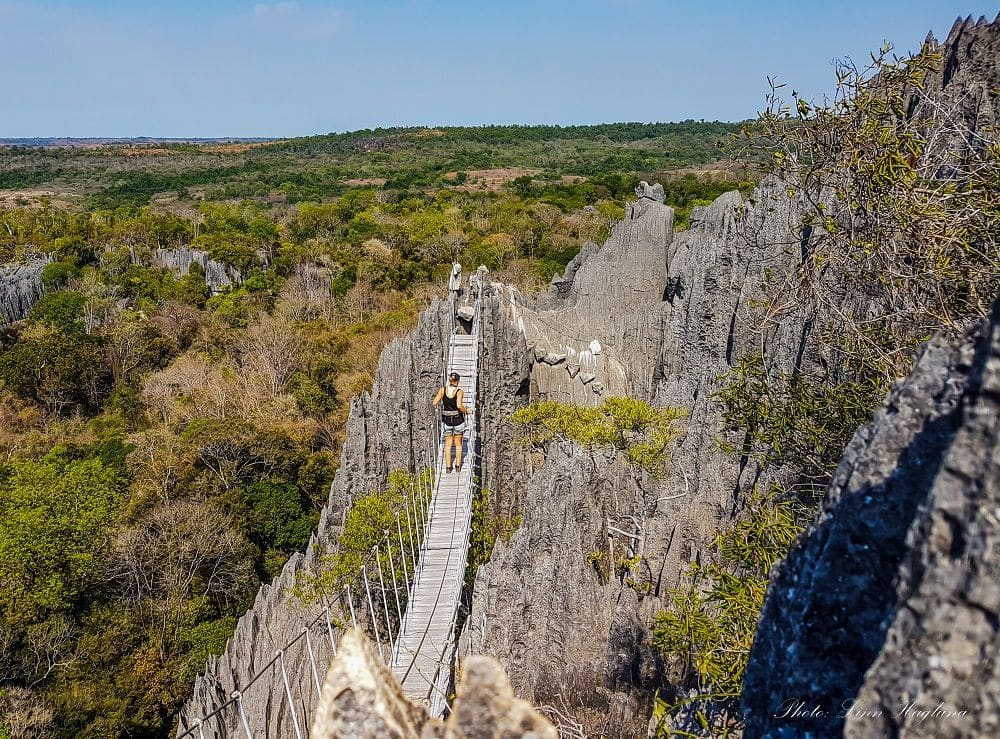 Is Tsingy de Bemaraha Strict Nature Reserve worth visiting?
As one of the world's most unique nature destinations, you should absolutely make the long trip to the Tsingy de Bemaraha Strict Nature Reserve in western Madagascar. Not only are the views unbeatable, but the hikes and opportunities to spot rare wildlife in their natural habitat in a sustainable way is an unrivaled adventure.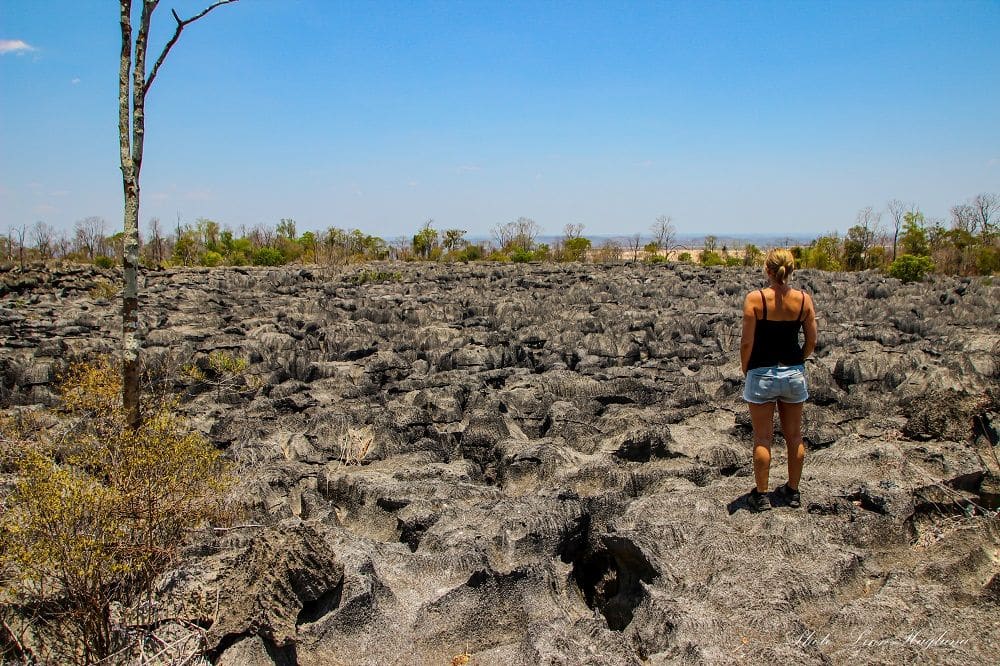 What sorts of travelers would like Tsingy de Bemaraha Strict Nature Reserve?
Adventure seekers and travelers who prefer off-the-beaten-track destinations where not so many other tourists go will love this site. It is surely an exclusive UNESCO destination since it is so hard to get to!
Tips for visiting Tsingy de Bemaraha Strict Nature Reserve
The easiest way to visit the Tsingy de Bemaraha Strict Nature Reserve is with a tour that you can book at either Antananarivo or Morondava tourist office. This includes a driver to take you on the one-day drive from Morondava to the national park. When you arrive, you will have to pay for the park fees and the guide.
You can also rent a 4WD and get there yourself, but the driver will make things easier for you and help you with the practical things once you arrive.
Make sure you wear good hiking shoes with good grip and bring enough water, lunch, and snacks for both days.
This 11-day tour of Madagascar includes a day at Little Tsingy and a day at Great Tsingy.
This 3-week trekking trip includes a day's climbing in the park.
Book your accommodations in Antananarivo or Morondava.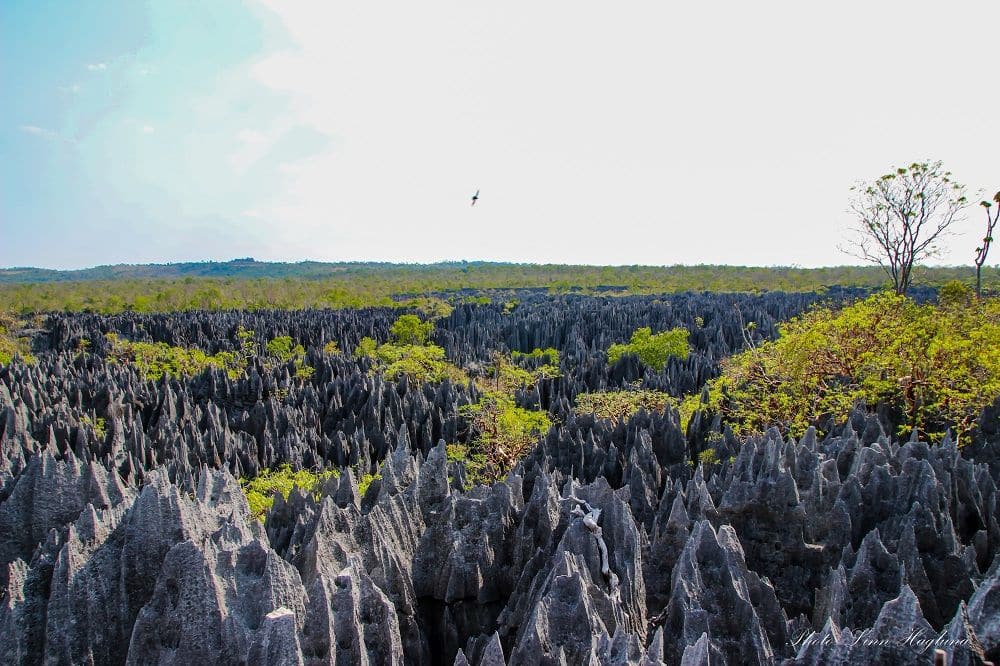 Where is Tsingy de Bemaraha Strict Nature Reserve?
Tsingy de Bemaraha Strict Nature Reserve is situated in the western part of Madagascar in the Antsalova District, which is extremely remote and hard to get to.
The national park center is in Bekopaka, which is where you must pay the park fees and hire a guide.
The closest airport is Morondava Airport, which is also the only city to travel from. In Morondava, you can hire a driver or rent a 4WD. You can either go to the tourist office or ask at your hotel to book you a driver.
Driving from Morondava to Tsingy de Bemaraha Strict Nature Reserve normally takes a day along bumpy dirt roads and an unconventional river crossing.
Traveling by public transport is not recommended. There is a taxibrousse (shared van taxi) that is said to be very unreliable and breaks down regularly due to the driving conditions. This could add a day or two to your travel time to reach the park.
For more information about the Tsingy de Bemaraha, see the official website of Madagascar Tourism.
Text and photos provided by Linn Haglund of Brainy Backpackers, a travel blog aiming to help you travel more responsibly leaving only a positive impact on the wildlife, the locals, and nature in your destinations.
Have you been to Tsingy de Bemeraha Strict Nature Reserve? If so, do you have any additional information or advice about this UNESCO World Heritage site? Please add your comments below!