By Erika
What is Sagarmatha National Park?
Sagarmatha National Park is a region in eastern Nepal that covers over 1000 square kilometers (386 square miles) and encompasses some of the highest mountain peaks in the world, including Mount Everest. In fact, it is named after the local Nepali name for Mt. Everest, Mt. Sagarmatha (sagar meaning "sky" and matha meaning "head"). Sagarmatha is a sacred deity to the local Nepali people.
Disclosure: This article contains affiliate links. Making a purchase through an affiliate link will mean a small commission for this website. This will not affect your price.
In addition to being known for having some of the highest peaks in the world, Sagarmatha National Park also has a significant number of glaciers, which provide fresh water to the local villagers and towns downstream of the mountains. The deep, lush, green valleys that make up the low-lying areas of Sagarmatha National Park have also been carved out over centuries by the glacial rivers.
The beauty of Sagarmatha National Park doesn't stop there; the UNESCO World Heritage website also mentions that the park "contains the world's highest ecologically characteristic flora and fauna", which is intricately linked to the overall ecosystem, which is depended on by the local Nepali Sherpa cultures and traditions.
Why is Sagarmatha National Park a UNESCO World Heritage site?
Snow-capped Himalayan mountains, including the top of the world, Mount Everest herself, is just one of the reasons why Sagarmatha National Park is a UNESCO World Heritage Site. This natural world wonder is also home to 6000 or more Nepali Sherpa people across 20 villages. They have lived in this region for centuries, and have continued their cultural and Tibetan Buddhist religious traditions for that same amount of time. It is also home to a number of endangered species like snow leopards and red pandas.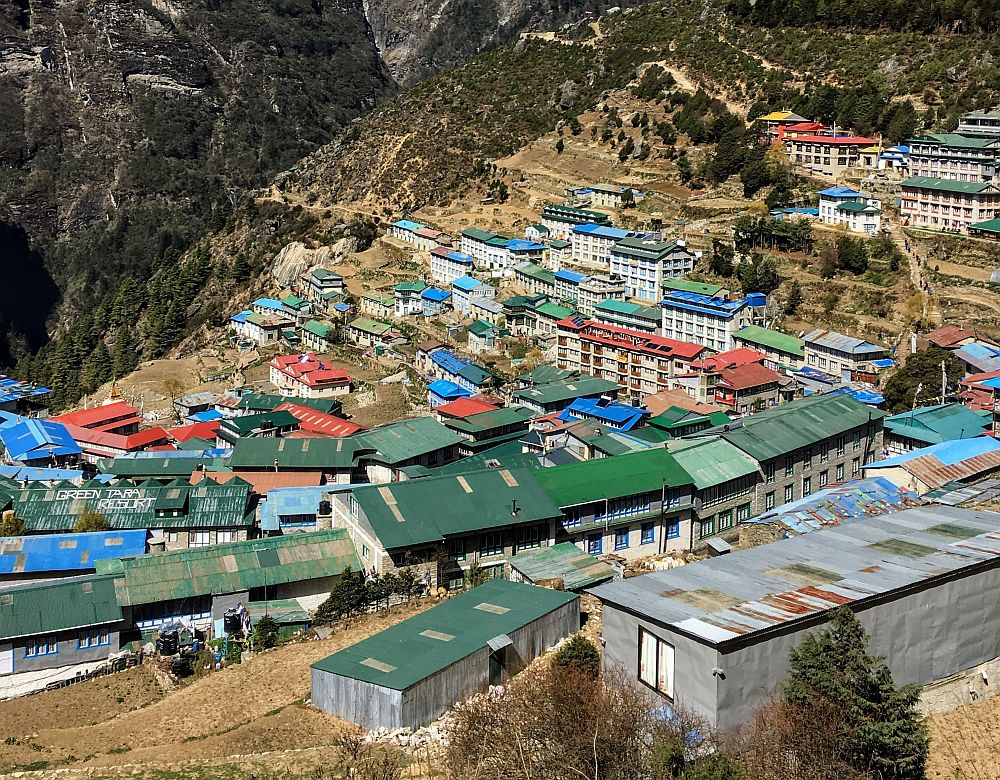 What can you expect on a visit to Sagarmatha National Park?
I visited Sagarmatha National Park while hiking the Three Passes and Everest Base Camp trek, a challenging and incredibly rewarding multi-day hike in the Himalayas. The terrain starts as a normal hike in the mountains, on dirt tracks that line a green valley carved by an icy blue glacial river. The path is shared with local Sherpa people who walk the same trails to take their kids to school, or to go to work each day. There are also a number of donkeys carrying food, fuel, and other necessities to villages higher up in the mountains.
The higher the elevation gets, the more the terrain changes to a rocky grey color, and the more gorgeous snow-capped mountains surround hikers and villages. The donkeys are also replaced by yaks at higher altitudes, which are domesticated, long-haired oxen-like animals that are accustomed to colder temperatures.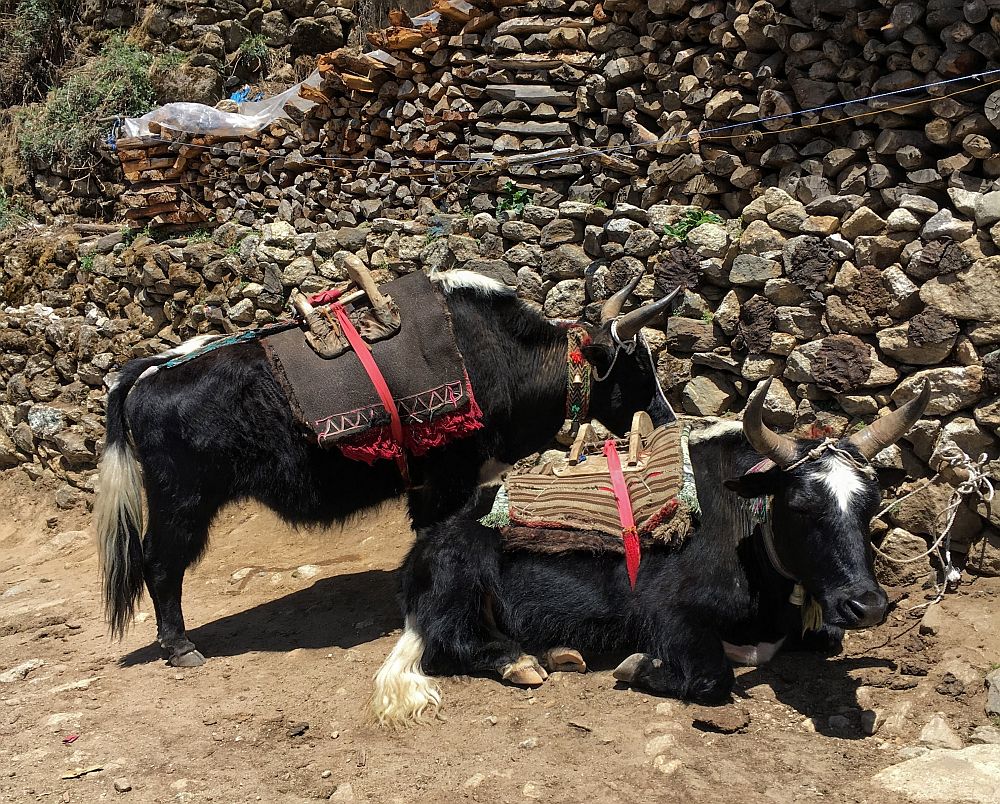 One unexpected aspect of the hike and Sagarmatha National Park was the number of tourists in the region. Due to an increase in tourists and especially large tour groups that embark on the Everest Base Camp trek, there are a number of large lodge-like hotels being built in the villages that tour groups stay at for a reasonable price. That being said, for budget travelers like myself it is still easy to find humble local tea houses to stay at in the Everest Region. It also means that those who prefer not to "rough it" on their travels can find luxury comfort each night while deep in the mountains.
Is Sagarmatha National Park worth visiting?
Sagarmatha National Park is absolutely worth visiting for its incredible scenic views, ecological uniqueness, and for the cultural and religious significance of the Sherpa people and their Tibetan Buddhist traditions.
The park also encompasses a bucket-list destination for many travelers: Everest Base Camp. The 14-day village-to-village hike lets visitors encounter all of the incredible aspects of the park: the low-lying valleys, Tibetan Buddhist culture, local flora and fauna, and Mt. Everest and other neighboring incredible mountains such as Mt. Pomori, Mt. Ama Dablam, Mt. Lhotse, Mt. Nuptse and more. Hikers will also spend each night in charming and traditional Nepali villages, and can stay in local Sherpa teahouses.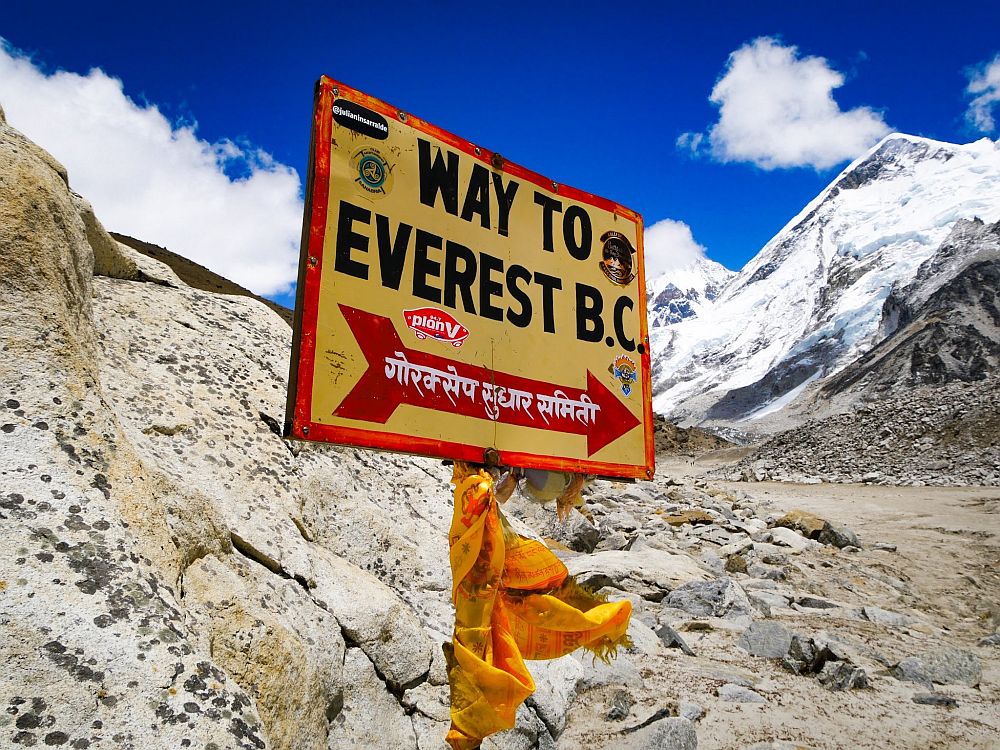 What sort of travelers would like it?
Sagarmatha National Park is the perfect UNESCO World Heritage Site to visit for outdoor enthusiasts. There is nothing in the world like standing at the base of some of the highest mountain peaks in the world. Although the National Park is not easy to reach, and to see Mt. Everest takes several days of hiking, the feeling of accomplishment and satisfaction that can be experienced at Base Camp is one that can't be felt anywhere else in the world. There's only one Mt. Everest in the world, after all!
Sagarmatha National Park would also be popular with visitors interested in the Tibetan Buddhist religion and the culture of the Sherpa people. Every village in the region has an element of the local culture incorporated, including prayer wheels that can be spun (with your pure right hand only), stupas with Buddha's eyes that watch over all passers-by, and some monasteries.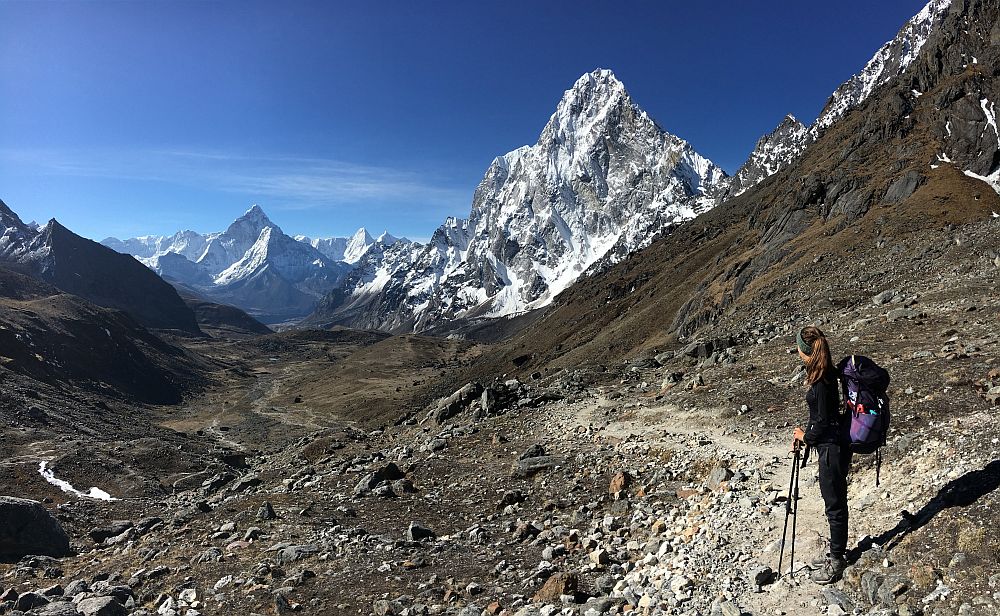 Tips for visiting Sagarmatha National Park
Most visitors to Sagarmatha National Park arrive as hikers, endeavoring to reach one of many bucket-list destinations: Namche Bazaar, Everest Base Camp, Island Peak summit, Ama Dablam summit, or even the Mt. Everest summit. Although I can only give tips for hikers who strive to reach up to the summit of Kala Patthar (5550m/18,200ft), I recommend all travelers to pack light but also pack for very cold weather.
It's also important to hike slowly and take a few rest days along the way, instead of gaining excessive elevation every day. Taking rest days will let your body acclimatize and decrease the chance of experiencing extreme altitude sickness, which can cause severe nausea, brain damage and even death.
Explore options for tours to Everest Base Camp.
Where is Sagarmantha National Park?
The only two options to reach Sagarmantha National Park are to hike in (starting in Jiri, Salleri, or Lukla villages), or by flying in by helicopter. This ensures the buffer zone, a protective natural layer of the park, is maintained. The closest villages that can be driven to are Jiri and Salleri, which can be reached by bus and jeep from Kathmandu, Nepal. Most visitors to Sagarmatha take a small airplane to Lukla from Kathmandu, and hike 2-3 days to reach the entrance to this UNESCO World Heritage Site.
Text and photos provided by Erika of Erika's Travelventures. At Erika's Travelventures I share my travel tips and stories of being a budget backpacker, solo female traveler, and hiking enthusiast. Follow my journey from the Americas to Australia, Japan to the Himalayas, and everywhere in between.
Have you been to Sagarmantha National Park? If so, do you have any additional information or advice about this UNESCO World Heritage site? Please add your comments below!