Le Colline del Prosecco di Conegliano e Valdobbiadene
By Miriam
What is Le Colline del Prosecco?
The Prosecco hills are located in the province of Treviso. This extraordinary region is covered with hand-worked vineyards on steep slopes as well as forests, hedges and small villages. It received an important recognition in July 2019: the title of UNESCO World Heritage site. In this area a wine of international prestige is produced, namely Prosecco.
Disclosure: This article contains affiliate links. Making a purchase through an affiliate link will mean a small commission for this website. This will not affect your price.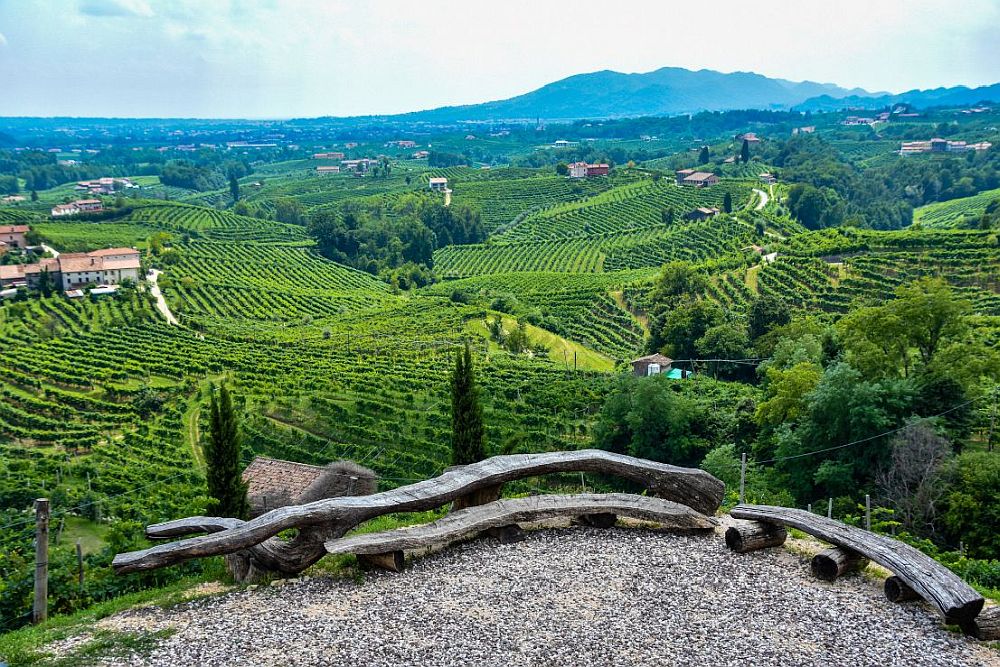 Why is Le Colline del Prosecco a UNESCO World Heritage site?
A concentration of natural beauty and human ingenuity: the Colline del Prosecco area, famous for its Prosecco, has earned a place among the UNESCO sites for the uniqueness of its landscape.
This uniqueness is based on the geological form called "hogback" and is made up of a series of steep hills interspersed with small parallel valleys. According to the UNESCO listing, "the adaptation and transformation of the challenging terrain of the hogback geomorphology has required the development of specific land use practices, including: vineyard management by hand on steep slopes; the grassy terraces known as ciglioni, which follow the contours of the land, stabilising the soils and vineyards; and the bellussera training system which was developed in the area about 1880." The result is a unique "chequerboard" pattern mixed in with villages and woods.
Find accommodations in the Colline del Prosecco by clicking on the map below:
What can you expect on a visit to the Colline del Prosecco?
The Colline del Prosecco region is beautiful to explore, but also is a great place to discover small wineries, villages, abbeys, fortresses, castles, churches and villas.
The best way to visit the area is through the oldest wine route in Italy: the Conegliano-Valdobbiadene route is 90 kilometers long. You can travel it by car, on foot or by bicycle tasting wines and local cheeses or cured meats as you go.
Prosecco is what this area is known for, but there's also plenty to discover in terms of local delicacies. These are mainly based on meat including cured meats, such as sopressa; cheeses; polenta and mushrooms; as well as fresh vegetables, such as red radicchio from Treviso.
Is Le Colline del Prosecco worth visiting?
Yes, it is absolutely worth visiting and worth making a special trip. It is better to visit the area in several days instead of a single day to fully enjoy the beauty of the landscapes but also the good food and, above all, the Prosecco.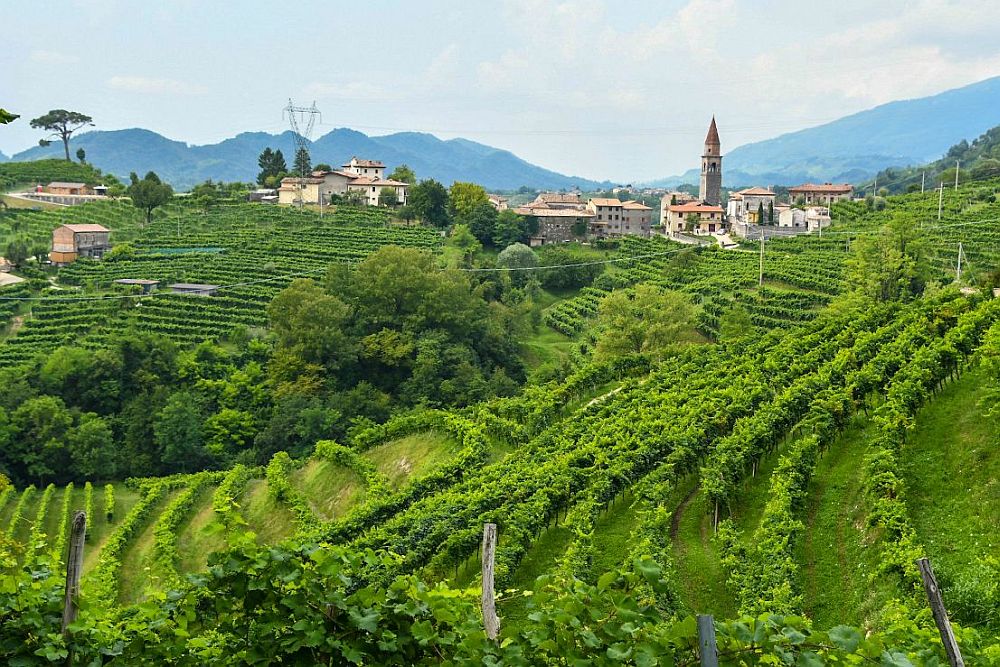 Tips for visiting Le Colline del Prosecco
Do not visit the area in August, the holiday month for many Italians. Prices will be higher.
Visit one of the cellars where Prosecco is produced. There, you can enjoy a tasting.
Rent a car or a bike or, even more beautiful, a Vespa, and travel the Prosecco road between villages and wonderful landscapes.
Visit inside the Pieve di San Pietro di Feletto, a small Catholic church in the village of San Pietro. The extensive frescoes inside are wonderful.
Don't miss a stop at the Osteria Senz'Oste (Osteria without Inkeeper), between Valdobbiadene and Santo Stefano: this is a truly unusual place where there is no host. Instead, you do everything yourself: you serve, eat and pay on the honor system.
Where is Le Colline del Prosecco?
The UNESCO site of the Prosecco Hills is located in the Veneto region and includes the hilly area in the province of Treviso which extends eastward from Valdobbiadene to Vittorio Veneto, including 15 different municipalities. From Venice to Treviso is less than an hour by car and only a half-hour by train, but you can't really see the area well without a) a car, b) a Vespa or similar or c) a bicycle (if you have plenty of time).
For more information about Le Colline del Prosecco, its opening hours and admission fees, see its official website.
Text and photos provided by Miriam: I am Miriam, Italian of origin but I have been living in London for several years. In 2018 I quit my job and left with a one-way ticket to Asia with my camera and backpack. That trip lasted a year and at the return I opened my travel blog, Miry Giramondo, to give advice to women traveling alone but also to those traveling on a low budget.
Have you been to Le Colline del Prosecco? If so, do you have any additional information or advice about this UNESCO World Heritage site? Please add your comments below!