Historic Fortified City of Carcassonne
By Laura
What is the Historic Fortified City of Carcassonne?
The UNESCO Historic Fortified City of Carcassonne is an impressive and well-preserved fortified medieval village in southern France. The site has been occupied since the pre-Roman period.
Disclosure: This article contains affiliate links. Making a purchase through an affiliate link will mean a small commission for this website. This will not affect your price.
Visitors can explore the cobbled streets, castle, cathedral and ramparts. Its impressive size gives you a sense of the history, architecture and way of living during these times.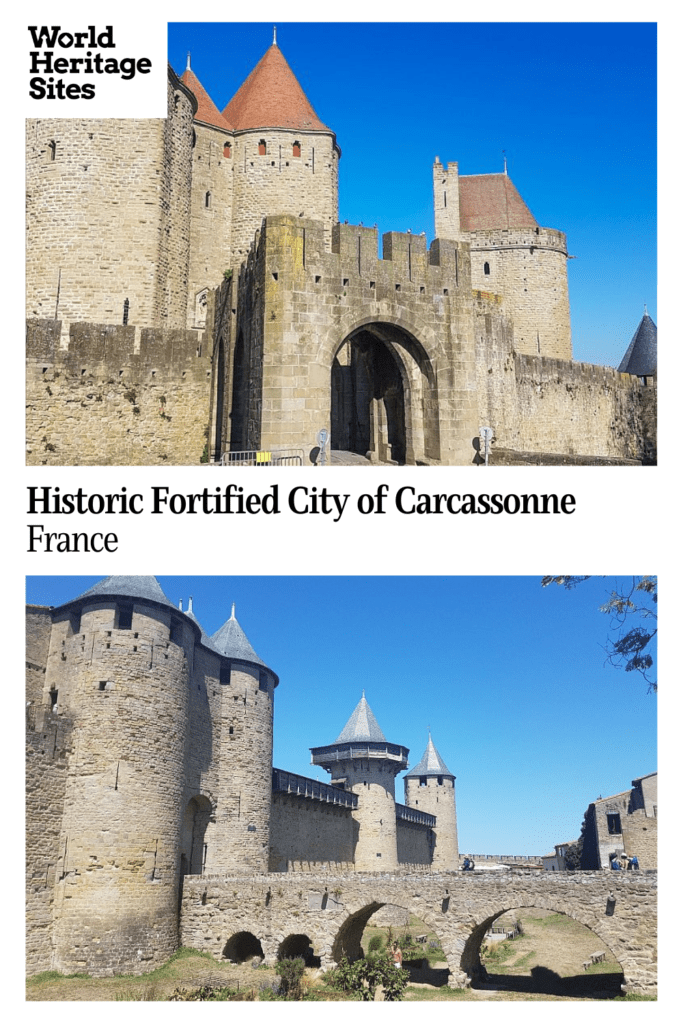 Why is the Historic Fortified City of Carcassonne a UNESCO World Heritage site?
According to UNESCO, in its present form the city of Carcassonne is "an outstanding example of a medieval fortified town, with its massive defences encircling the castle and the surrounding buildings, its streets and its fine Gothic cathedral. Carcassonne is also of exceptional importance because of the lengthy restoration campaign undertaken by Viollet-le-Duc, one of the founders of the modern science of conservation."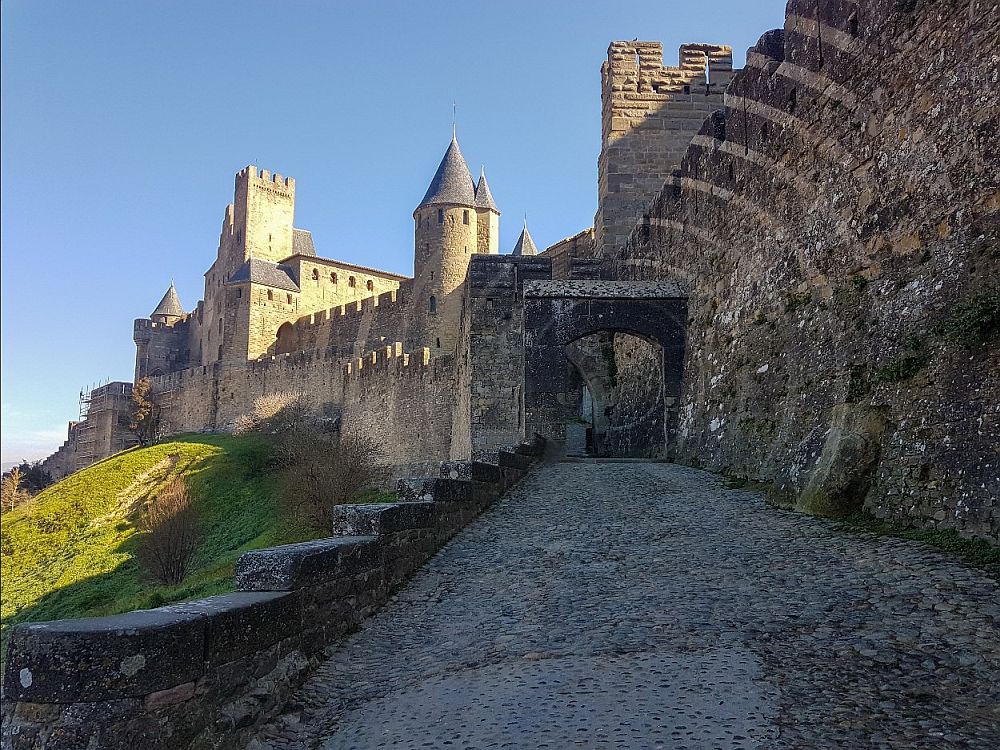 What can you expect on a visit to Carcassonne?
It is like taking a step back in time as soon as you walk through the gates of the medieval fortress. With its cobbled streets, double-walled defences, turrets, cathedral and castle, the City of Carcassonne looks like something out of a medieval storybook.
It has been so well restored that once inside there are many boutiques, shops and restaurants. Stopping for lunch is a great way to relax and really take in all of the surroundings.
Walking the ramparts and seeing the views is breathtaking. From the rolling vineyards, the town below and across to the horizon in every direction it becomes clear why this strategic spot was chosen during the medieval period.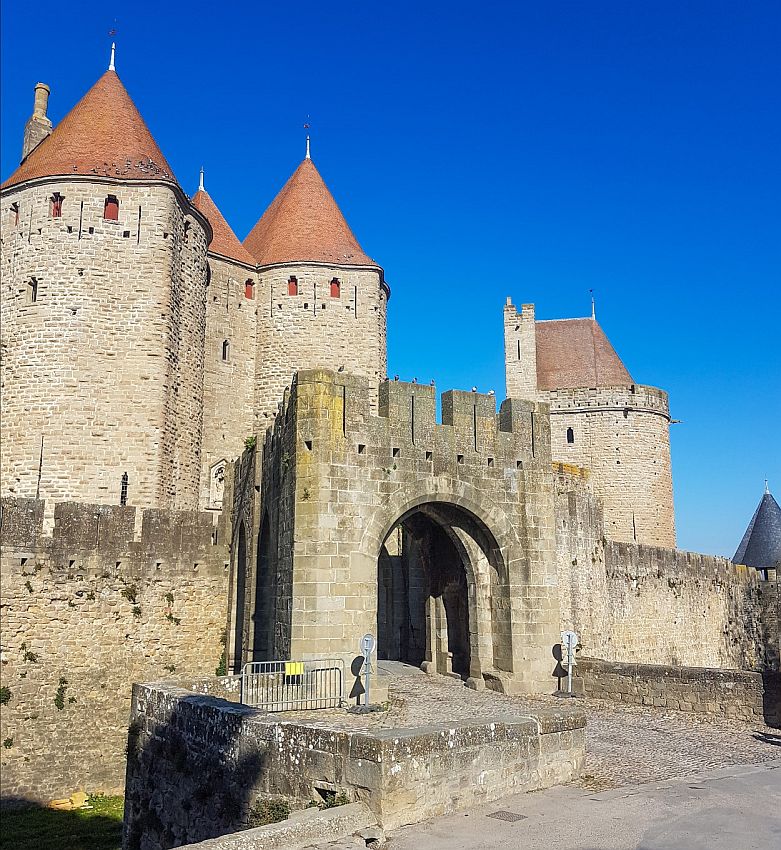 Is Carcassonne worth visiting?
Many tourists make specific trips to visit the City of Carcassonne particularly from neighbouring places as the region is rich in sights, including some beautiful medieval villages.
Visitors typically spend a full day here but it can be seen in half a day if timing is important. For those into history, architecture or photography the city of Carcassonne is a dream, but it has something for everyone to enjoy.
Use the map below to book accommodations in or near the Fortified City of Carcassonne. Zoom out to look for accommodations elsewhere in Carcassonne.
Tips for visiting Carcassonne
With lots of walking to do, comfortable walking shoes are recommended. It is free to walk around the site, but there are ticketed options too such as touring the castle and ramparts or watching a show. While exploring, look out for the water wells that used to supply the inhabitants.
If visiting during July, buy tickets to attend the Festival de Carcassonne. It's a unique event with a variety of concerts staged inside the medieval city throughout the summer evenings.
A section of the Canal du Midi, another UNESCO World Heritage site, also runs through the town of Carcassonne. It is a marvel of engineering and worth visiting while in the area.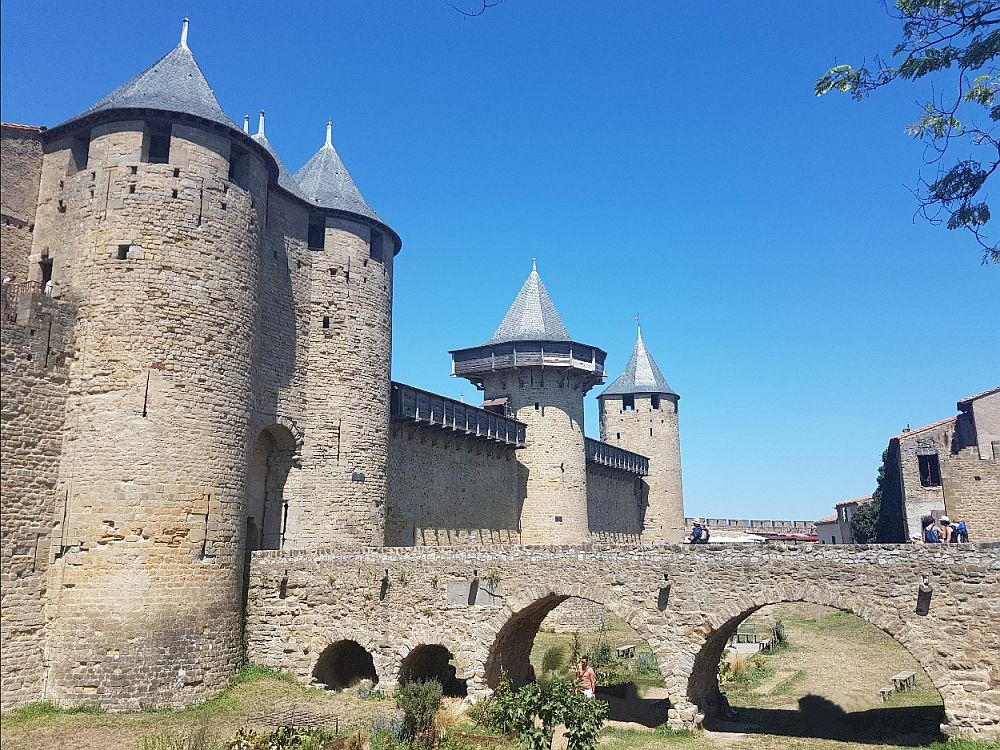 Where is Carcassonne?
Located in the southwest Occitanie region of France, the Historical Fortified City of Carcassonne towers up from the valley below. It's important to note that the fortified City of Carcassonne is not the same place as the town of Carcassonne. However, the town is located in the valley below and not too far away.
Historical City of Carcassonne: 1 Rue Viollet le Duc, 11000 Carcassonne, France
By Car: From Toulouse, the city is around 59 miles away, and the journey will take approximately one hour. There is a large parking area next to the site costing €8 per day per vehicle.
By Train: Trains run daily from Toulouse Matabiau Station to the town centre of Carcassonne, not the UNESCO site. The journey time is 60 minutes but visitors must factor in travel up to the city from the station. If heading on foot it'll take around 30 minutes uphill (approx. 2.2km).
For more information about Historic Fortified City of Carcassonne, see its official website.
Text and photos provided by Laura from Gallivanting Laura, a Scottish expat sharing travel and gluten free lifestyle tips on her blog. You can follow her on social media on Instagram, Pinterest and Facebook.
Have you been to Carcassonne? If so, do you have any additional information or advice about this UNESCO World Heritage site? Please add your comments below!