Cahokia Mounds State Historic Site
By Theresa Goodrich
What is Cahokia Mounds State Historic Site?
Cahokia Mounds State Historic Site is a pre-Columbian Native American city. It's located in Collinsville, Illinois, across the Mississippi River from St. Louis, Missouri. The site was once the largest and most influential urban settlement in the Mississippian culture and, in addition to being a UNESCO World Heritage site, is also a National Historic Landmark. Dating back to around A.D. 800-1400, Cahokia Mounds was home to a population of up to 20,000 people at its peak, making it one of the largest pre-Columbian cities in North America.
Disclosure: This article contains affiliate links. Making a purchase through an affiliate link will mean a small commission for this website. This will not affect your price.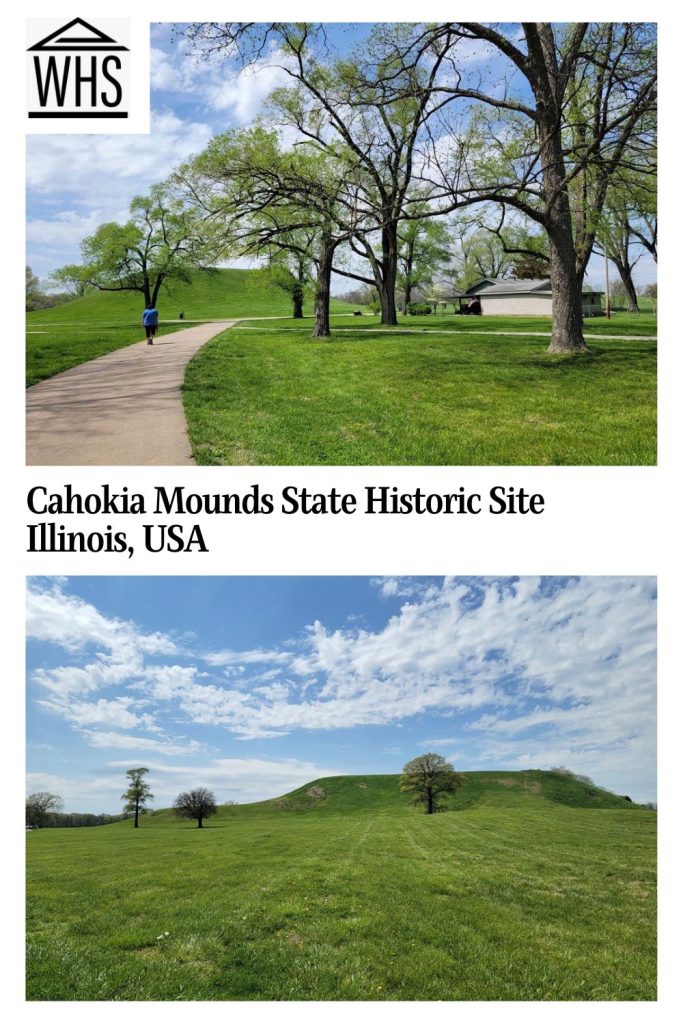 Why is Cahokia Mounds a UNESCO World Heritage site?
According to UNESCO: "It is a striking example of a complex chiefdom society, with many satellite mound centres and numerous outlying hamlets and villages." Cahokia Mounds meets several of the criteria set by UNESCO. Besides being the largest pre-columbian site in what is now the US, it's also the earliest. It is mportant for its exceptional cultural value and offers crucial insights into the way of life, social organization, and technological achievements of the ancient Mississippian people.
What can you expect on a visit to Cahokia Mounds?
Visiting Cahokia Mounds is striking, particularly because there's a four-lane highway through the middle of it. There are over 100 earthen mounds of various sizes and shapes. Their purposes varied: they had religious, ceremonial, and burial functions.
The most prominent of these is the 100-foot-tall (30 meters) Monks Mound, the largest prehistoric earthen structure in the Americas. There are stairs to the top of the mound, and from its flat summit you can see the Arch in St. Louis.
The Grand Plaza, a large open space surrounded by several mounds, served as a central gathering and ceremonial area for the community. There's also a reconstructed wooden solar calendar, called Woodhenge, and an example of the stockade that enclosed the city.
Is Cahokia Mounds State Historic Site worth visiting?
In my opinion, exploring Cahokia Mounds is definitely worth it, especially for anyone interested in history, archaeology, anthropology, and indigenous cultures. Seeing the mounds is striking, especially when you understand their sheer size.
There are interpretive signs throughout the site, and a very cool feature is the use of Augmented Reality. You purchase their app ($4.99) and as you stroll the grounds, you can use your phone or tablet to see what the city of Cahokia may have looked like a millennium ago.
There are several trails, including a ten-mile (16 km) trail that takes you past many of the mounds and cultural sites.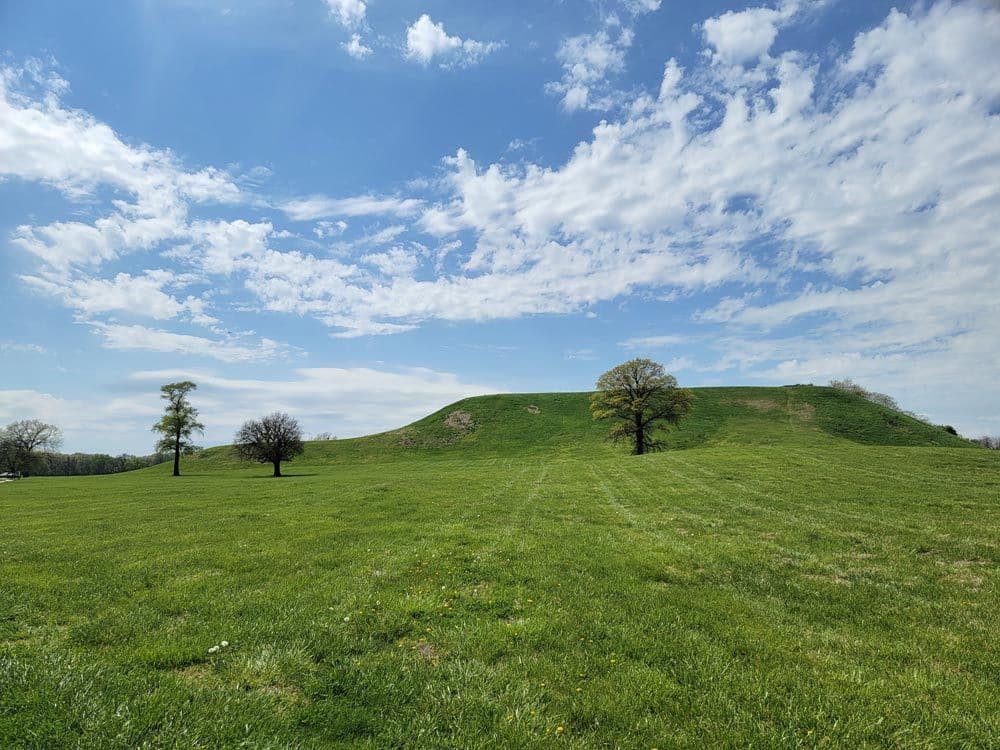 Tips for visiting Cahokia Mounds State Historic Site
As of April 2023, the interpretive center is closed for renovation, so you might want to confirm whether it's reopened before you visit.
When visiting Cahokia Mounds State Historic Site, you'll want to wear comfortable shoes so you can explore the grounds. Its location in western Illinois also means the weather is seasonal, so be sure to dress appropriately.
Sunrise and sunset are spectacular from the top of Monks Mound, and sunrise will be much less busy. It's also a good idea to try to visit during the week. With its proximity to Gateway Arch National Park and St. Louis, Cahokia becomes a popular destination on the weekends, especially when the weather's nice.
See our other listings of UNESCO sites in the US.
Where is Cahokia Mounds State Historic Site?
Cahokia Mounds State Historic Site is located on US-40 and its address is 30 Ramey Street in Collinsville, IL. It's about a twenty-five minutes drive from Lambert International Airport in St. Louis. Both parking and admission are free.
Find accommodations in Collinsville or St. Louis.
Public transportation to Cahokia is limited. You can take MetroLink, St. Louis' public transportation system, but you'll have to walk about a mile and a half total (if coming from the airport.) Total transportation time would be around an hour and forty minutes.
A better option is to rent a car.
For more information about Cahokia Mounds State Historic Site, its opening hours and admission fees, see its official website.
Text and photos provided by Theresa Goodrich of The Local Tourist. Theresa is an author, publisher, speaker, and Emmy-winner who wants to help you experience the fascination of a tourist while feeling the comfort of the local.
Have you been to Cahokia Mounds? If so, do you have any additional information or advice about this UNESCO World Heritage site? Please add your comments below!