Bwindi Impenetrable National Park
By Nicole
What is Bwindi Impenetrable National Park?
Bwindi means "darkness." Home to half of the world's population of mountain gorillas, along with chimpanzees, forest elephants, and over 200 species of butterflies, this extremely dense rainforest sits along the Great Rift Valley in East Africa. Located in the southwestern portion of Uganda, Bwindi covers 32,000 hectares (124 square miles) of land. It borders the Democratic Republic of the Congo, home to Bwindi's sister park, Virunga. Bwindi is surrounded by small villages that live in concert with the forest.
Disclosure: This article contains affiliate links. Making a purchase through an affiliate link will mean a small commission for this website. This will not affect your price.
Bwindi is one of the largest areas in East Africa that still has Afromontane lowland forest. This forest is a frontline to conservation with its immense biodiversity and the work that has gone into conserving the endangered species that call this extrodinarily dense forest home.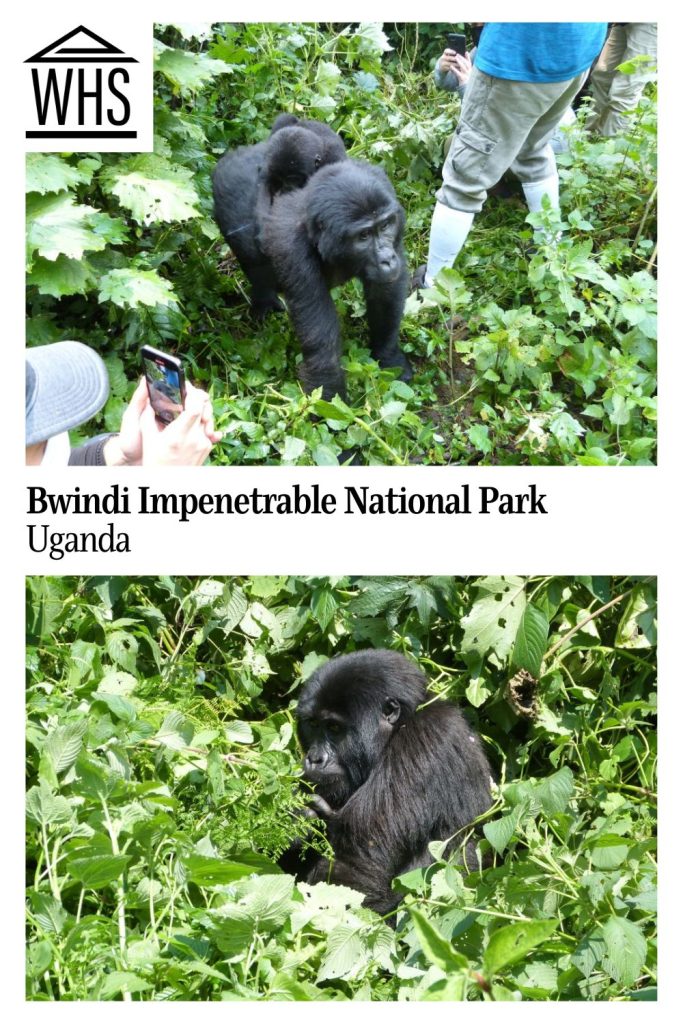 Why is Bwindi National Park a UNESCO World Heritage site?
Bwindi Impenetrable National Park is a key site for biodiversity on the African continent with its incredible number of flora and fauna species. The UNESCO World Heritage website states that "Due to its diverse habitats ranging from 1,160 to 2,706 m in altitude, location at the intersection of the Albertine, Congo Basin and Eastern Africa ecological zones, and probable role as a Pleistocene refugium, Bwindi is the most important area in Uganda for species due to an exceptional diversity that includes many Albertine Rift endemics."
The area has the highest number of tree and fern species in East Africa. According to UNESCO, it is possibly the most important forest in Africa for montane forest butterflies. The UNESCO World Heritage Convention goes on to say "Overall, Bwindi hosts numerous globally threatened species including high-profile mammals such as mountain gorilla, chimpanzee, l'Hoest's monkey and African elephant; birds such as African green broadbill, Grauer's swamp warbler, Turner's Eremomela, Chapin's flycatcher and Shelley's crimson-wing; and butterflies such as African giant swallowtail and Cream-banded swallowtail."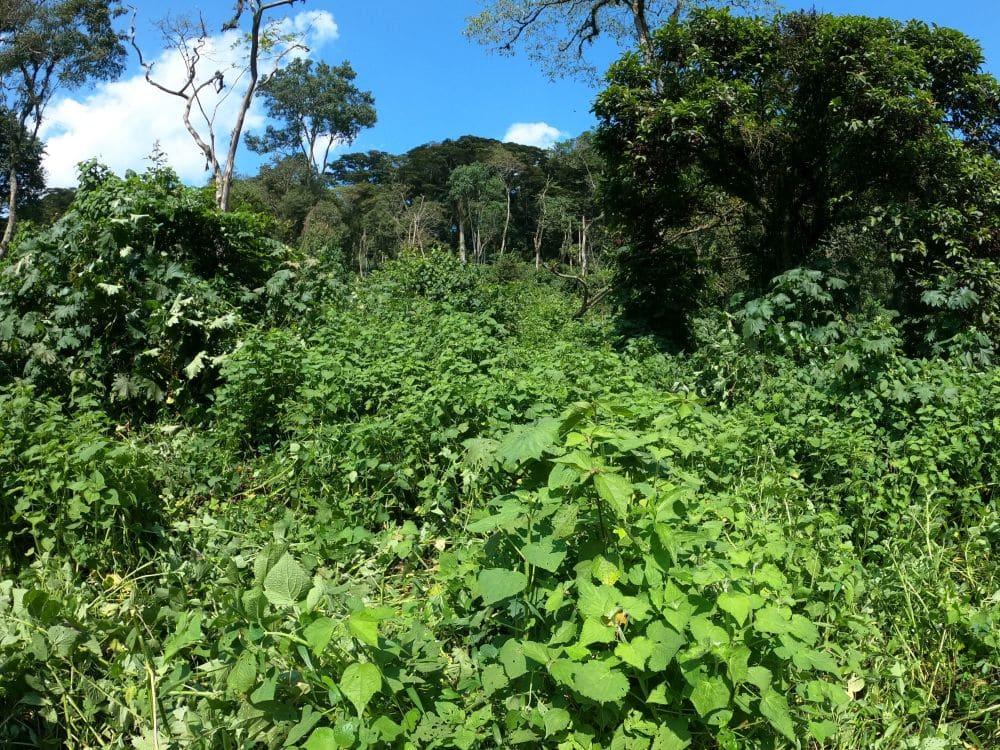 What can you expect on a visit to Bwindi?
On arrival at the gates to Bwindi Impenetrable National Park, permits in hand (generally arranged by a tour company), you will start your day with a debriefing on what to expect and what not to do. Then women from the charity "Ride 4 a Woman" will put on a performance of traditional songs and dances.
You will then be separated into groups. There are treks available for those who are at a fitness level where you can trek deeper into the forest. Other treks are for those who want to have the experience but may not have the ability to trek quite as far.
Once separated into your groups you will be accompanied by a tracker. That tracker will be in contact with a second tracker already in the forest, looking for the gorilla family group they have set for you to visit that day. Two armed guards will also accompany you. If you would like, you can hire porters who will carry your bags and help you through the trek. These porters will gently hold your hand to help you through difficult sections or push you along the backside to get up steeper sections.
Many of the porters are rehabilitated poachers and have found a deep love and respect for the gorillas. They have a wealth of knowledge in regards to the forest, so make sure to ask lots of questions.
Once you find the family you will spend one hour with them. They are habituated to a limited number of human visitors per day, but they are still wild animals. You are required to wear a mask, so as not to expose them to any potential pathogens. It is one of the most magical moments you will ever experience. You will be surrounded by the family unit, almost feeling as though you are a part of them as they go about their day. Some may even walk through your group. The trackers are there to tell you what to do, so follow exactly as they say.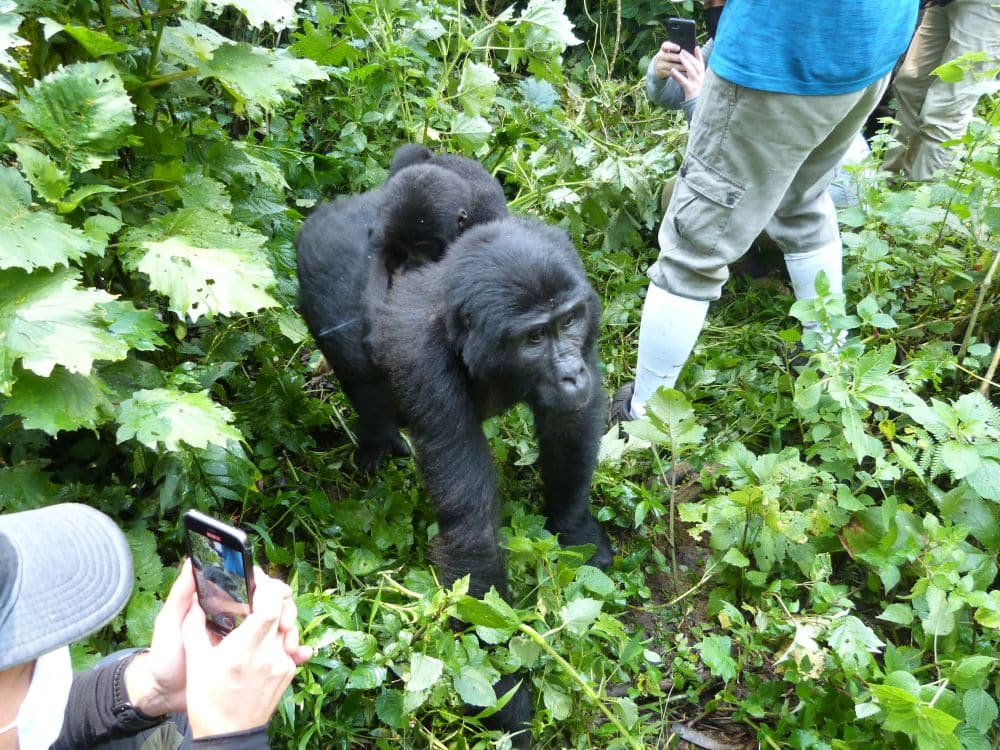 When the time is up you will head back out, stopping to have your lunch (which you need to bring with you) and going over the incredible experience you just had.
Besides seeing the gorillas, the park offers other tours: a forest/nature walk to observe many other species of plants, birds, insects and animals; a birdwatching trip; or a variety of cultural tours with neighboring communities.
Is Bwindi worth visiting?
Bwindi Impenetrable National Park is absolutely worth a special trip, particularly for those interested in the immense diversity of the flora and fauna represented in the area. Most people come to see the mountain gorillas and chimpanzees. This is typically a one-day trip specifically to see the gorillas. You can also do a separate day to see the chimpanzees or to visit another mountain gorilla family group. You will get to spend one hour with the gorillas, but the morning debriefing, the trek in, stopping for lunch, and the trek out make it a full-day adventure.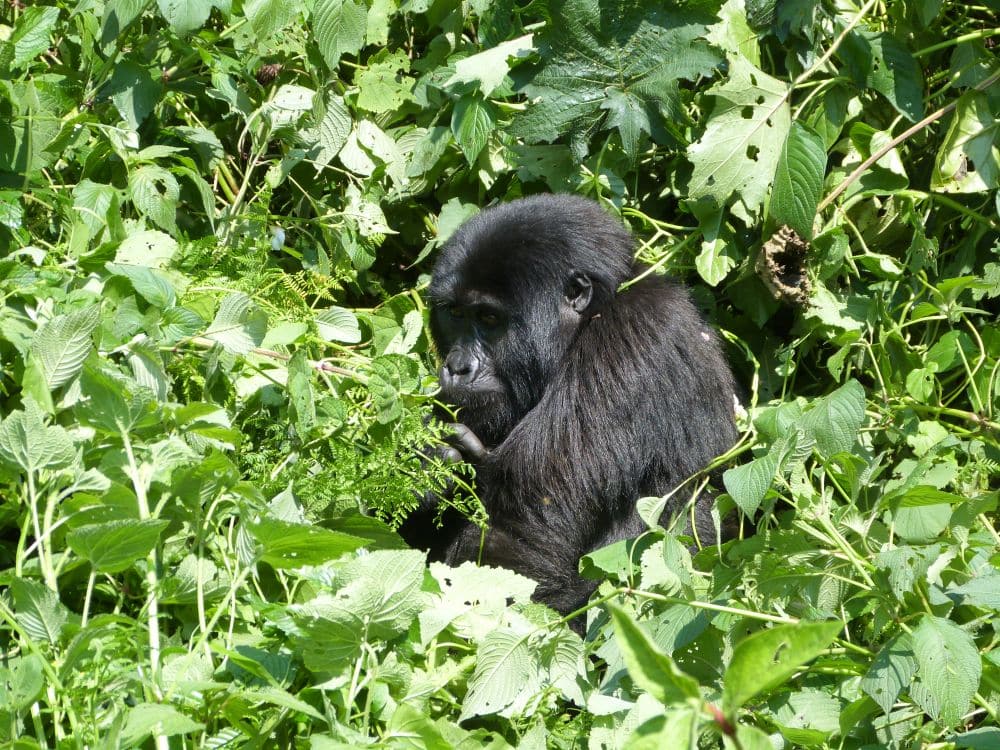 What sorts of travelers would like Bwindi Impenetrable National Park?
Visiting Bwindi Impenetrable National Park is for the adventure traveler and those looking for that bucket list experience of gorilla trekking. As this is the location of the highest population of mountain gorillas in Africa, it's a once-in-a-lifetime opportunity. If you enjoy traveling to see wildlife and want a different experience to going on safari, this is the trip for you.
Tips for visiting Bwindi National Park
In order to enter Uganda, you will need proof of vaccination against yellow fever. You will also need to go with a guided group into the park. If you go with a tour company, they will take care of all the permits you need to enter the forest and get you there at the appointed time. In general, all permit costs and fees are included in your tour fee.
Make sure to wear long sleeves and sturdy shoes with your pants tucked into your socks. There are various species of ants, including fire ants, as well as other bugs, so appropriate clothing is a must.
This one-day trip into the Impenetrable Forest can and should be combined with a multi-day trip covering some of Uganda's other national parks. By combining this trek with other sites, you get the opportunity to see some of Africa's most beautiful megafauna, such as elephants, hippos, lions who like to hang out in trees, and more.
Before you leave for Uganda, make sure to check the most recent travel advisories, as violence can occasionally spill across the border from Congo. Also check to see whether you need any updated vaccinations or other medications.
Where is Bwindi Impenetrable National Park?
Bwindi Impenetrable National Park is located in Buhoma in the Kanungu District, Uganda. It is recommended you hire a guide to drive you there as the roads are poor and the signage is terrible. It can be extremely difficult to navigate to this area on your own.
Find a tour here or click on the image below:
Driving from Kibale, the largest and closest town to Bwindi, will take around seven and a half hours. From Entebbe airport in Kampala, where you are most likely to fly into, it is an approximately ten-hour drive. It is therefore recommended that you make stops at the various national parks and game reserves along the way, with Bwindi Impenetrable Forest being later in your itinerary.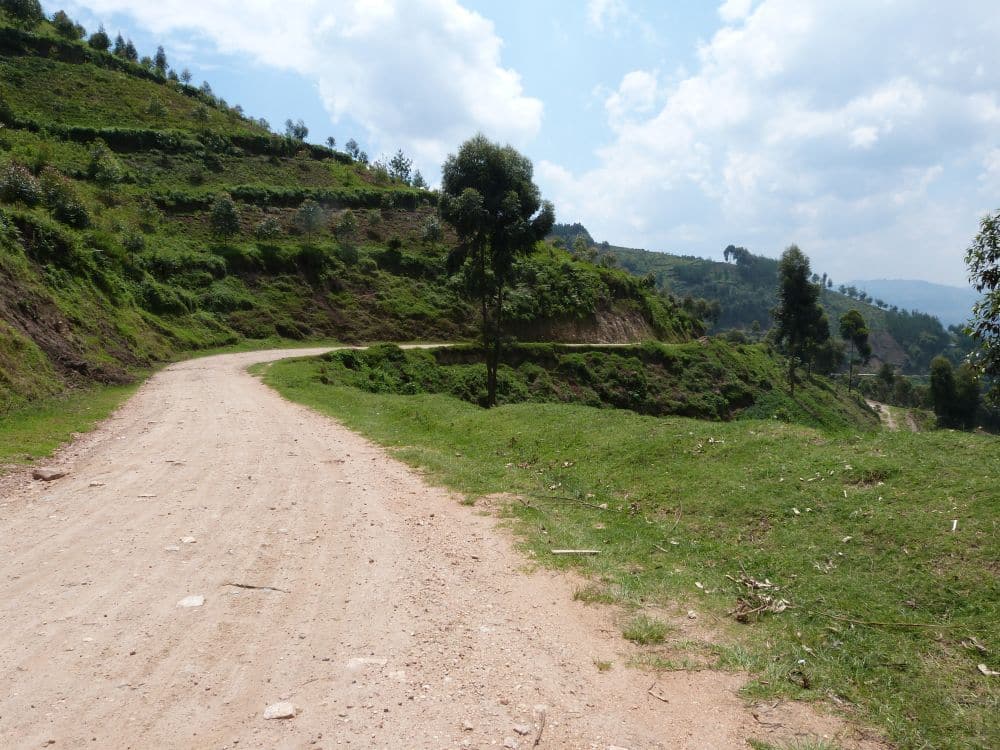 Other than using a tour, there are no public transit options.
For more information about Bwindi Impenetrable National Park, its opening hours and admission fees, see its official website.
Nicole is the voice behind Wandering with a Dromomaniac. Nicole is an adventure travel blogger and exotics and wildlife veterinarian currently living in Seattle. Originally from Canada, she lived in New Jersey for 9 years before relocating to Seattle, a place she and her significant other, and their dog, Zubie, have always wanted to call home.
Have you been to Bwindi National Park? If so, do you have any additional information or advice about this UNESCO World Heritage site? Please add your comments below!