Historic Sanctuary of Machu Picchu
By Polly Witker
What is the Historic Sanctuary of Machu Picchu?
Machu Picchu is an Incan citadel built in the 15th century. There is a lot of mystery surrounding the ruins, which are situated between soaring mountain peaks in the Peruvian Andes. It's believed that the city was inhabited for less than 100 years and was then abandoned around the time of the Spanish Conquest in the 16th century. Machu Picchu is one of the most famous archeological sites in the world.
Disclosure: This article contains affiliate links. Making a purchase through an affiliate link will mean a small commission for this website. This will not affect your price.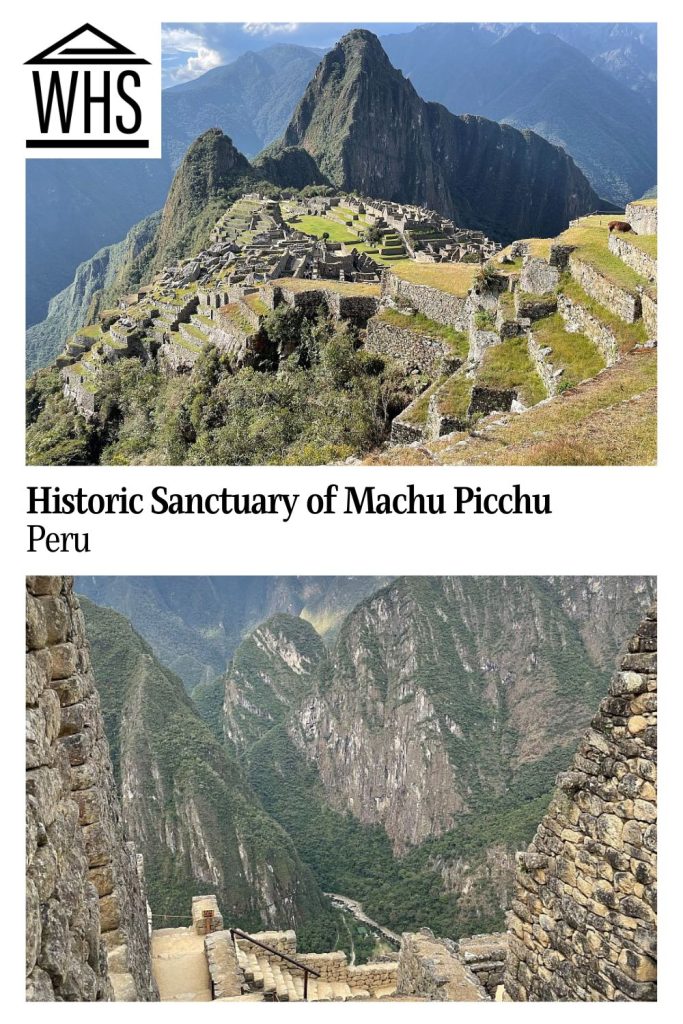 Why is Machu Picchu a UNESCO World Heritage site?
The Historic Sanctuary of Machu Picchu is considered to be "among the greatest artistic, architectural and land use achievements anywhere and the most significant tangible legacy of the Inca civilization" according to UNESCO's website. It is thought that it stayed well preserved even after the Spanish conquest because it was hidden high up in the mountains, and remained unknown to the world outside of Peru until 1911.
Additionally, the setting of Machu Picchu is exceptionally beautiful and is also home to a wide range of endemic species of flora and fauna.
What can you expect on a visit to Machu Picchu?
Machu Picchu is located high up in the mountains, so once you get there the views are absolutely epic, and the place has a really mystical and even spiritual feel. Depending on the time of year and time of day you go, it might be crowded, and a lot of people will be stopping to take pictures. The photos you'll see before you go don't even really do it justice – it's even more beautiful in person.
Whether or not you hike the Inca Trail to get there, once you enter through the gates you'll spend some time hiking up into the citadel grounds. Once there, you'll follow designated walking paths. You can touch the stones, but some areas are off limits. There are guards who will make sure you follow the rules.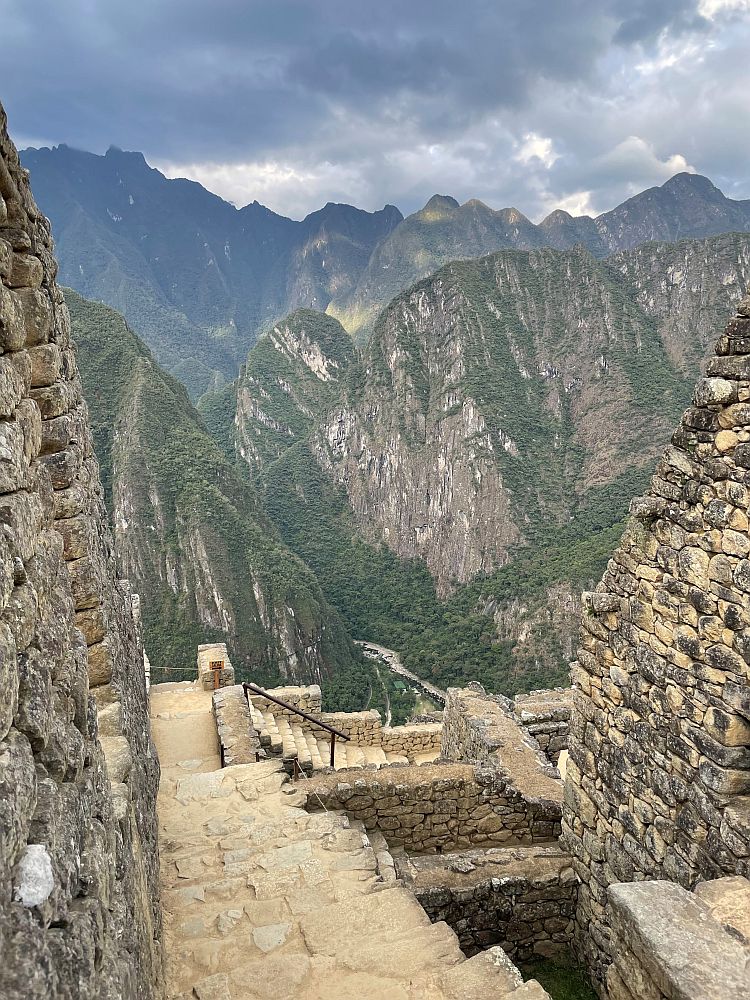 Is Machu Picchu worth visiting?
Machu Picchu is not only a UNESCO World Heritage site, it's also one of the New Seven Wonders of the World. It's on many travelers' bucket lists, for good reason. It's both fascinating and breathtakingly beautiful. It's fairly hard to get to, and you'll surely be making a special trip just to get there, but that's just part of the magic. It's a place you might only visit once in your life and it's worth spending extra time there just to soak it all in.
What sorts of travelers would like Machu Picchu?
Anyone interested in world history, especially the Incan civilization, will be in heaven at Machu Picchu. Adventurous and active travelers will love it too, especially if their journey involves a multi-day hike on the Inca Trail to get there. People with a special interest in photography will also really enjoy visiting Machu Picchu, because it's probably one of the most photogenic places on Earth.
Choose from a variety of tours to Machu Picchu.
Tips for visiting Machu Picchu
When you visit Machu Picchu you will need to purchase tickets ahead of time and pass through a gated entrance, at which point there is a fair amount of steep uphill walking.
You'll probably want to spend several hours there and you'll be outdoors the entire time, so comfortable footwear as well as layers of clothing are recommended, because Machu Picchu is located where the mountains meet the rainforest so weather can be unpredictable.
The best time of day to go is either early in the morning or the end of the day before sunset, just before the site closes for the day.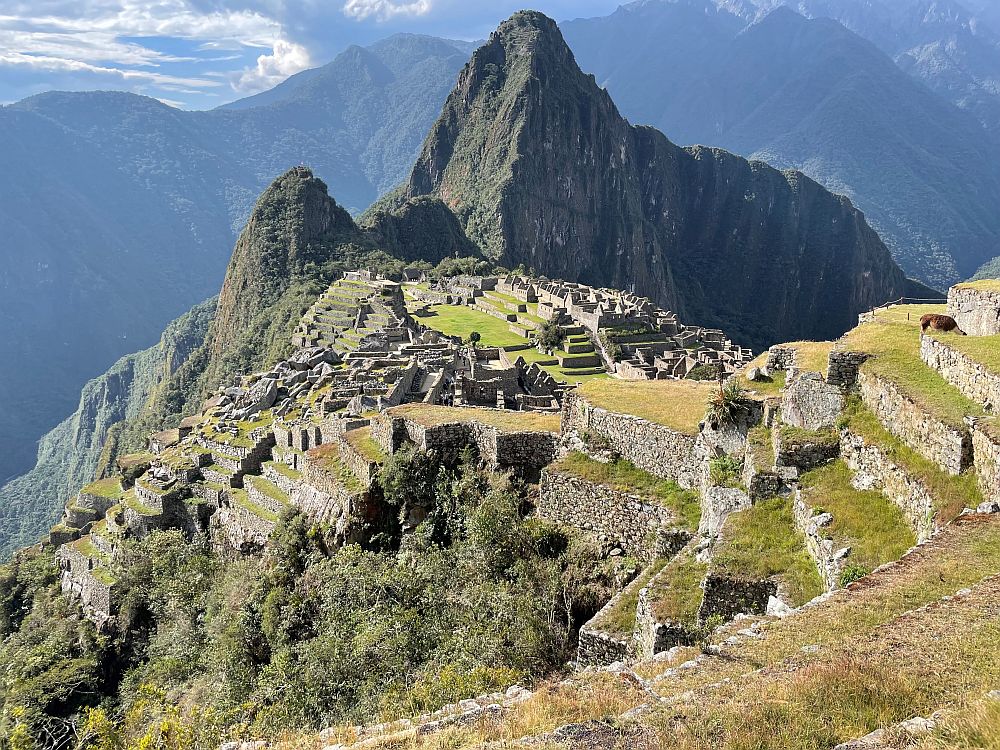 Having a local tour guide isn't required but I do recommend a knowledgeable guide in order to really understand the unique history and all of the points of interest spread over the grounds. There is so much to see among the massive stone ruins, and there are a lot of things you wouldn't notice or understand on your own.
Machu Picchu is located at 7,890 feet or 2,340 meters above sea level. Some travelers may experience the effects of the high altitude. It's advisable to spend a few days acclimating in the Sacred Valley before making the trip to Machu Picchu.
Where is Machu Picchu?
Machu Picchu is located in a tropical rainforest, where the Andes meet the Amazon in southern Peru, about 80 km/50 mi northwest of Cusco. There is a town at the foot of the mountain called Aguas Calientes. The closest airport is Cusco. (The City of Cusco, by the way, is also a UNESCO site, both for its Incan ruins and its colonial-era development.)
Use this link to book your accommodations in Cusco.
There are two main ways to get to Machu Picchu:
Hike the Inca Trail. You would start from Cusco and, depending on where you start trekking, it can take anywhere from ½ day to 4 or 5 days (You can take a car or train partway from Cusco.). If you hike the Inca Trail you'll arrive at the Sun Gate at the top of the citadel.
You can take a train from Cusco to Aguas Calientes (about 3 hours), or, if you're staying in the Sacred Valley, take a train from Ollantaytambo (less than 2 hours) to Aguas Calientes. Once there, you'll take a bus about 25 minutes up a windy mountain road to the entrance to the citadel.
For more information about Machu Picchu, its opening hours and admission fees, see its official website.
Text and photos provided by Polly Witker of Polly Goes. Polly is a writer, blogger, adventurer, and professional trip planner with a passion for telling stories and exploring the most unique corners of the world.
Have you been to Machu Picchu? If so, do you have any additional information or advice about this UNESCO World Heritage site? Please add your comments below!