By Pooja Shah
What is Kaziranga National Park?
Kaziranga National Park, India, is a wildlife sanctuary that is home to the world's largest population of great one-horned rhinoceroses. It was declared a UNESCO World Heritage site in 1985.
Disclosure: This article contains affiliate links. Making a purchase through an affiliate link will mean a small commission for this website. This will not affect your price.
Kaziranga National Park is currently estimated to house over 2000 rhinoceroses, as well as tigers, Asian elephants, hoolock gibbons, capped langurs, and sloth bears. The park was declared a Tiger Reserve in 2007 and has been recorded to have the highest density of tigers in the country.
Kaziranga National Park is also recognized as an Important Bird Area by BirdLife International to conserve several globally-threatened migratory bird species. The Brahmaputra River flowing through Kaziranga is also home to the endangered Ganges dolphin.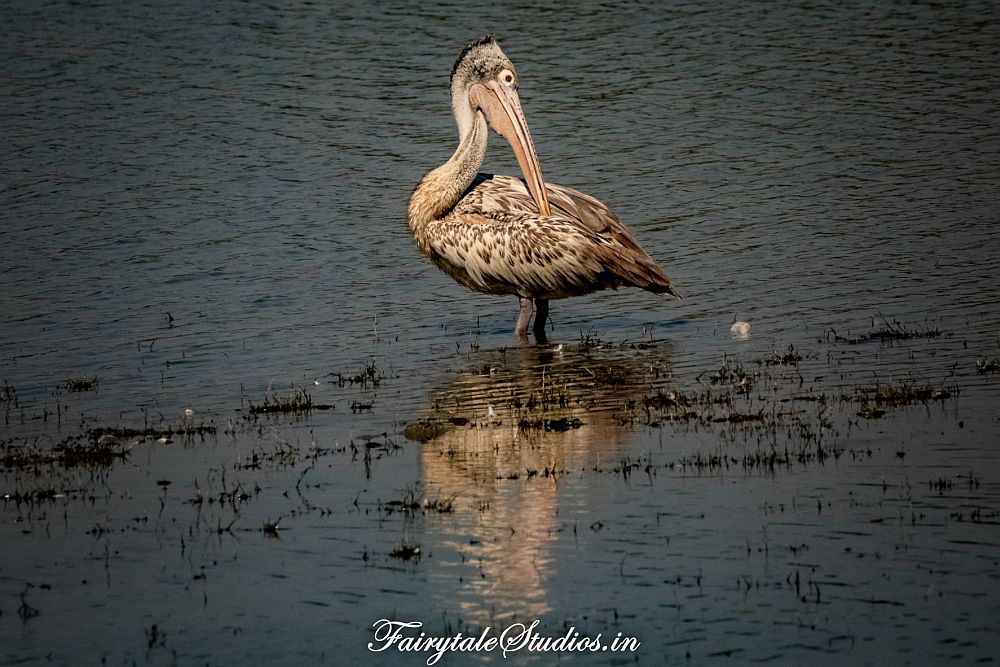 Why is Kaziranga National Park a UNESCO World Heritage site?
As per the UNESCO World Heritage website, Kaziranga National Park represents a spectacular conservation achievement in saving India's one-horned rhinoceros from the brink of extinction in the 20th century. Hence, it has been regarded as one of the finest wildlife refuges in the world.
In addition, according to UNESCO, "river fluctuations by the Brahmaputra river system result in spectacular examples of riverine and fluvial processes."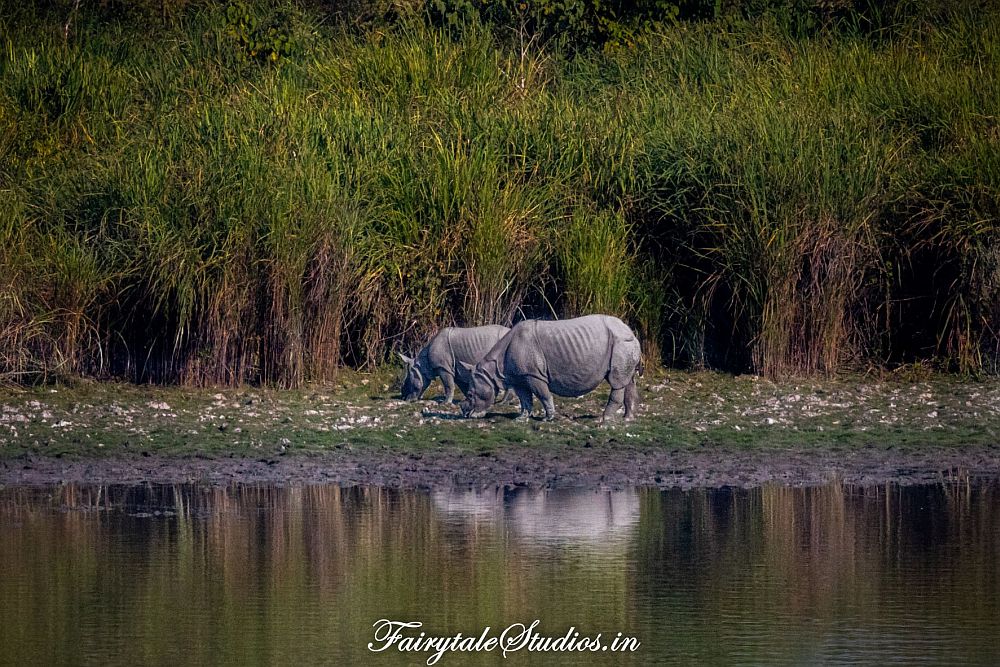 What can you expect on a visit to Kaziranga National Park?
Kaziranga National Park is a vast expanse of tall elephant grassland, marshland, and dense tropical moist forest. Wildlife safaris run daily at the park (excluding monsoon). To view the wildlife, you can opt for either of the two types of safaris offered by the National Park – Elephant Safari or "Gypsy" Safari.
As the name suggests, you have to ride on an elephant's back in the Elephant Safari. The mammal takes you on a guided tour on the periphery of Kaziranga National Park, where you can spot the one-horned rhinoceros. We do not recommend this option due to its training and use of elephants to carry humans.
The Gypsy Safari is basically a jeep safari that takes you to the heart of the dense National Park. These jeeps drive deeper into the wilderness, where you can spot the animals in their natural habitat. We managed to spot a couple of adult one-horned rhinoceroses, baby rhinoceroses, elephants, wild buffaloes, langur, Sambar deer, and many rare birds during the jeep safari.
You can book the Kaziranga National Park safaris online as well as from the government counters located near the entrance of the park.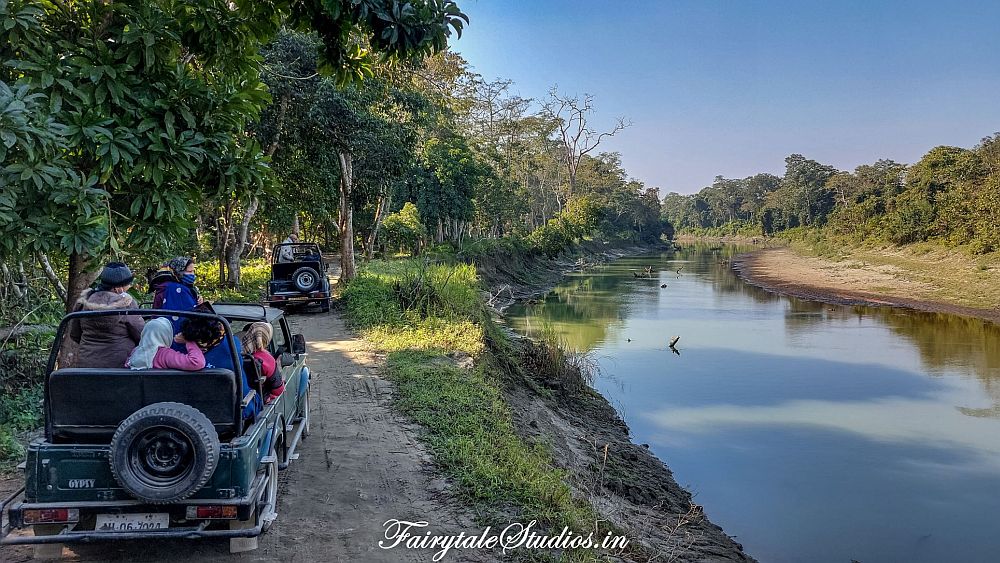 Is Kaziranga National Park worth visiting?
Absolutely. The probability of spotting wild animals (especially the one-horned rhinoceros) in Kaziranga National Park is high. We met travelers in Kaziranga who were even lucky enough to spot a tiger. The park attracts thousands of visitors every year from across the world. Moreover, apart from the wildlife, Kaziranga is blessed with outstanding scenic beauty.
Each jeep safari lasts for four hours, and you should at least put aside an entire day to visit the national park and the places nearby.
Look for accommodations near the park on this map:
What sorts of travelers would like Kaziranga National Park?
Almost anyone would like to visit Kaziranga National Park, but it is heaven for wildlife lovers, wildlife photographers, outdoor enthusiasts, and wildlife conservationists. Kaziranga National Park is for all ages; we even saw children getting cheerfully excited seeing the wild animals.
Tips for visiting Kaziranga National Park
Kaziranga National Park remains closed for visitors from May to October due to monsoon rains.
Avoid wearing shiny or reflective clothes during your safari as it often distracts wild animals and birds, causing them to leave their spots.
Since only a certain number of jeep safaris are allowed entry into the park each day, it is advisable to book the safaris in advance, especially during peak season.
Reaching the park gate early for safaris is always a good idea. The forward-most vehicle has the advantage of an excellent line of vision.
After the safari, do not miss out on visiting the tea fields, the orchid garden at Kaziranga Botanical Garden, and treat your taste buds to authentic Assamese cuisine.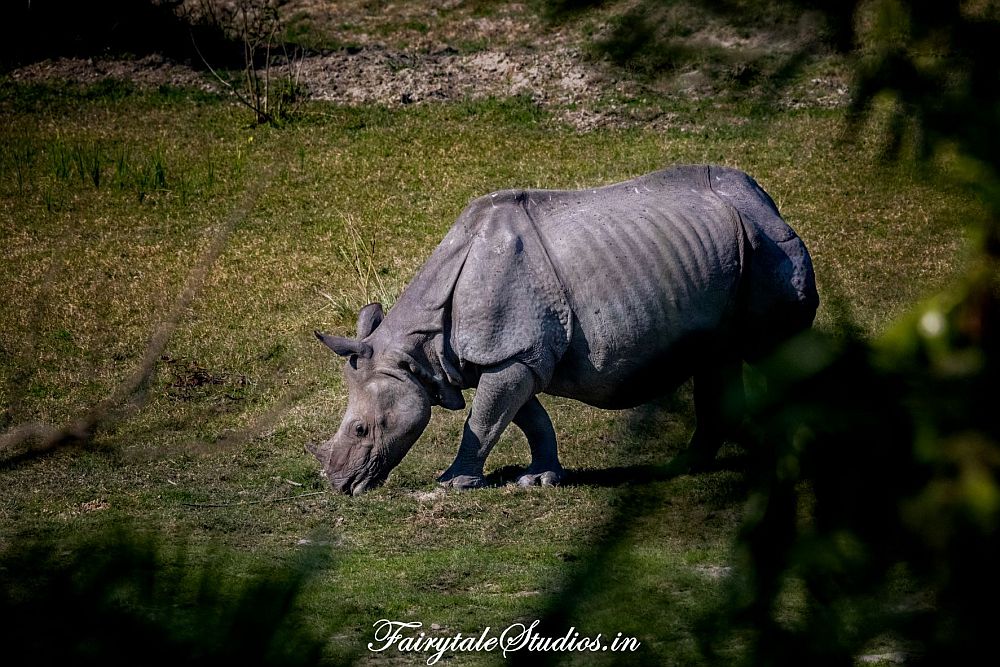 Where is Kaziranga National Park?
Kaziranga National Park is located in the state of Assam in northeast India. The park is approximately 183 kilometers from Guwahati, the capital city of Assam state. You can hire a cab or take a bus or shared taxi from Guwahati airport or railway station to reach Kaziranga National Park. The roads are in pretty good condition, and it would take you somewhere between 4 and 4.5 hours to reach the park.
For more information about Kaziranga National Park, its opening hours, admission fees, safari bookings and timings, visit its official website.
Text and photos provided by Pooja Shah of Fairytale Studios, a travel and photography blog focusing on documenting places beyond the usual sought-after destinations in India and abroad. Check her photographs on her Instagram page.
Have you been to Kaziranga National Park? If so, do you have any additional information or advice about this UNESCO World Heritage site? Please add your comments below!