Hopewell Ceremonial Earthworks
By Teresa
What is Hopewell Ceremonial Earthworks?
Hopewell Ceremonial Earthworks is a fascinating destination for history and nature enthusiasts. This UNESCO World Heritage site is a collection of ancient Native American earthworks located in Ohio.
Five of the earthwork sites can be found at the Hopewell Culture National Historical Park, and the remainder are managed by the Ohio History Connection or the State of Ohio.
Disclosure: This article contains affiliate links. Making a purchase through an affiliate link will mean a small commission for this website. This will not affect your price.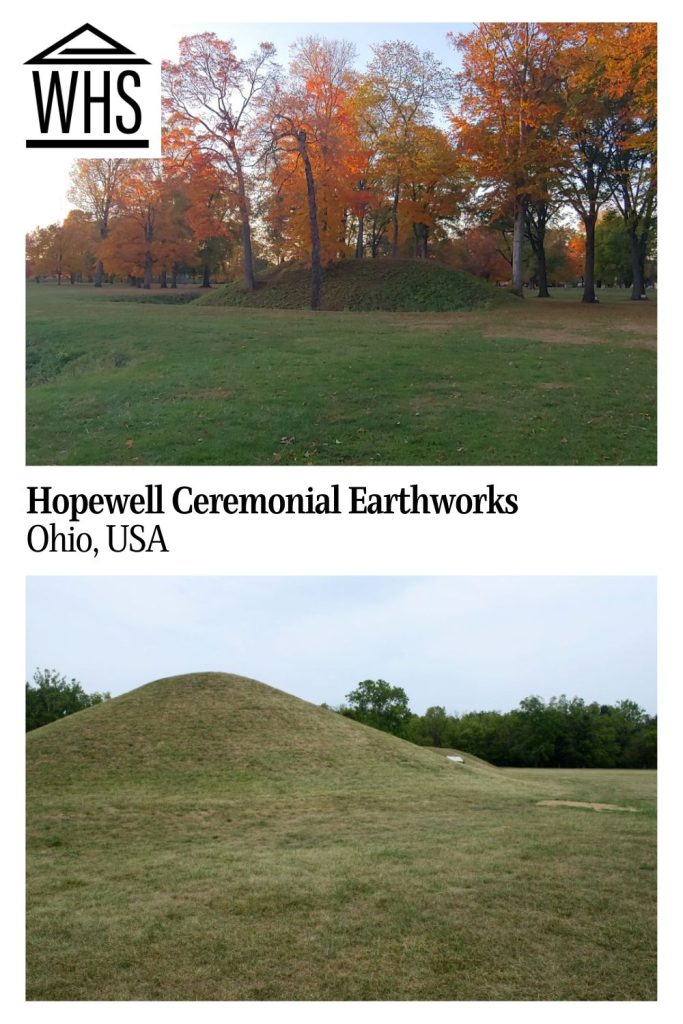 The sites include the following earthworks: Great Circle Earthworks, Octagon Earthworks, Fort Ancient, Mound City, Hopewell Mound Group, Hopeton Earthworks, Seip Earthworks, and High Bank Works.
These earthworks were built by the Hopewell culture between 1,600 and 2,000 years ago and are a testament to their sophisticated engineering and cultural significance. They're historically intriguing and a great way to connect with the past and nature.
Why is Hopewell Ceremonial Earthworks a UNESCO World Heritage site?
Hopewell Ceremonial Earthworks earned its UNESCO World Heritage status based on two criteria. The Earthwork sites are "outstanding achievements in engineering and construction" by the Hopewell culture over 1,600 to 2,000 years ago.
These ancient earthworks are recognized for their cultural and historical significance, showcasing the prehistoric society's skills and cultural practices.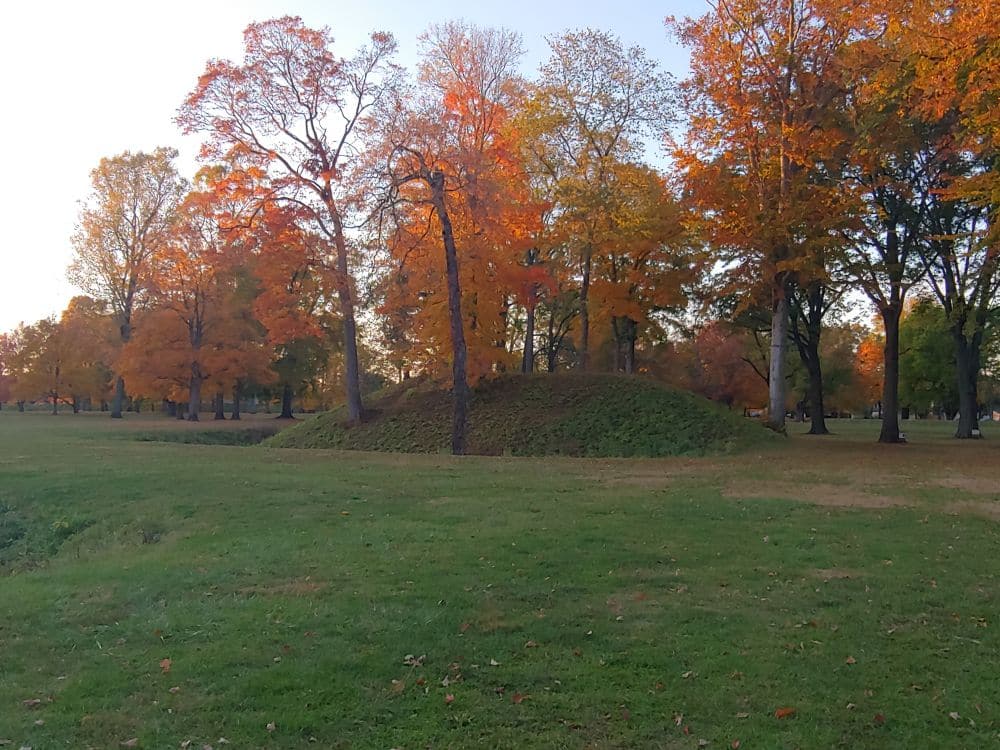 It's a testament to human ingenuity and a connection to our shared heritage. UNESCO acknowledges these earthworks as a "testimony to the Hopewellian peoples' highly developed knowledge of geometry and their interest in astronomy."
What can you expect on a visit to Hopewell Ceremonial Earthworks?
Visiting the earthworks is like stepping back into an ancient civilization's heartland, and it's truly a remarkable experience. When you explore these historic sites, you'll encounter a blend of natural beauty and the remnants of a once-thriving culture.
First and foremost, you'll be greeted by the impressive earthworks: massive mounds, geometric shapes, and earth embankments that sprawl across the landscape.
Walking among these structures, you can't help but marvel at the precision and purpose behind their construction. The Newark Earthworks, with its perfectly aligned circles and octagons, left me in awe of the Hopewell people's knowledge of geometry and their celestial connections.
You'll also find serene green spaces and peaceful trails as you wander the grounds. It's an ideal setting for those who appreciate nature, history, and a touch of mystery. A sense of tranquility envelopes you as you explore these sites, making it a perfect place for quiet contemplation and photography.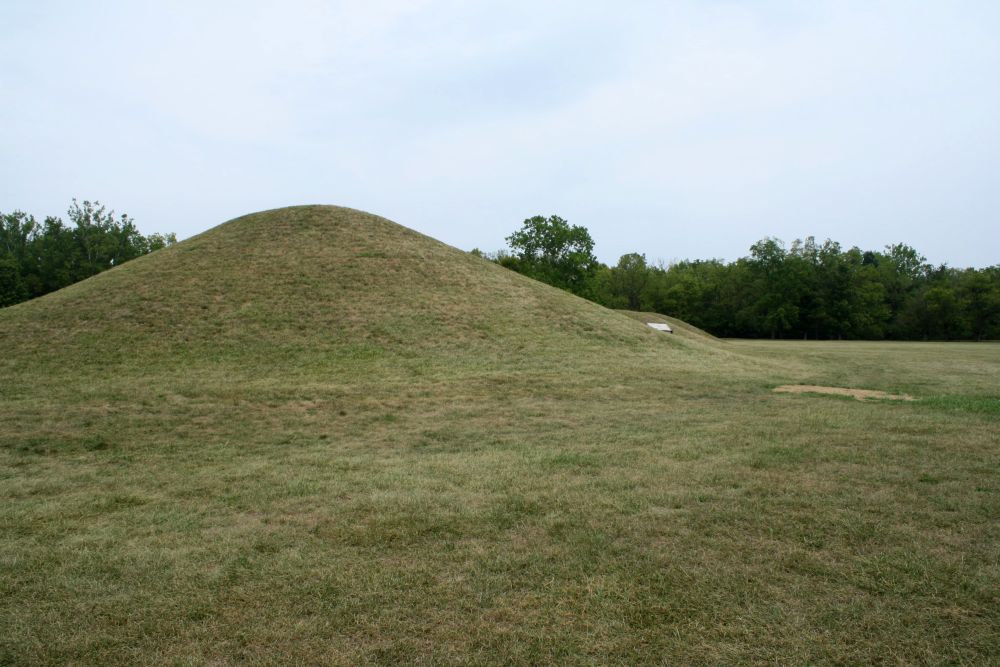 The visitor centers at some locations offer informative exhibits and displays that provide deeper insights into the Hopewell culture, their rituals, and the significance of the earthworks. It's an educational experience that complements the outdoor adventure.
Is Hopewell Ceremonial Earthworks worth visiting?
It is worth visiting, especially if you are interested in history, archaeology, and ancient cultures. While it may not be a destination that requires a special trip, if you happen to be in the area or planning a road trip nearby, it's definitely worth including in your itinerary.
The earthworks offer a unique opportunity to connect with the past and appreciate the engineering and cultural significance of the Hopewell civilization.
To make the most of your visit, spend at least a half-day exploring the various sites and their visitor centers, providing valuable context and insights into the Hopewell culture.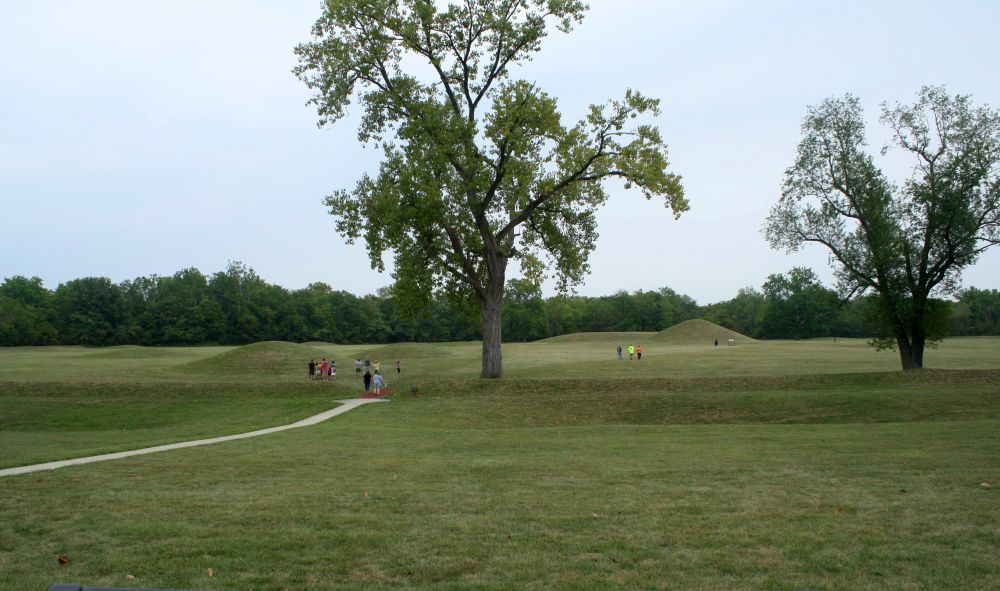 Tips for visiting Hopewell Ceremonial Earthworks
Wear comfortable walking shoes because you'll be exploring outdoor sites with uneven terrain. It's important to be prepared for some walking and light hiking.
Start your visit at the visitor centers, where you can learn about the history and significance of the earthworks. It's a great way to gain context before exploring the actual sites. Be sure to check out the video at the Hopewell Culture National Historical Park to get an in-depth overview of the earthworks.
Nearby cities like Columbus, Dayton, and Cincinnati offer a range of cultural and culinary experiences to round out your trip.
Where is Hopewell Ceremonial Earthworks?
Hopewell Ceremonial Earthworks is located in the state of Ohio, primarily near Chillicothe. The map below shows all of the locations:
The best way to get to the sites is by car. A good starting point is the Hopewell Culture National Historical Park located at 16062 State Route 104, Chillicothe, OH 45601.
Find accommodations in Chillicothe.
By car from Columbus, Ohio, it takes approximately 1 to 1.5 hours to reach Hopewell Ceremonial Earthworks. Most sites offer parking, and it's often free or available for a small fee.
Find accommodations in Columbus.
From Cincinnati, Ohio, the drive typically takes 2 to 2.5 hours. Similar to Columbus, you'll find parking options at the sites, and some may be free while others might have a modest parking fee.
Find accommodations in Cincinnati.
As for public transportation, there are few options to get to any of the Hopewell Earthworks sites. You can take a Greyhound bus to Chillicothe from major cities like Columbus, Dayton, or Cincinnati. The travel time by bus can vary. The shortest time is about an hour from Columbus.
Once you arrive in Chillicothe, you may need to use local taxis or rideshare services to reach the specific earthwork sites, as they are spread across the region. It's advisable to check the current schedules and routes for the most up-to-date information on public transportation options.
For more information about Hopewell Ceremonial Earthworks, its opening hours and admission fees, see the Hopewell Culture National Historical Park website and the Hopewell Ceremonial Earthworks website.
Text provided by Teresa of An Acre in the City. Teresa has visited all 50 US states and is on a quest to visit every state capitol and every National Park Service Site.
Have you been to Hopewell Ceremonial Earthworks? If so, do you have any additional information or advice about this UNESCO World Heritage site? Please add your comments below!